These cheesy cheddar almond crackers are a delicious anytime snack. They pair well with minestrone soup for an easy lunch and are an addictive cocktail party snack.
Whole grain cheddar cheese crackers
I am always looking for healthier crackers for my family. While there are several store-bought 100% whole wheat crackers available, it is hard to find cheddar crackers that are made with 100% whole grain.
These whole grain cheddar cheese crackers also contain almond flour, which not only intensifies the crispiness of the crackers, but adds some protein too!
Almond Flour Cheddar Cheese Cracker Recipe
Cheddar Cheese Crackers with Whole Wheat and Almond Flour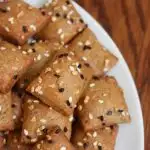 A healthier, gourmet version of Goldfish crackers!
12 ounces sharp white cheddar (grated)
8 tablespoons unsalted butter
1 cup whole wheat flour
½ cup almond flour
¼ teaspoon garlic powder
finely ground sea salt or favorite seed or herb topping (optional)
To make dough
Combine all ingredients in a food processor with the blade attachment, mix until dough combines into a ball, about one to two minutes
Transfer dough a bowl, cover, and refrigerate until firm, about 20 minutes to overnight
To make crackers:
Pre-heat oven to 350 degrees F
Roll out dough to about 1/8 inch thickness on a sheet of parchment paper with a lightly floured rolling pin
Use a cookie cutter or knife to cut out desired shapes
Transfer cut crackers to a fresh piece of parchment paper for baking, leaving a ½ inch space between each cracker
Sprinkle lightly with finely ground sea salt or topping of your choice, if using
Bake for approximately 10 minutes, or until just starting to brown at edges
Recipe makes approximately 200 small crackers. Nutrition information is based on a 30 gram serving (about 10 crackers depending on size & shape).
These delicious crackers can be made into cute little shapes with a cookie cutter or simply cut into squares using a knife.
I like to top them with a sprinkle of 'everything bagel' topping (equal parts white sesame seeds, black sesame seeds, poppy seeds, dried onion, and finely ground sea salt) to make the cheddar crackers extra delicious.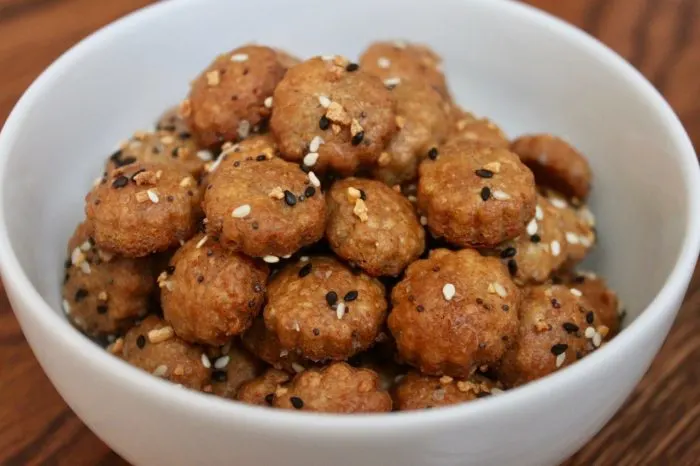 Pin recipe for later: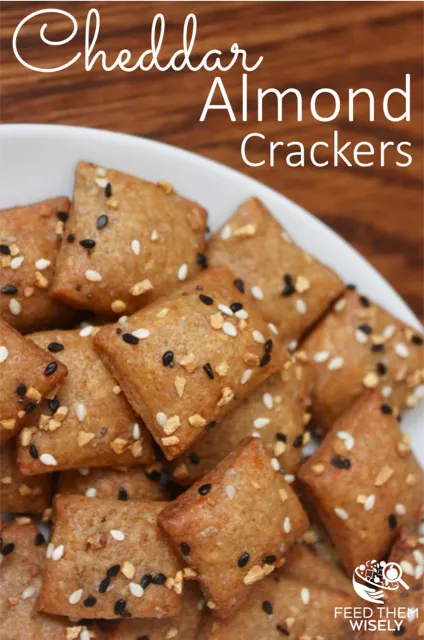 Nutrition information (30 grams, approximately 10 crackers):
140 calories
0 g added sugar
1 g fiber
5 g protein
110 mg sodium