Oven dried strawberries are a delicious way to enjoy the intense flavor of freshly-picked strawberries year round. These baked strawberries are a delicious addition to trail mix, homemade granola, and healthy school snacks.
Can I dry strawberries in an oven?
Yes, it is possible to make dried fruit in your oven even if you do not have a food dehydrator. A low temperature and some patience is all it takes to create this delicious snack. Also, your kitchen will smell amazing!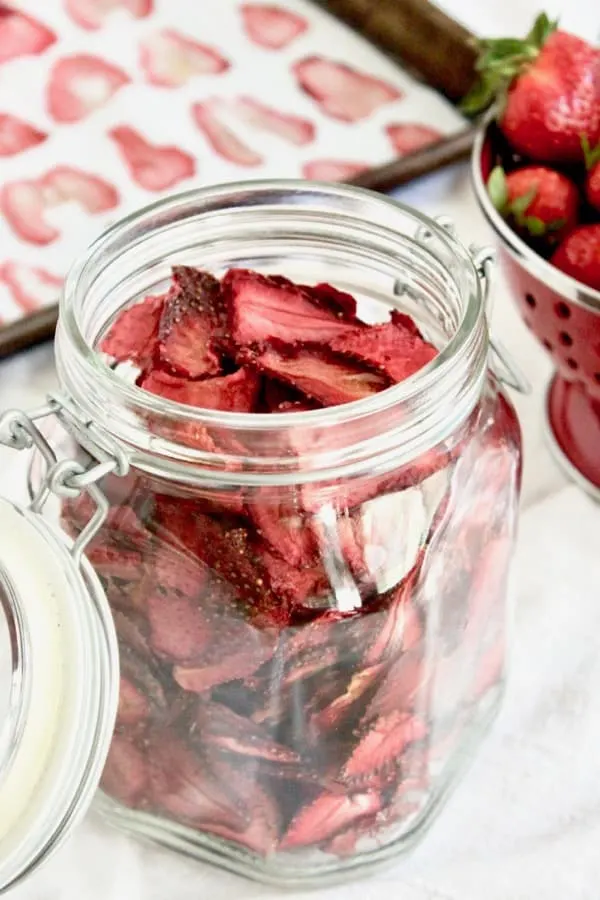 Simple steps to make oven dried strawberries:
Oven dried strawberries are a delicious, healthy snack. Just a few easy steps, and some time, are all you need to make a naturally sweet snack your whole family will love.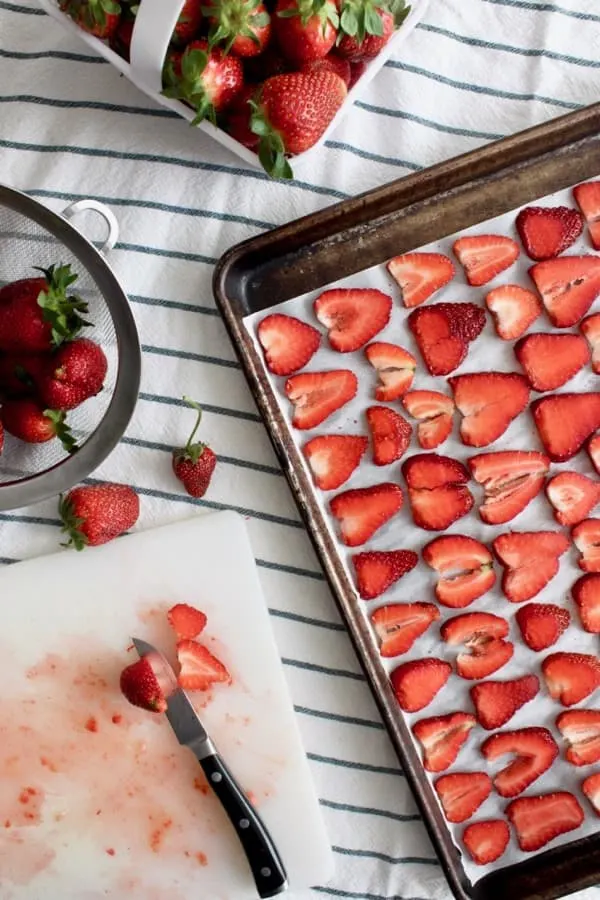 It is important to slice your strawberries as uniformly as possible so the strawberries will finish drying at roughly the same time.
I have found that 1/8 inch thick strawberry slices are thick enough to flip without tearing and yet not so thick that they require additional time to finish drying.
After about two hours in the oven, the top of the strawberries should be almost dry to the touch. This is when you flip them over so they can finish drying.
During the last hour or so of baking, keep your eye on the strawberries. The small ends of the strawberries will finish drying first, and you can always remove them from the oven while the larger strawberries finish drying out.
Use in-season berries for intensely sweet dried strawberries
Sweet strawberries are needed to make sweet oven dried strawberries. Though strawberries are available year round in grocery stores, the best dried strawberries are made with berries picked during strawberry season.
Oven Dried Strawberries Recipe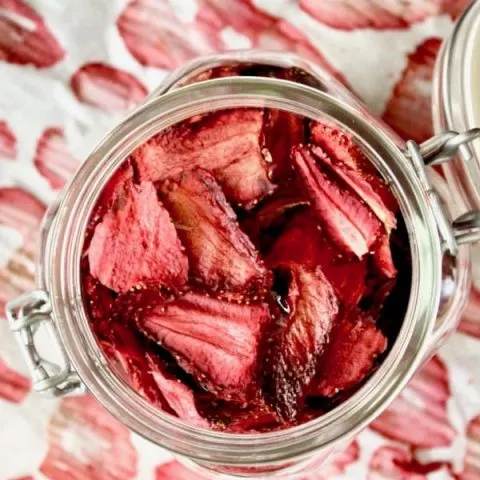 Oven Dried Strawberries
Total Time:
3 hours
15 minutes
Oven Dried Strawberries are a healthy and delicious snack. These baked strawberries are crispy like a chip and can be enjoyed by all because they are vegan, dairy-free, paleo, gluten-free, and contain no-added-sugar!
Ingredients
1 lb Strawberries, washed and dried*
Parchment Paper
Instructions
Preheat oven to 200 degrees F / 90 degrees C. Line a baking sheet with parchment paper (or a silicone baking mat)
Slice strawberries into uniform slices, approximately 1/8 inch thick. Note: if you slice the strawberries thicker, it will take longer for them to dry
Arrange strawberries on parchment paper, leaving space between each slice
Bake at 200 degrees F / 90 degrees C for approximately 2 hours, until the tops of the strawberries are dry
Peel the strawberry slices from the parchment paper and flip over. Continue to bake for another 30 minutes to an hour until fully dehydrated
Remove the dried strawberries from the oven and allow to cool completely. Store in an airtight container at room temperature. The dried strawberries can be stored for several months at room temperature without spoiling
Notes
Recipe makes 3/4 cup of dried strawberries. Cooking times and temperatures have been developed using an electric oven. Using a gas oven may have an affect on the length of time needed to dry strawberries.
Do NOT use foil or wax paper in place of parchment paper or silicone baking mat. Strawberries will stick and you will not be able to flip them over.
Nutrition Information:
Yield:

3
Serving Size:

1/4 cup
Amount Per Serving:
Calories:

48
Total Fat:

0g
Saturated Fat:

0g
Trans Fat:

0g
Unsaturated Fat:

0g
Cholesterol:

0mg
Sodium:

0mg
Carbohydrates:

11.5g
Fiber:

2.1g
Sugar:

8.4g
Protein:

1g
*Strawberries consistently top the EWG's "Dirty Dozen" list. I always purchase either pesticide-free berries from a local farm or organic strawberries.
Tips and tricks for drying strawberries in the oven
A mushroom slicer can be used instead of a knife. However, the strawberry slices will be thicker than if you cut them by hand, which will increase your drying time. Please note that you want to use a veggie slicer with blades and not wires. Strawberries will bend the wires, creating unevenly sliced berries.
Multiple baking sheets of strawberries can be dried at the same time. However, this will increase the amount of time needed for the strawberries to dry completely.
Strawberries can be dried using the convection oven setting. Depending on your oven, this may speed up the strawberry drying time. Be sure to check on the strawberries often after two hours to prevent burning!
Use parchment paper or a silicone baking sheet. These baked strawberries work best if you use parchment paper or a silicone baking sheet. Strawberries will stick to wax paper, foil, or an unlined baking sheet.
Uniform strawberry slices are best. It is important to slice strawberries the same thickness. Thinner slices may burn if not closely watched and thicker slices will take longer to dry out completely.
How long can you store baked strawberries?
Dried strawberries can be stored in an air-tight container for at least 6 months in your pantry.
Strawberries must be completely dry in order to have a long shelf life. If there is any doubt, you can store dried strawberries in the freezer to extend their shelf life.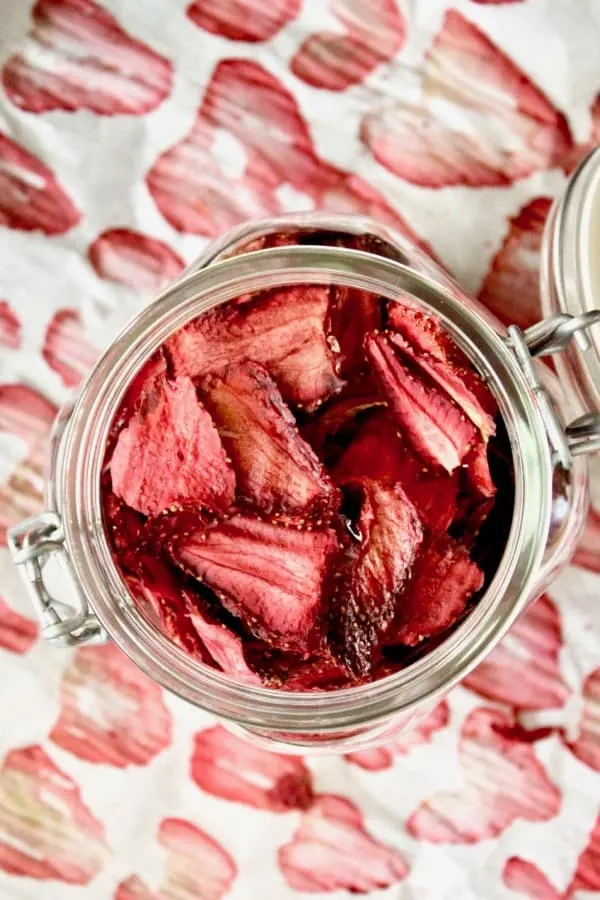 Homemade dried strawberries are a delicious snack!
We like to eat these dried strawberries on their own, sprinkled on top of homemade granola, and include them in a favorite healthy snack mix.
Other delicious oven dried fruit snack recipes
Want to try other delicious oven dried fruit snacks? Homemade blueberry fruit leather transforms blueberries and apples into a portable, mess-free snack.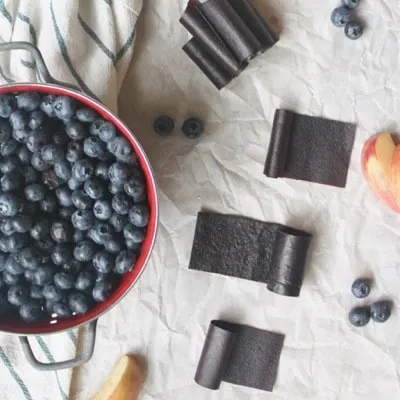 Also, sweet summer peaches are all it takes to make oven dried peach chips.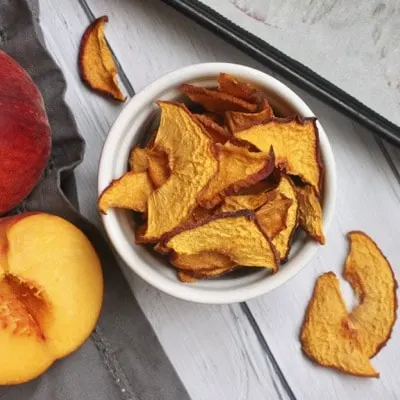 Pin recipe for later: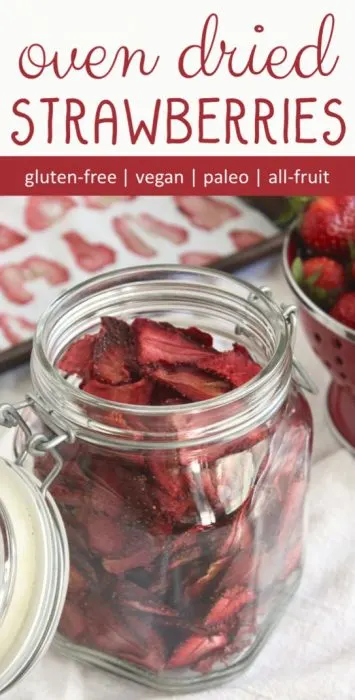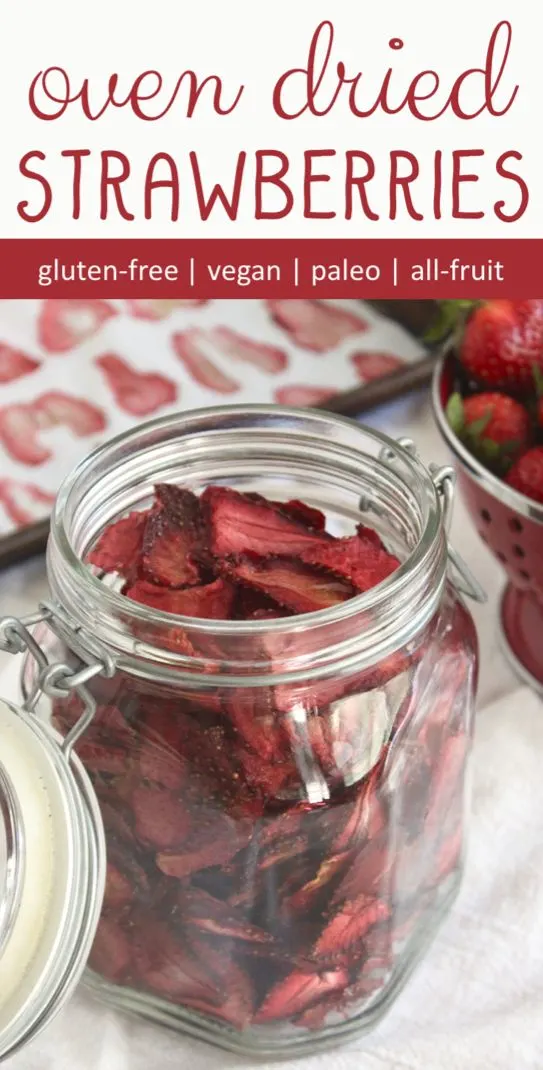 This recipe was originally published in April, 2017. The recipe has since been updated with enhanced recipe instructions, refreshed photos, and a video.