I think everyone needs a go-to favorite chocolate chip cookie recipe. After years of cookie making, these are my favorite. They are chewy and yet crisp and loaded with chocolate. Please note: these are NOT low in sugar. They are a treat with approximately 10 grams (or 2.5 tsp) of sugar per cookie. However, using whole wheat flour instead of all purpose flour makes them a little less of a guilty pleasure. Recipe loosely adapted from Cooks Illustrated.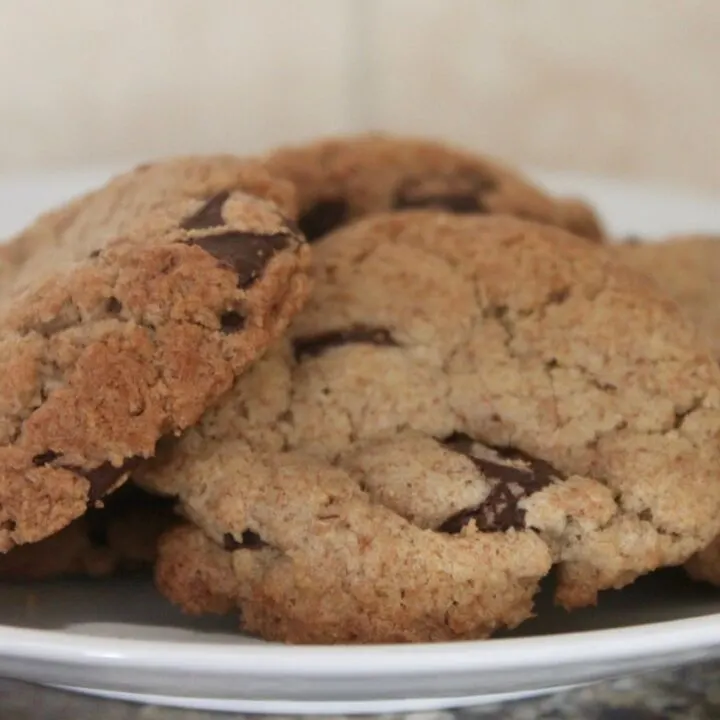 Whole Wheat Chocolate Chip Cookies
Ingredients
12 tablespoons unsalted butter
1 cup brown sugar, packed
1/2 cup granulated sugar
1 egg, large
1 egg yolk
2 teaspoons vanilla extract, pure
2 cups whole wheat flour, (whole wheat pastry flour is also okay)
1/2 teaspoon salt
1/2 teaspoon baking soda
12 ounces semi-sweet or bittersweet chocolate chips, (I prefer 70%)
Instructions
Preheat oven to 325°F
Melt butter in microwave, allow it to cool slightly
Add melted butter, brown sugar, and granulated sugar to mixing bowl. Mix on medium speed until well blended (about a minute)
Add egg, egg yolk, and vanilla and mix until light and fluffy (about a minute)
Add whole wheat flour, salt, and baking soda and mix until just incorporated
Fold chocolate chips into batter
Using a 1 tablespoon cookie scoop, place batter onto a parchment lined cookie sheet. Flatten slightly with palm of hand
Bake one cookie sheet at a time for 10 - 12 minutes. The cookies should be light golden brown and set while still be soft in the middle
Recipe makes approximately 40 cookies.
These cookies taste best when eaten within 24 hours of baking. Scooped cookies can be frozen on a parchment lined cookie sheet and then stored, frozen, until ready to bake. Thaw frozen cookie dough balls a few minutes to make flattening process a little easier and add ~2 minutes to baking time.