My family loves dark chocolate and ever since we reduced the amount of added sugar we eat, this dark chocolate mousse is one of my favorite desserts.
Smallish quantities are quite satisfying and the mousse is not overly sweet. It is the perfect end to a special dinner at home or can easily be dressed up and miniaturized for a party-worthy dessert.
Recipe minimally adapted from Bouchon's classic Mousse au Chocolat Noir and makes enough for 8 servings (~ 6 grams added sugar per serving), or about 24 mini mousse cups (~ 2 grams added sugar per serving, including cup).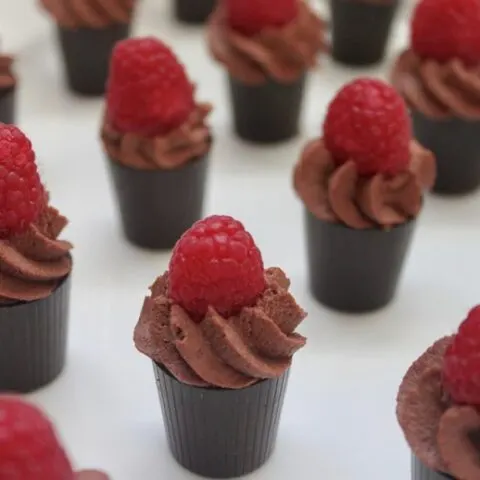 Mini Dark Chocolate Mousse Cups
Velvety and smooth this rich chocolate mousse is sure to delight!
Ingredients
125 grams 70% dark chocolate, roughly chopped
2 tablespoons unsalted butter
1 cup cold heavy cream*
3 large eggs, separated
2 teaspoons sugar
1 tablespoon boiling water
24 dark chocolate cordial cups (I purchase mine online)
Raspberries, optional to garnish*
Instructions
Melt chocolate and butter in a double boiler over hot but not simmering water or carefully in microwave, stir in boiling water and set mixture aside to cool slightly
Whip cold heavy cream until soft peaks form and refrigerate
Whip egg whites and sugar in another bowl until soft peaks form
Once the melted chocolate has cooled to approximately 100°F, stir in egg yolks
Gently stir approximately half of the whipped cream into the chocolate and egg mixture
Fold in half of the whipped egg whites until just incorporated
Fold in the remaining whipped cream until just incorporated
Fold in the remaining egg whites until just incorporated
If serving as a traditional bowl of mousse, spoon or pipe the finished mousse into individual serving dishes and cover tightly with plastic wrap. If serving in small chocolate cups, cover entire bowl of finished chocolate mouse with plastic wrap
Refrigerate for at least 8 hours before serving.
Allow mousse to come to room temperature (~ 30 minutes before) serving (for individual servings) or piping into dark chocolate cups
Top with berries and serve
Nutrition Information:
Yield:

24
Amount Per Serving:
Calories:

84
*Notes:
I try to use cream that does not contain any stabilizers (ie gums) or preservatives. The ingredients should simply read heavy cream.
I choose to purchase organic raspberries.
Nutrition information (per mousse cup):
84 calories
2 g added sugar
0.5 g fiber
2 g protein
18 mg sodium
8 g fat
Pin recipe for later: