This dairy-free apple rose tart is my go-to holiday dessert. The apple roses are beautiful, delicious, and can be prepared in advance. In fact, all three components of this healthy apple tart can be prepared in advance and assembled either a few hours or minutes before serving.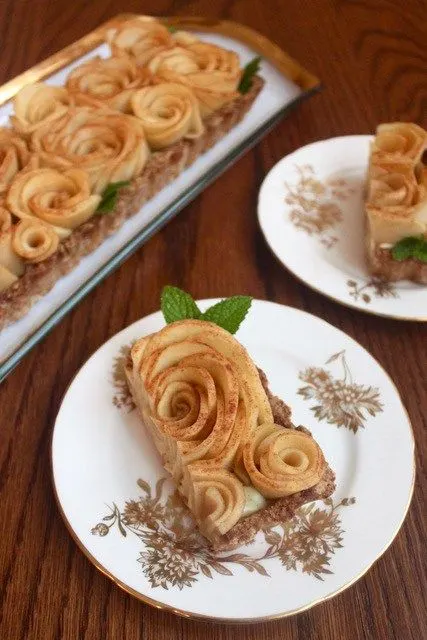 Dairy-free Apple Rose Tart
Planning holiday meals for my family has been a challenge since a few of us eliminated dairy from our diet. Most desserts are filled with butter, milk and sometimes even cream. Thank goodness coconut milk is a good substitute for milk in many desserts!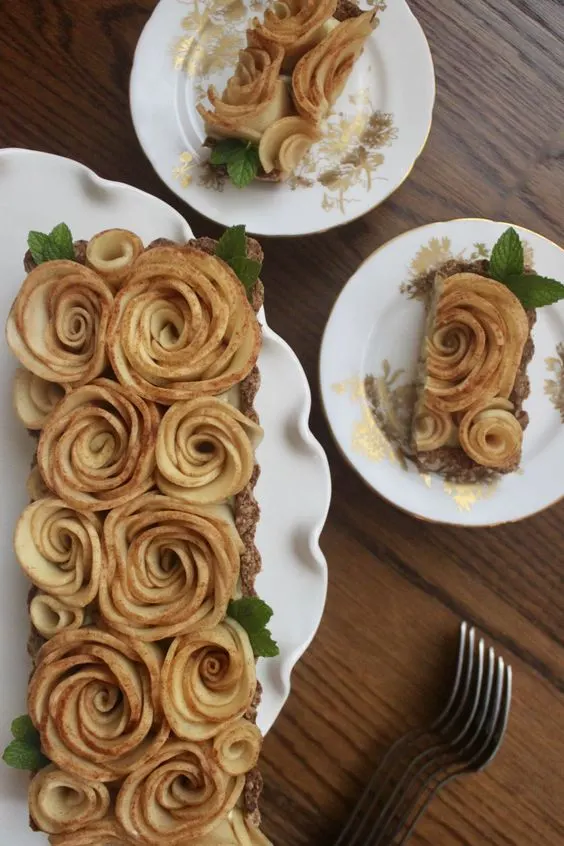 Almond and Whole Wheat Flour Tart Pastry
This almond and whole wheat flour tart pastry is one of my favorites. It has a flaky, nutty texture that is just slightly sweet.
Plus, you do not need any special equipment like a pastry cutter or rolling pin. Simply mix the ingredients together and press the dough into the tart pan. And you can save time by preparing and freezing the pastry in the tart pan.
Coconut Milk Pastry Cream
The pastry cream used in this apple rose tart is a coconut and vanilla-infused dream. To save time, prepare the coconut milk pastry cream in advance and store in the refrigerator for up to 48 hrs ahead of use.
Apple Roses
For months, I have been wanting to create another dessert with these beautiful and delicious apple honey roses. Make the apple roses vegan by substituting maple syrup for the honey.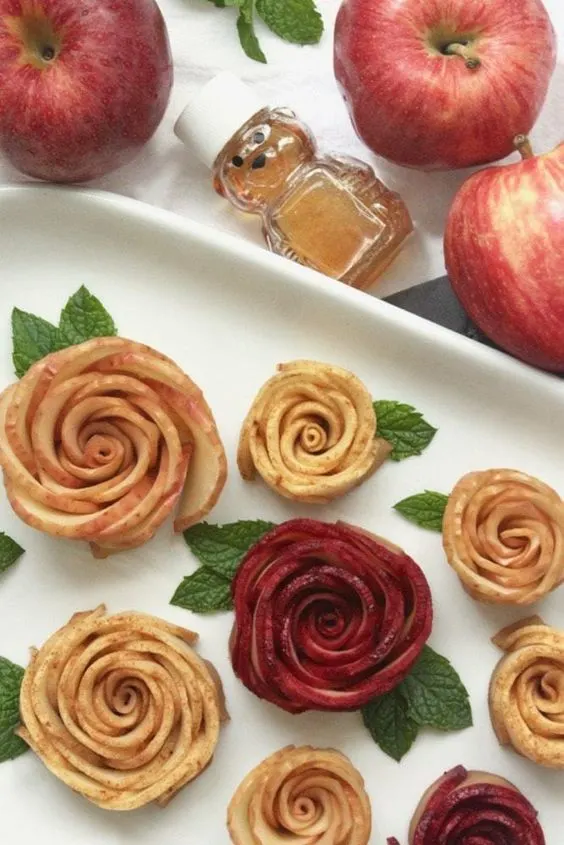 Apple Rose Tart with Coconut Pastry Cream
This apple rose tart is one of my new favorite desserts. It is beautiful and delicious. The pastry is flaky, the cream is silky smooth, and the apples are tender and sweet. All while being dairy-free and low in added sugar.
Apple Rose Tart with Coconut Pastry Cream
Total Time:
3 hours
25 minutes
A stunning and delicious dairy-free dessert your whole family will love!
Ingredients
Almond and Whole Wheat Flour Tart Crust:
3/4 cup almond flour
3/4 cup whole wheat flour
2 tablespoon sugar
2 tablespoons coconut oil
3 tablespoons ice cold water
Coconut Milk Pastry Cream:
1 cup coconut milk*
3 egg yolks
2 tablespoons sugar
1.5 tablespoon corn starch
1/2 vanilla bean or 1 teaspoon vanilla extract
Apple Roses:
4 apples
2 tablespoons honey
1/4 teaspoon cinnamon
Instructions
Almond and Whole Wheat Flour Tart Crust:
Combine almond flour, sugar and coconut oil in a large bowl (mixture will resemble slightly wet sand). Then stir in whole wheat flour
Add ice cold water, and mix until just combined (pastry will come together, but should not be sticky)
Transfer pastry dough to a 14-in x 4-in tart pan (a 9-in round pan will also work) and press into place with fingers. Wrap with plastic wrap and refrigerate for at least 2 hours (or freeze until ready to bake)
Pre-heat oven to 400°F
Bake tart for 20 minutes, or until lightly brown and toasty smelling
Remove from oven and cool completely
Coconut Milk Pastry Cream:
Whisk together egg yolks, corn starch, and sugar in a medium size mixing bowl
In a saucepan, heat coconut milk and vanilla bean until almost boiling (will be hot to the touch with some steam)
Remove vanilla bean from coconut milk (if using) and scrape any seeds from pod into milk
While whisking, slowly pour the hot coconut milk into the egg mixture
Transfer the egg and coconut milk mixture back into the small saucepan and cook, stirring constantly, over medium-low heat until it thickens completely (3-5 minutes)
Cool pastry cream slightly and transfer to a glass storage container with parchment paper on top (this will prevent the formation of a "skin" on the pastry cream)
Refrigerate for at least 2 hrs until cool and up to 48 hours
Apple Roses:
Prepare according to apple honey roses recipe
To Assemble Tart:
Spread pastry cream evenly over cooled pastry tart shell
Arrange apple roses on top of pastry cream. Use extra apple slices to make small roses to fill in extra space. Garnish with mint leaves, if using
If not serving immediately, gently cover tart with plastic wrap and refrigerate until ready to serve (up to 4 hours)
Nutrition Information:
Yield:

8
Amount Per Serving:
Calories:

271
*Note: I try to use coconut milk that does not contain any stabilizers (ie gums or thickeners). The ingredients should simply read coconut milk and water. Trader Joe's brand of coconut milk is a good option.
Tested and delicious substitutions:
Coconut milk pastry cream:
For a no-refined-sugar option, use Maple syrup in place of sugar
Use whole milk in place of coconut milk if you do not need the recipe to be dairy-free
Pin recipe for later: