Having a well stocked pantry is a simple way to make healthy home cooked meals a little easier to prepare. Below are my favorite healthy pantry items from Trader Joe's.
Please note that this post is not sponsored in any way, I just love these products and try to always have them on hand.
These healthy Trader Joe's products are
Made with only real ingredients
Low in sodium
Free of artificial colors, preservatives and flavors
Low in added sugar or free of added sugar
Free of fillers, gums or added starches
Affordably priced
What to buy at Trader Joe's
Below are my favorite shelf stable products that are always on my Trader Joe's shopping list. They are inexpensive products that are key ingredients in many meals or sauces I prepare.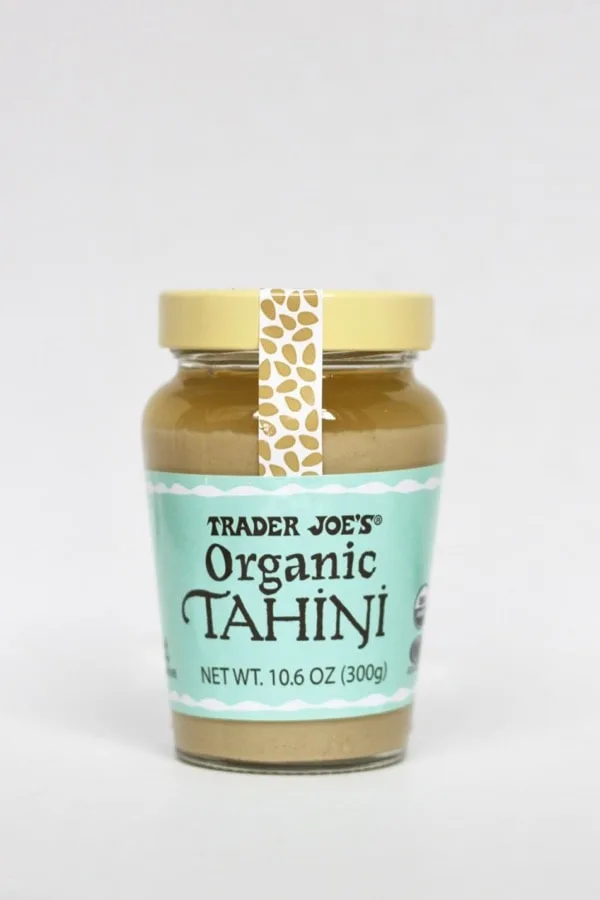 1. Tahini
Made solely from ground sesame seed, tahini is a staple in my kitchen.
Tahini is the base of my homemade granola recipe and favorite super simple lemon tahini dressing.
Why I go out of my way to buy Trader Joe's Tahini:
This tahini is packaged in glass. Glass is inert, which means it will not react with the product that it contains. Unlike plastic or lined cans, nothing can be leached from glass. Buying products in glass removes the need to look for BPA-free packaging.
TJ's Tahini is organic. While sesame seeds are not a food that are routinely tested for pesticides, I believe in buying organic whenever possible and affordable.
The tahini has a smooth texture. In a pinch, I have used other brands of tahini and have found that sometimes the sauces I make with it can be clumpy and not as smooth.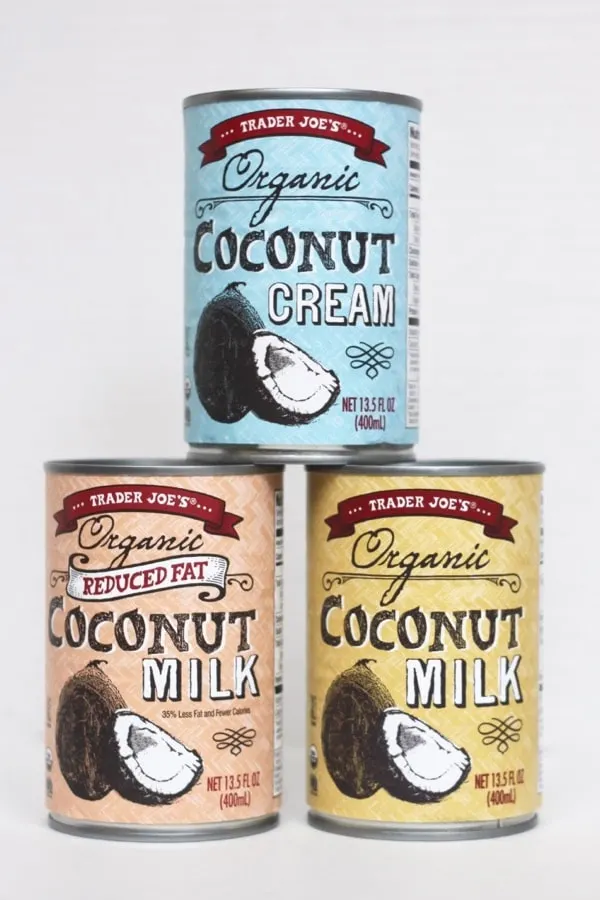 2. Coconut Milk
In its simplest form, coconut milk should just contain coconut and water.
Trader Joe's coconut milk is the only brand I have found that doesn't contain added starch, like guar gum.
Coconut milk is a key ingredient in my coconut ginger chicken soup recipe and a great milk or cream replacement, like in my paleo lemon custard.
Why I go out of my way to buy Trader Joe's Coconut Milk:
Trader Joe's Coconut Milk does not contain added starches or thickeners. Other brands (including Whole Food's 365 brand) contain guar gum, a polysaccharide added to thicken or stabilize food products.
TJ's Coconut Milk is organic. While coconuts are not a food that are routinely tested for pesticide residue, I believe in buying organic whenever possible and affordable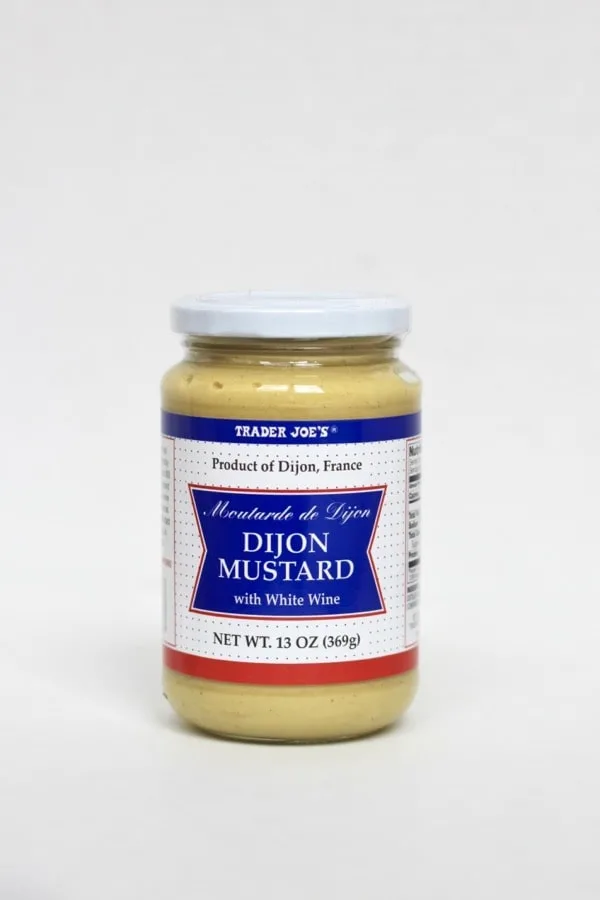 3. Dijon Mustard
Dijon mustard is an important ingredient in many of my favorite sauces and salad dressings, including this dairy-free faux caesar salad dressing.
Trader Joe's dijon mustard contains only 6 ingredients: water, mustard seeds, vinegar, white wine, salt and citric acid. In contrast, Grey Poupon also contains added sugar and pectin, a type of starch.
Why I buy Trader Joe's Dijon Mustard:
Trader Joe's dijon mustard does not contain added starches or added sugar
TJ's dijon mustard is packaged in glass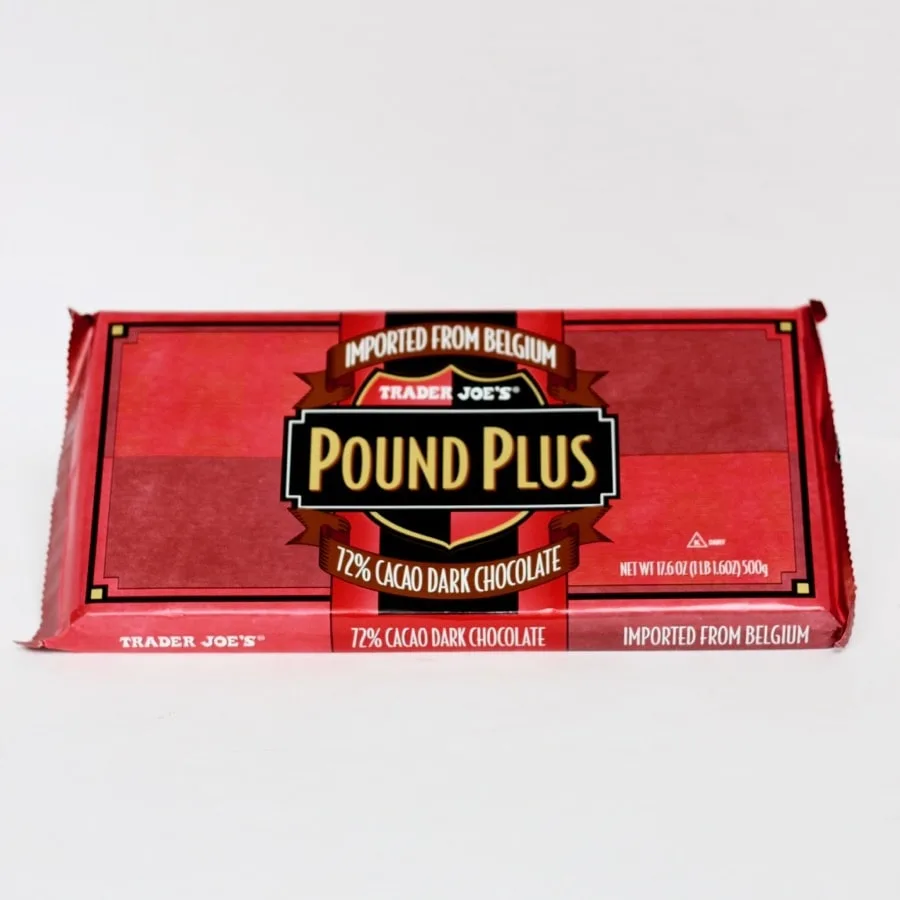 4. Dark Chocolate
Yes, chocolate is on my list of pantry staples. Trader Joe's makes a delicious and affordable 72% dark chocolate that is great for snacking, baking, and dessert making.
This is the chocolate I use when I dip my paleo coconut macaroons in chocolate. And if you use my quick and easy microwave method to temper chocolate, this 72% chocolate can be used to make a delicious dark chocolate fruit and nut bark.
Why I buy Trader Joe's Dark Chocolate:
72% Cocao. Dark chocolate is dairy-free and lower in added sugar compared with milk chocolate. In fact, Trader Joe's dark chocolate contains less than half the added sugar per serving of Hershey's milk chocolate
TJ's 72% dark chocolate is the most affordable, delicious dark chocolate I have found
Please note that TJ's 72% dark chocolate is not technically paleo because it contains refined sugar instead of paleo forms of added sugar like maple syrup or honey.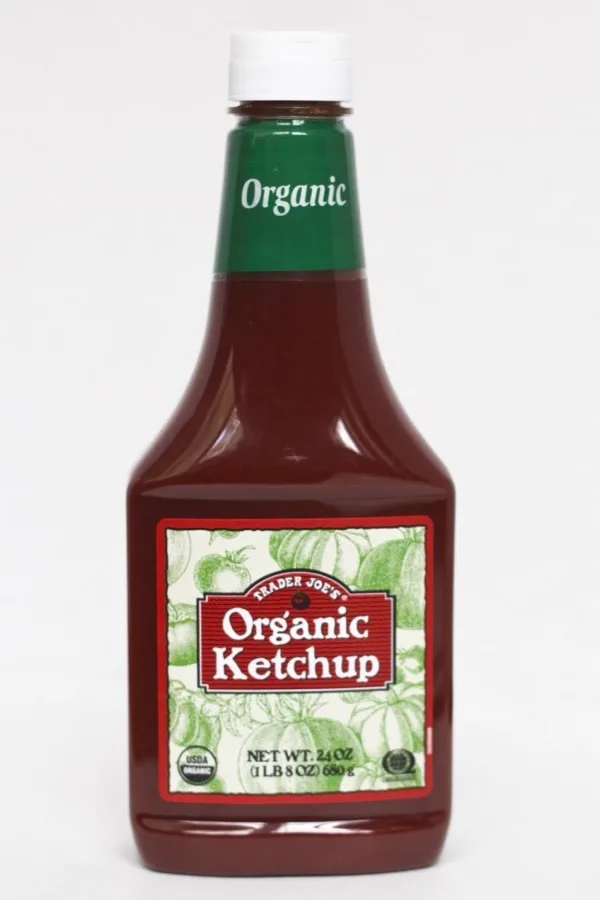 5. Ketchup
Yes, ketchup is on my list of Trader Joe's pantry staples. I have young kids and ketchup is still the condiment of choice for my youngest.
Plus, a little dollop of ketchup on a new or not-beloved food can be the difference between an enjoyed meal and a power struggle.
Why I buy Trader Joe's Ketchup:
Trader Joe's Ketchup contains less added sugar than national brands. Trader Joe's contains 2 grams added sugar per tablespoon, whereas Annie's organic and Heinz both contain 4 grams added sugar per tablespoon.
TJ's ketchup is organic. Tomatoes consistently test positive for multiple types of pesticide residue. More information on pesticides and produce is available here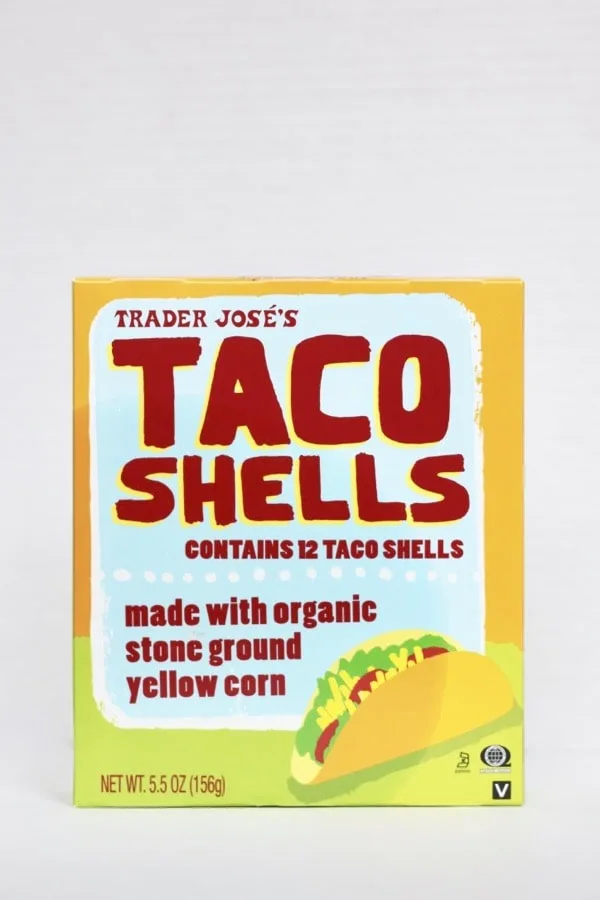 6. Taco Shells
Taco night is a beloved dinner in our house. Though we will sometimes use fresh corn tortillas, crispy taco shells are the hands-down favorite.
Taco shells should only have three ingredients: ground corn, oil, and lime juice. However, several national brands also contain added salt.
Why I buy Trader Joe's Taco Shells:
Trader Joe's taco shells do not contain added salt whereas Ortega and Old El Paso brand taco shells contain 160 mg sodium and 130 mg sodium per serving, respectively. Processed foods are often sources of hidden sodium and it is important that we reduce our salt intake where possible.
TJ's taco shells are organic. Most conventionally grown corn is genetically engineered to be herbicide and insect resistant. The long term health impacts of consuming herbicide and insect resistant crops has not been determined, so I always buy organic corn based products. You can learn more about genetically modified crops in this article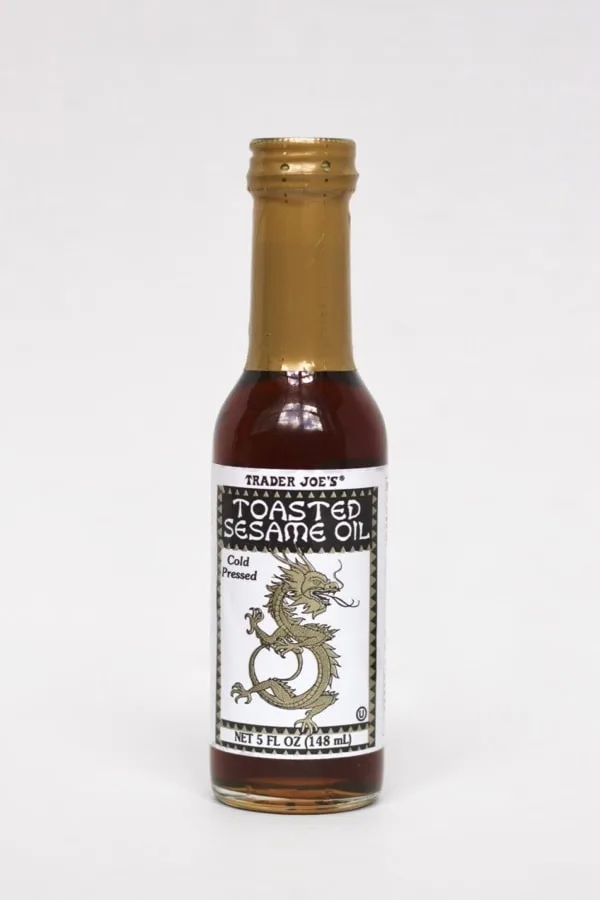 7. Toasted Sesame Oil
Toasted sesame oil is such an easy way to add asian-inspired flavor to your meals. I use toasted sesame oil in homemade ginger miso salad dressing, a delicious sesame ginger lime marinades, and even my favorite ginger chicken soup.
Why I buy Trader Joe's Sesame Oil:
Trader Joe's Toasted Sesame Oil has a nutty, toasty flavors. Other brands that I have tried can have too mild of a flavor.
Price. TJ's toasted sesame oil is affordable whereas other brands can be almost twice as expensive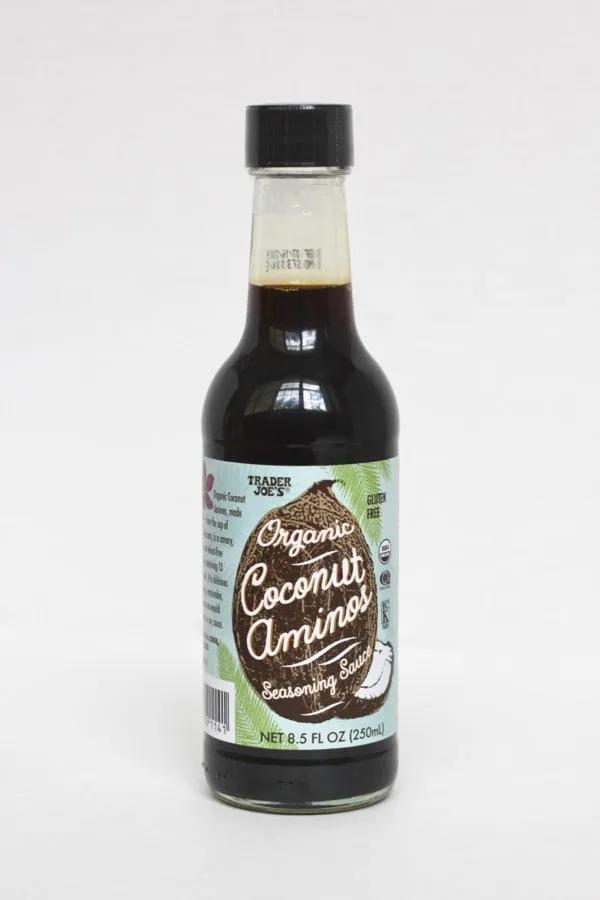 8. Coconut Aminos
Coconut aminos is a soy-free and gluten-free alternative to soy sauce.
I often use coconut aminos in marinades and sauces to add some umami flavor to recipes that are compatible with paleo or Whole30 diets.
Coconut aminos is a great soy sauce alternative in my two favorite chicken marinades: ginger turmeric chicken and sesame ginger chicken.
Why I buy Trader Joe's Coconut Aminos:
Price. TJ's Coconut Aminos is less expensive than other comparable products
Healthier eating starts with buying healthy ingredients
Preparing meals from scratch is a cost effective way to ensure you are eating healthier no matter what your dietary needs may be. Using healthy ingredients, like these pantry items from Trader Joes, is an easy way to ensure your home cooked meals are both delicious and nourishing.
Pin article for later:
Other healthy store bought snacks and foods
Need help finding other healthy foods? Check out these other guides to how to choose healthier popular foods and snacks. Each article goes into detail on why some products are healthy and others are best avoided or only enjoyed as an occasional treat.