These homemade dark chocolate coins are one of the simplest holiday treats to make. They are great as homemade Hanukkah gelt or as a healthy option for your holiday dessert table. Simple dark chocolate with optional dried fruit or nuts make for a delicious and festive treat that is not overly sweet.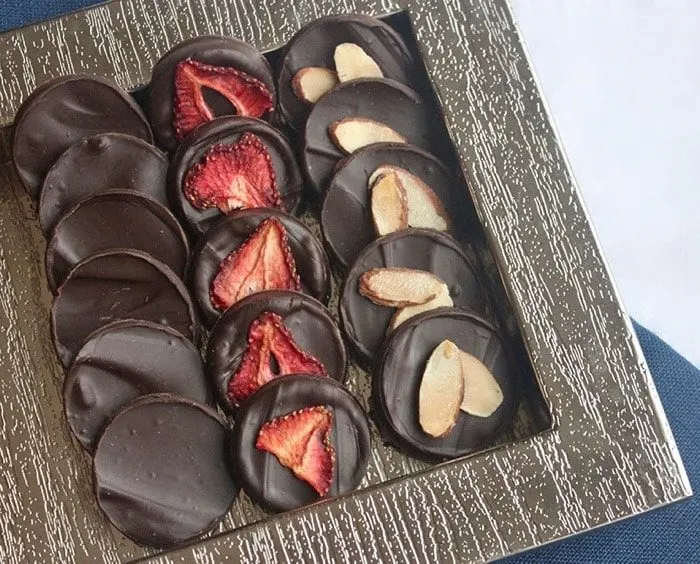 Easy and delicious dark chocolate coins
These easy to make dark chocolate coins can be made in less than 30 minutes. I use a microwave to melt the chocolate instead of the traditional double boiler method. The chocolate is then quickly tempered by adding small pieces of already tempered chocolate to ensure the coins have that delicious snap like store bought chocolate.
What is tempered chocolate?
Have you ever made a dessert with melted chocolate only to have it turn dullish gray? That waxy white coating on top is cocoa butter. To prevent separation and obtain chocolate with the characteristic snap in commercial chocolate, chocolate needs to be tempered.
How to quick temper chocolate in the microwave
Chocolate tempering ensures that the proper crystalline structure of chocolate is retained. In the case of these dark chocolate coins, I use a "seeding" method to introduce already tempered chocolate once most of the dark chocolate is melted and cooled.
These simple steps are all that you need to quick temper chocolate in the microwave:
Chop your chocolate bar
Place large chocolate chunks in a microwave safe bowl
Melt chocolate in the microwave on high, stirring every 20 seconds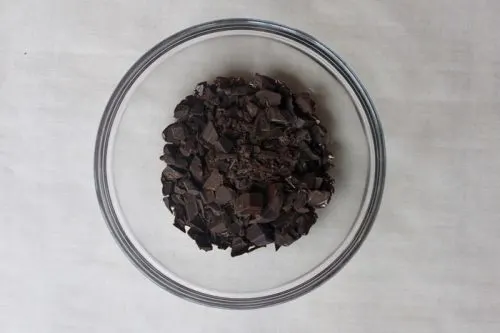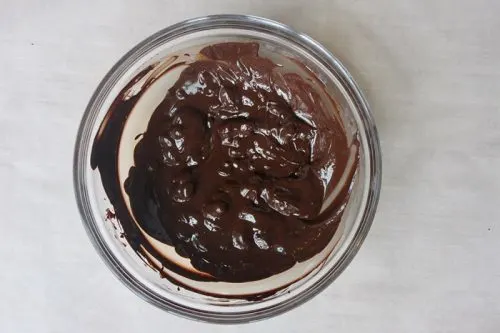 Once chocolate is finally melted, let it cool until it is warm to the touch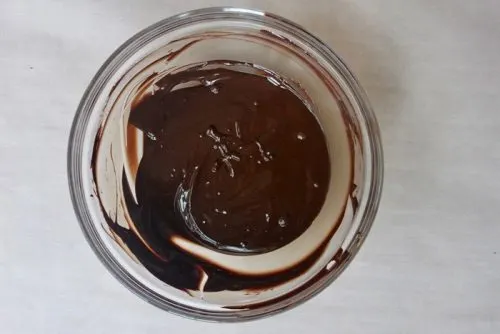 Add the fine chocolate bits (from chopping) and stir until fully incorporated. You want a few small pieces of chocolate to remain unmelted. If all of the chocolate melts, you will need to add small amounts of additional chocolate bits and incorporated by stirring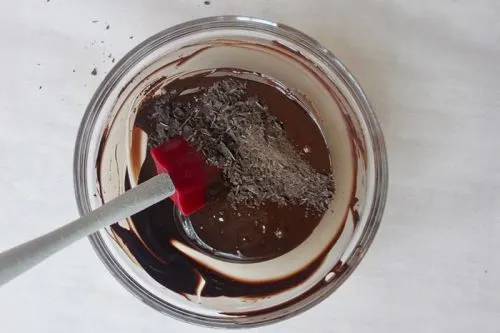 Quickly shape your chocolate as desired. In this case, pour on prepared parchment paper and smooth into a uniform sheet.
Homemade Chocolate Coins Recipe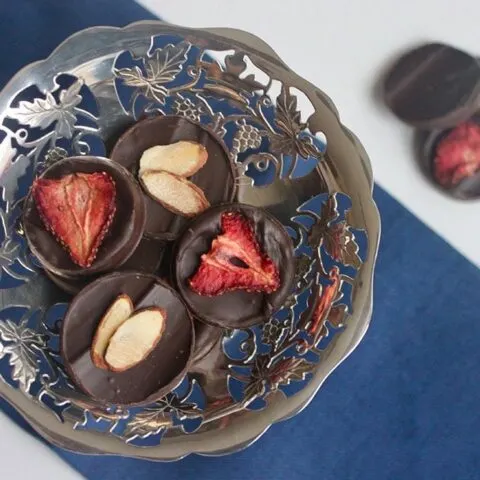 Dark Chocolate Coins
Quick temper chocolate to make delicious homemade chocolate coins
Ingredients
250 grams Dark Chocolate, I prefer 72% dark chocolate
Dried Strawberries, optional
Toasted Almonds, optional
Instructions
Chop dark chocolate into small chunks
Transfer all but the smallest pieces to a medium size glass bowl
Melt chocolate in microwave, stirring every 20 seconds, until chocolate is mostly melted
Continue to stir chocolate until completely melted
Add half of the chocolate crumbs to melted chocolate, stir to incorporate
If chocolate crumbs completely melted upon addition to melted chocolate, add remainder of chocolate crumbs and stir to incorporate fully
Pour melted chocolate onto parchment paper
Smooth into a uniform layer with either a rubber spatula or metal scraper. Chocolate layer should be approximately 1/2 cm or 1/4 inch thick
Let chocolate layer solidify (chocolate will go from shiny to dull)
Using a 1 inch circle cookie cutter, cut disks from chocolate once chocolate sheet is firm but not brittle
To add toppings (optional)
Melt some of the remaining chocolate scraps in the microwave (you don't need to worry about tempering it as the chocolate will act as "glue")
Using a tooth pick, "paint" some of the melted chocolate onto the back of the fruit or toasted nuts you want to add to the chocolate coins
Store at room temperature in an air-tight container until ready to serve
Nutrition Information:
Yield:

60
Amount Per Serving:
Calories:

97
Nutrition information (per 4 coins, 16 grams each serving):
97 calories
4 g added sugar
2 g fiber
1 g protein
0 mg sodium
6 g fat
Pin recipe for later: