Everyone in my family loves this healthy, veggie-packed homemade chili. If you asked my boys, they would say this chili contains only beans and ground beef.
I don't tell them that each serving also contains a full serving of veggies.
They simply enjoy the rich and meaty flavor of this mostly bean-based chili. And I like that it is a healthy and nutritious meal packed with protein, fiber, and vegetables.
Why I hide veggies in this family-favorite chili
Normally, I do not "hide" vegetables in my family's meals. I believe it is important that my boys learn to like eating vegetables.
However, like many parents, I have heard "what is this?" far too often when serving more grown-up foods, like chili. So I pick my battles.
The vegetables in this chili are pureed and then added to the chili. I consider this a win-win-win: the chili is delicious, each bowl contains a whole serving of vegetables, and my boys get a chili they love.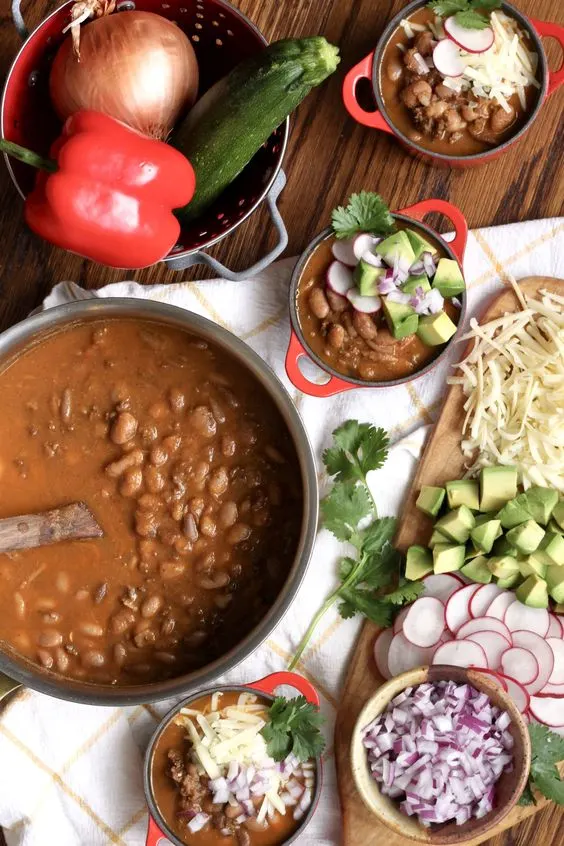 Why this Family Favorite Chili with Hidden Veggies is a healthy choice:
Every bowl contains one serving of vegetables
Serve this chili with a salad or roasted vegetables for a veggie-packed meal
Legumes, like beans, are a healthy source of protein and dietary fiber
Hidden Vegetable Family-Favorite Chili Recipe
I typically serve this chili our family's favorite chili toppings: grated extra sharp cheddar cheese and finely chopped red onion. And since the veggies are hidden, I always serve this chili with one of our favorite roasted vegetables and some delicious bread.
A tip for pickier eaters… my little sous chef likes to eat his meal deconstructed (read more plating food for children and why deconstructed meals work).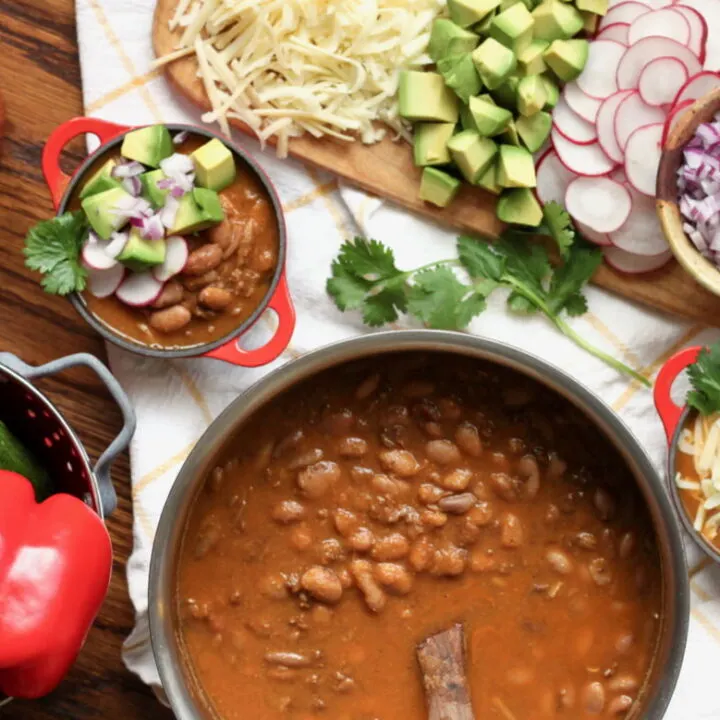 Family-Favorite Chili with Hidden Veggies
Cook Time:
2 hours
30 minutes
Total Time:
2 hours
50 minutes
A hearty and delicious chili the whole family will love!
Ingredients
1 large zucchini, chopped
1 large red bell pepper, chopped*
1 large red onion, chopped
1 tbsp olive oil
8 cups pinto beans, soaked but not cooked
1 lb ground beef, grass fed
6 cups water
2 tbsp cumin, ground
2 tbsp paprika
1 tbsp chili powder
1 tsp sea salt
1 14-oz can tomatoes, pureed*
Instructions
In a large pot or enameled dutch oven, sauté onion, pepper, and zucchini in olive oil over medium heat until translucent, about 5 minutes. Turn off head and let cool for 5 minutes
Transfer vegetables to a high speed blender or food processor. Add 2 cups of water and blend until the vegetables are a smooth puree
In the same large pot, cook ground beef over medium high heat until browned, about 5 minutes
Add cumin, paprika, chili powder and salt to ground beef and stir over medium heat for 10 seconds
Add 2 cups of water to browned beef and deglaze the pot (ie scrape all the browned bits off the sides and bottom of the pot)
Add pureed vegetables to beef mixture, using remaining 2 cups of water to rinse remaining puree mixture from the blender
Add soaked pinto beans to vegetable and beef mixture, stirring to combine
Turn heat down to low and cook, covered, for 2 hours
Stir in pureed tomatoes and cook over low heat for an additional 30 minutes
Serve immediately with favorite chili toppings or allow to cool and refrigerate until ready to serve
Nutrition Information:
Yield:

10
Amount Per Serving:
Calories:

373
*Note: I choose to purchase meat raised without antibiotics and organic bell peppers and tomatoes. Here is an in-depth article if you want to read more on pesticides and produce.
Tips & Tricks for this Healthy Hidden Veggie Chili Recipe
Ground turkey can be used in place of ground beef
Kidney beans or black beans can be used in place of the pinto beans, or replace half for a more colorful chili
Pumpkin or other winter squash can be used in place of zucchini
Double the chili recipe and freeze half for an easy weeknight meal
Frozen peppers and onions can be used instead of fresh. (Have you ever wondered if frozen veggies are as healthy as fresh? Check out this post comparing vitamin content in fresh and frozen veggies!)
Using dried beans: to soak or not to soak
There has been some debate on whether or not to soak beans before cooking them. Some people claim that beans cooked without soaking have a better texture and are more flavorful.(1)
Others believe that pre-soaking beans helps reduce gas causing agents (alpha-galactosides) and anti-nutrients (phytic acid).(1,2)
There isn't any peer-reviewed research that has reported on the gastrointestinal effects of soaked or non-soaked beans. However, scientists have shown that our perception of gas production from beans tends to be exaggerated.(3)
With that said, I soak beans before I cook with them. The bean soaking process I use is two steps.
First, add boiling water to the beans and soak for two hours. Second, rinse the beans and soak in cold water overnight. Yes, this is time consuming.
However, the boiling water step is required if you want to help reduce the alpha-galactosides (what the bacteria in the lower intestine consume to create gas). To save time, I often pre-soak my beans in bulk and then freeze them in quart size yogurt containers.
Nutrition information (per 1.5 cup serving, 10 servings total):
373 calories
0 g added sugar
11 g fiber
24 g protein
281 mg sodium
7 g fat
Pin recipe for later: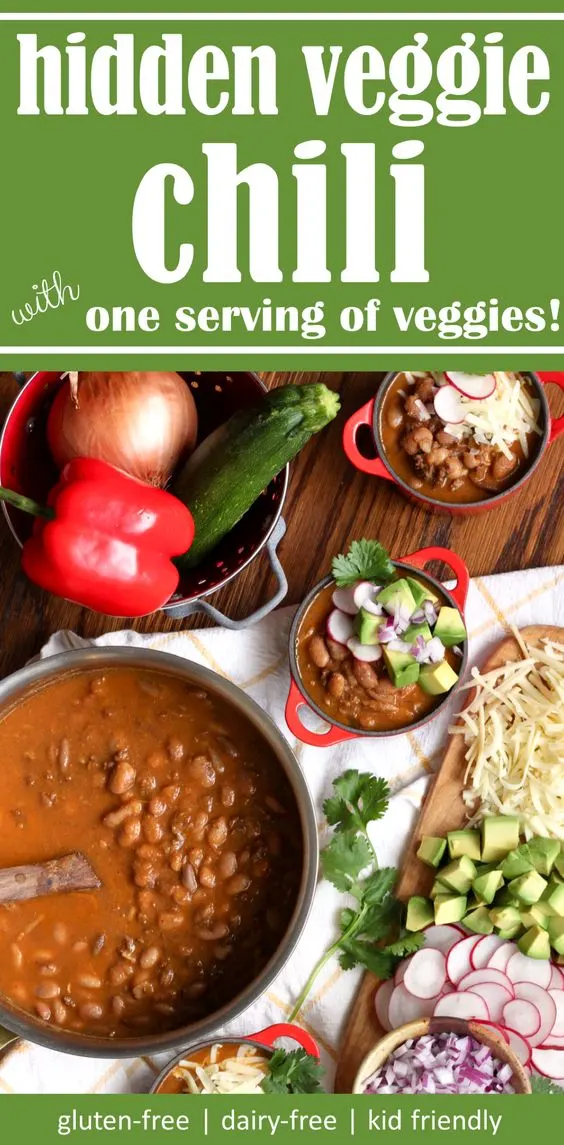 References:
Don't soak your dry beans! Now even the cool kids agree. Los Angeles Times, Sept 2014 (link)
How to soak beans before cooking (and why you would want to). The Healthy Home Economist, Nov 2017 (link)
Perceptions of flatulence from bean consumption among adults in 3 feeding studies, Nutrition Journal, 2011; 10: 128 (link)