Crispy baked popcorn shrimp are a healthy alternative to traditional popcorn shrimp. Quick and easy to make, these whole wheat panko crusted shrimp are a great party appetizer or a fun weeknight dinner.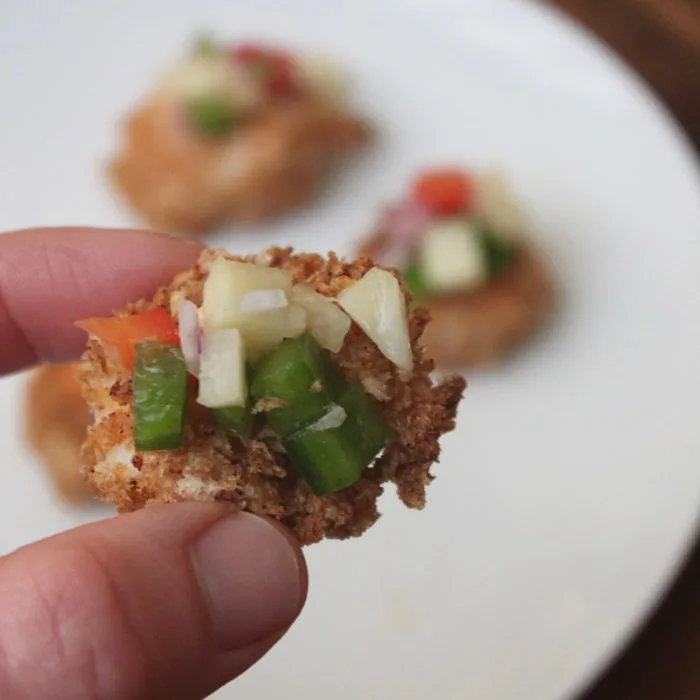 Healthier popcorn shrimp
Why are these crunchy and flavorful popcorn shrimp healthier? First, they are baked and not fried.
Only two tablespoons of olive oil are needed to make these crispy shrimp instead of the normal 6 + cups of oil needed for deep frying.
Also, instead of using plain breadcrumbs, these shrimp get their crunchy texture from whole wheat panko crumbs.
The panko crumbs add a delicious crunch and substituting whole grains for refined grains is always a good idea.
Quick and Easy Healthy Popcorn Shrimp Recipe
These whole wheat panko crusted shrimp are a delicious, healthier appetizer for a party.
I like to serve them with Pineapple Pepper Confetti Salsa. The sweet and savory combination of the salsa pairs nicely with the crunchy baked popcorn shrimp.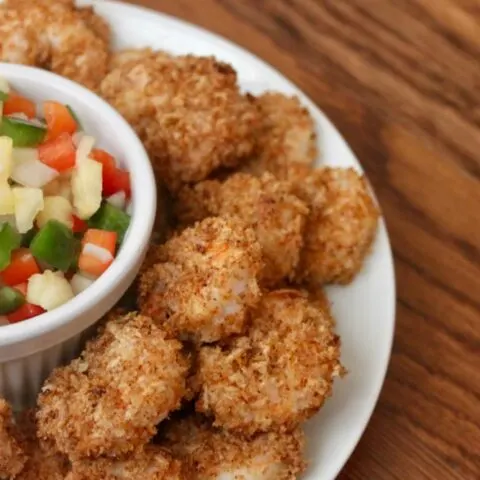 Healthy Popcorn Shrimp
Crispy and delicious, these healthy popcorn shrimp make an excellent party appetizer or quick weeknight meal.
Ingredients
1 pound medium shrimp (40-50 shrimp per pound), peeled and deveined
1.5 cup whole wheat panko crumbs
1.5 teaspoons garlic powder
1/2 teaspoon cumin
1/2 teaspoon chili powder
1/4 teaspoon salt
3 tablespoons olive oil, separated
2 eggs
Instructions
Preheat oven to 400 degrees F
Line baking sheet with aluminum foil and lightly coat with 1 tablespoon of olive oil
Combine spices, panko crumbs and olive oil in a medium size shallow bowl
Beat the eggs in a medium size shallow bowl
Working with 6 to 8 shrimp at a time, dip them in the egg and then coat with the panko crumb mixture
Place the breaded shrimp on prepared baking sheet
Bake in oven for 8 to 10 minutes, until panko crumbs are golden brown and shrimp are cooked through
Serve immediately with Pineapple Pepper Confetti Salsa
Nutrition Information:
Yield:

4
Amount Per Serving:
Calories:

271
Whole wheat panko crumbs
Whole wheat panko crumbs are a staple in our house. However, they can be hard to locate, even at specialty grocery stores. I purchase whole wheat panko crumbs online (buy the case… they are a staple).
A quick and easy substitute to whole wheat panko crumbs can be made by in a food processor with just Triscuit crackers.
Pin recipe for later: