Frittatas are simple, nutritious meals that are perfect for a quick weeknight dinner or weekend brunch. I especially enjoy frittatas that are loaded with vegetables and topped with flavorful, melted cheese. This arugula, mushroom, and bell pepper frittata is my favorite for chilly winter days.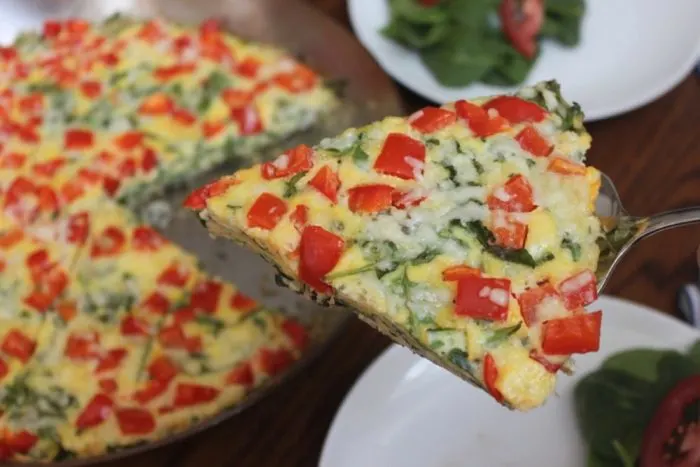 Recipe serves 6. Each serving of this veggie-loaded frittata contains almost two servings of veggies and 18 grams of protein. I typically serve it with a side salad and a slice of grainy sourdough bread from our favorite local bakery.
Also, leftover frittatas make for a wonderful grab-and-go lunch and can be eaten cold or warmed briefly in a microwave.
Arugula, Mushrooms, and Red Bell Pepper Frittata Recipe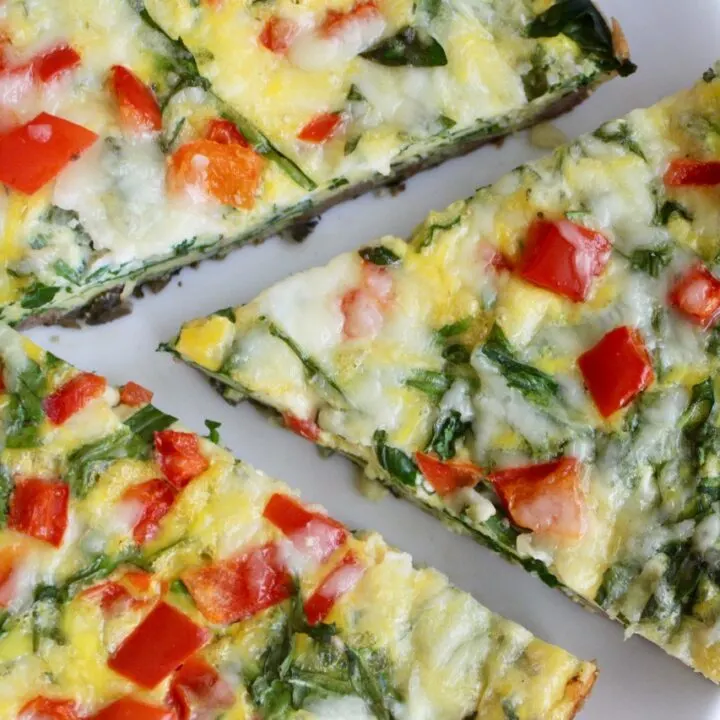 Arugula, Mushroom and Red Bell Pepper Frittata
A delicious and hearty frittata packed with arugula, mushrooms, and red bell peppers. Each serving contains 18 grams of protein and almost two servings of vegetables!
Ingredients
2 tablespoons avocado oil, olive oil can also be used
8 ounces mushrooms, sliced about 2.5 cups
12 eggs
1 cup grated white cheddar cheese, about 4 oz
½ teaspoon fresh thyme, lightly chopped, a pinch of dried thyme can be substituted
1 clove garlic, minced
3- oz baby arugula, about 4 cups*
1 large red bell pepper, diced about 1 cup*
Instructions
Preheat oven to 350 degrees F
Heat olive oil in a large cast iron skillet or other heavy, oven-safe frying pan (do not use a non-stick frying pan)
Sauté mushrooms on medium heat until they are lightly browned, about 10 minutes
Meanwhile, whisk eggs until yolks and whites are just blended. Stir in ½ cup of the cheese
Once mushrooms are sautéed, add garlic and thyme. Cook until fragrant, about 30 seconds
Pour egg and cheese mixture over sautéed mushrooms
Top egg mixture with baby arugula. Use a large spoon to gently press arugula into egg mixture, ensuring all greens are coated
Sprinkle diced red bell pepper and remaining cheese on top of frittata
Transfer to oven and cook for approximately 20 minutes, or until frittata is set (center will not jiggle when shaken)
Remove from oven, cool for 5 minutes
Transfer frittata to a plate or serve directly from skillet. Slice frittata into 6 servings and enjoy while still warm
Nutrition Information:
Yield:

6
Amount Per Serving:
Calories:

266
*Note: These are vegetables that I choose to purchase organic because they consistently test positive for organophosphate pesticide residues. Want to learn more? Read about pesticides and produce.
Pin recipe for later: