Are you a veggie lover or someone who only eats vegetables when coerced? Either way, you are probably not eating enough vegetables. Nearly 9 out of 10 of us, in fact, do not eat the recommended amount of veggies each day!1
How many vegetables should you eat each day?
Below is a table of the recommended intake of vegetables per day.(1) Note that the recommendations listed below are a range.
Daily calorie needs vary by person and the Dietary Guidelines recommendations are based on a percentage of your daily calorie intake.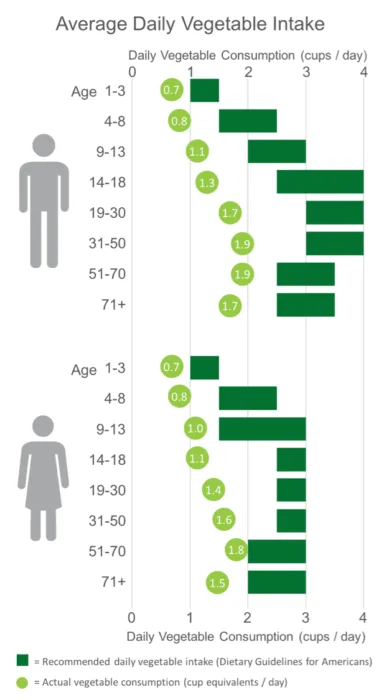 On average, the typical adult eating a 2000 calorie diet should aim to eat at least 2.5 cups of vegetables each day.
The typical young child should be eating at least 1.5 cups of vegetables a day increasing veggie consumption to at least 2 cups of vegetables a day by the time they are a pre-teen.
What does a daily serving of vegetables look like?
What does a daily serving of vegetables look like?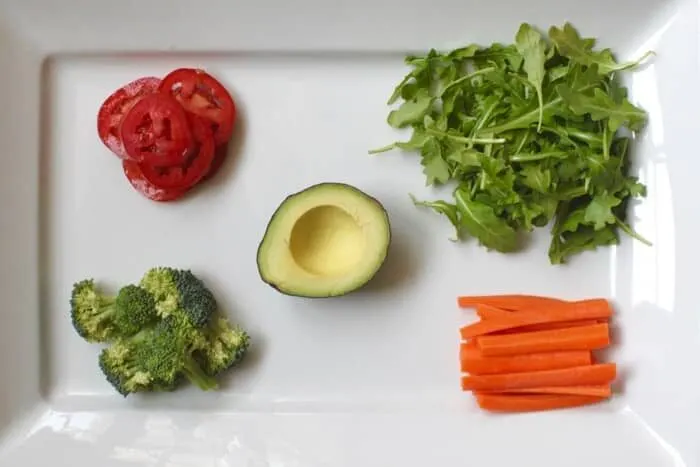 An example daily serving of vegetables (2.5 cups of veggies):
1/2 cup carrot
1/2 cup tomato
1/2 avocado
1/2 cup broccoli, and
1 cup baby arugula
Note that 1 cup of leaves or lettuce is considered a 1/2 cup of vegetables per the Dietary Guidelines.
Eat a variety of vegetables
It is also important to consume a variety of veggies. Variety is needed so that we can get the range of nutrients (vitamins, minerals, etc) provided by the different types of vegetables.
For this reason, the Dietary Guidelines recommends the following breakdown of different types of vegetables each week (1):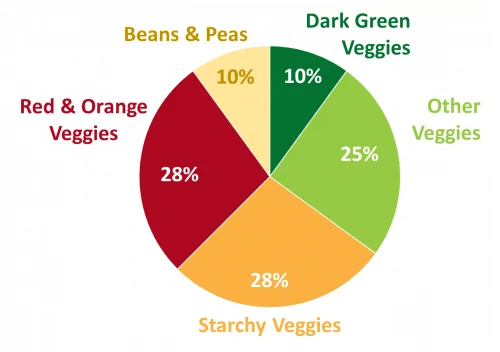 Dark-Green Vegetable Examples:
Broccoli
Spinach
Leafy Salad Greens
Collards
Bok Choy, Kale, etc.
Red & Orange Vegetable Examples:
Tomatoes
Carrots
Sweet Potatoes
Red Peppers
Pumpkin
Bean & Pea Examples:
Pinto
Kidney
Black Beans
Lentils
Chickpeas
Split Peas
Edamame
Starchy Vegetable Examples:
Potatoes
Corn
Green Peas
Plantains
Other Vegetable Examples:
Onions
Green Beans
Cucumbers
Celery
Green Peppers
Cabbage
Mushrooms
Avocado
Summer Squash
Cauliflower
Eggplant
Garlic
Asparagus
Snow peas
Beets
When vegetables are consumed in the recommended amounts, they contribute the following nutrients (% recommended intake) to our daily diet (2):
Fiber (38%)
Potassium (36%)
Iron (19%)
Folate (23%), and
Vitamin A (34%)
However, most of us do not eat sufficient quantity or variety of veggies to get all of these nutrients that we need.
The most commonly eaten veggies by Americans are (1)
Potatoes (21%) and
Tomatoes (18%)
Potatoes and tomatoes can certainly be a part of a healthy diet.
But, it is important to also include some dark green veggies, salad greens, legumes and other vegetables for a balanced diet.
Five Simple Tips to Eat More Vegetables
1. Serve more vegetables (in large bowls)
Numerous studies conducted by the Cornell Food and Brand lab have shown that, on average, people eat 20 to 25% more when they serve themselves from large packages.(3)
This is because large packages or serving bowls suggest a "consumption norm."
The research showed that when people cooked from large containers of food (think club size amounts of pasta and sauce), they not only served themselves more of the meal, but ate more of what they served themselves.
Key takeaway: Buy large and serve large when it comes to vegetables.
Recommendation: Buy and cook more when it comes to veggies. Make that salad a little larger. Roast extra vegetables. Increase the amount of veggie sticks you package up for a snack.
2. Increase vegetable variety
Research has shown that we eat more when served with a variety of foods as compared to when served with a single food item.
This is because of "sensory specific satiety," where our senses get numbed or sated if they continually experience the same stimulus.
Researchers from the University of Oxford observed a near 20% increase in yogurt consumption when study participants were given a selection of three different flavors instead of a single yogurt flavor.
However, the 20% increase in consumption decreased if the three yogurt flavors were not visually distinct (ie they were all a shade of pink).4
Key takeaway: A visual variety of vegetables should can veggie consumption.
Recommendations: Increasing variety doesn't mean you have to cook an additional veggie dish.
If you are making a salad, increase the ingredients and textures. Add crunchy, creamy, sweet and salty components to your dark leafy green base.
If you are roasting veggies, don't just make a giant serving of roasted broccoli; add in some cauliflower and carrots.
Finally, if you are keeping it simple with raw veggies, just make sure to have a large variety. Add some snap peas, grape tomatoes, celery, and sweet red pepper to your carrot sticks.
3. Make eating vegetables convenient
One perceived barrier to eating more vegetables is convenience. It takes time to shop for, prepare, and cook vegetables. However, there are many convenient ways to include more veggies in your day:
Shop for pre-washed salad greens (especially baby spinach, arugula, and kale)
Buy snack-able vegetables like baby carrots, cherry tomatoes, snap peas
Keep frozen veggies in your freezer (frozen veggies are often just as healthy as fresh! Just make sure to read the label to make sure they don't contain any added salt or sugar)
Set aside some time to wash and cut vegetables twice a week. I do this with bell pepper, carrots, and celery. Having containers of snack-size sticks on hand makes it more convenient to pack veggies as snacks and also cuts down on dinner preparation time.
4. Eat veggies with (almost) every meal or snack
It is much easier to eat enough vegetables if you spread them out throughout the day.
If your goal is to eat 2.5 cups of veggies a day, try to include vegetables into two meals and a snack.
If you only eat vegetables at dinner, it will be quite hard to get your daily recommended amount (unless you enjoy very large dinner salads).
5. Hide vegetables in food
When all else fails, you can hide extra vegetables in foods. If you are preparing meals for a reluctant veggie eater, this is probably a strategy you already use.
If you are a reluctant vegetable eater, this is an easy way to increase your veggie intake. Some of my favorite methods for hiding veggies in food include:
Final thoughts on eating more vegetables
With a little preparation, it is easy to increase the amount of veggies you (and your family) eat each and every day. And eating enough vegetables is very important.
Higher intake of a variety of vegetables is consistently associated with positive health outcomes including decreased risk of cardiovascular disease, lower risk of developing type 2 diabetes, and reduced risk of many site-specific cancers.2
Pin article for later: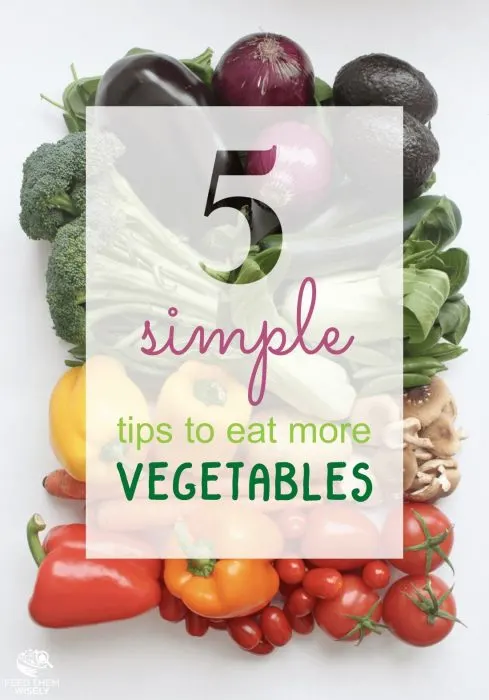 References