Celebrate the beginning of spring with these Coconut Macaroon Bird Nest Tarts. The toasty and chewy textures of coconut macaroons are combined with a light and refreshing dairy-free lemon custard to make these mini tarts. Top the macaroon tarts with your favorite berries for a fun, spring-themed dessert that is perfect for Passover, Easter and other spring celebrations!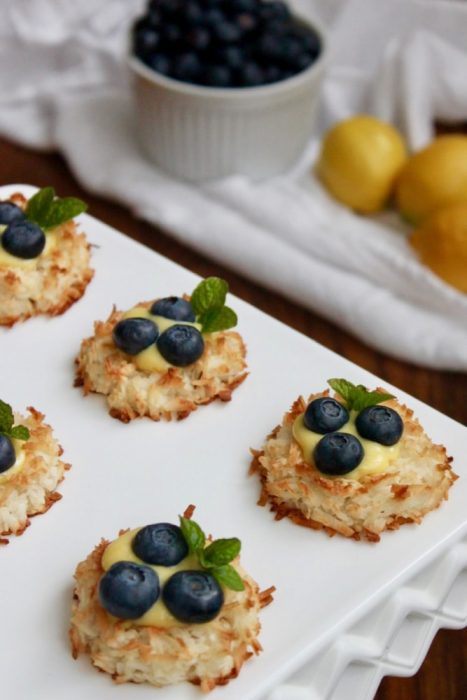 Paleo Coconut Macaroon Tarts with Lemon Custard
These little lemon custard filled tarts are not only lovely, they are also paleo. Which means they are dairy-free, gluten-free and refined sugar-free! So they are definitely a healthier dessert that can be enjoyed during Passover.
Coconut Macaroon Bird Nest Tart Recipe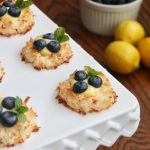 Coconut Macaroon Bird Nest Tarts
These Coconut Macaroon Bird Nest Tarts filled with lemon custard and topped with fresh berries are sure to delight your holiday guests! {Gluten-Free, Dairy-Free, Refined Sugar-Free, and Kosher for Passover}
Keyword:
healthy coconut macaroons, paleo, paleo coconut macaroon recipe
Ingredients
Dairy-free Lemon Custard
0.5

cup

full fat coconut milk

2

egg yolks

1

tbsp

maple syrup

2

tsp

lemon zest

1

tsp

lemon juice
Coconut Macaroon Bird Nests
2.5

cup

unsweetened flake coconut

4

egg whites

1

tbsp

maple syrup
Instructions
To Make Dairy-Free Lemon Custard
Fill a medium size saucepan half full with water. Make a ring out of aluminum foil and place in water. Heat water until simmering gently. Click here for photos of the entire process of making the lemon curd

Whisk together coconut milk, egg yolks, lemon zest, lemon juice and maple syrup in a medium size bowl

Place bowl with coconut milk mixture onto aluminum foil ring in the simmering water

Whisk mixture gently until the custard thickens. (Approximately 10 minutes, custard will be approximately 160 degrees F)

Poor thickened custard into a clean bowl. Be careful to not scrape sides where custard may have curdled. (This step ensures that custard does not need to be poured through a sieve)

Cover custard with parchment paper to prevent a skin from forming and refrigerate until completely cold (at least 2 hrs). Custard can be made up to 48 hours ahead
To Make Bird Nest Macaroons
Preheat oven to 350 degrees F and line a baking sheet with parchment paper or a silicone baking liner. Click here for photos of the entire process of making the coconut macaroons

Whisk egg whites and maple syrup until frothy


Add shredded coconut and stir until entirely coated with egg white mixture

Using a 1.5 tablespoon cookie dough scoop, scoop coconut macaroon mixture onto prepared baking sheet

Press the middle of the macaroon mound down with the back of a spoon to form an indentation

Using your fingers, shape macaroon mixture until it resembles a bird's nest. (Mixture will not be too sticky and will easily separate, so simple place coconut pieces where you want)

Bake for 10 to 12 minutes, until golden brown

Cool macaroons completely. Macaroons be stored in an air-tight container in the refrigerator for up to 24 hrs
To Assemble Bird Nest Tarts
Top custard filled nests with fresh berries to resemble eggs
Nutrition information (per tart, 16 servings total):
143 calories
1 g added sugar
3 g fiber
2 g protein
21 mg sodium
13 g fat
Pin recipe for later: