Strawberry avocado spinach salad with strawberry balsamic vinaigrette is a delicious salad that celebrates the intensely sweet flavor of freshly picked strawberries.
This healthy strawberry salad is loaded with anti-inflammatory ingredients and gluten-free, dairy-free, vegan, and Whole30 compliant!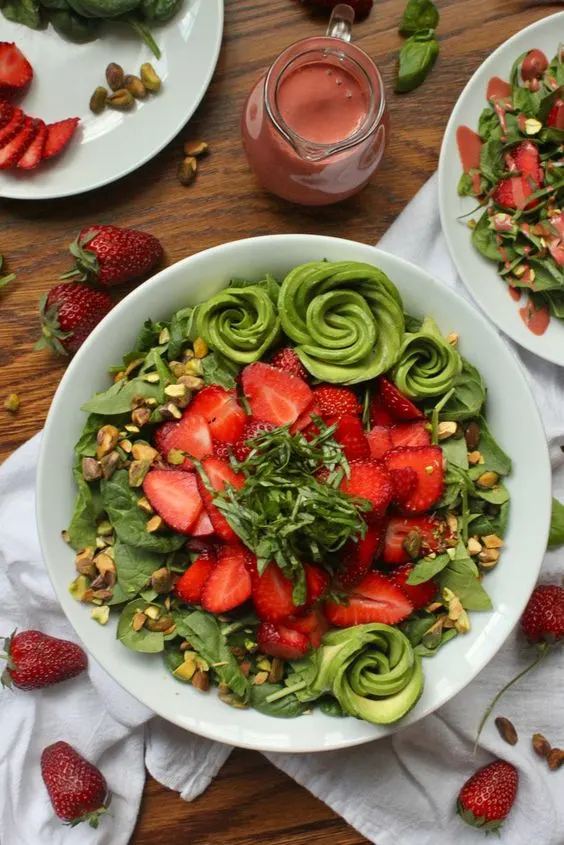 Healthy Strawberry Salad with Basil and Pistachios
Healthy and delicious salads are easy to make. You just need good, fresh ingredients and a combination of flavors and textures. This sweet and creamy strawberry-centered salad can be pulled together in just a few minutes.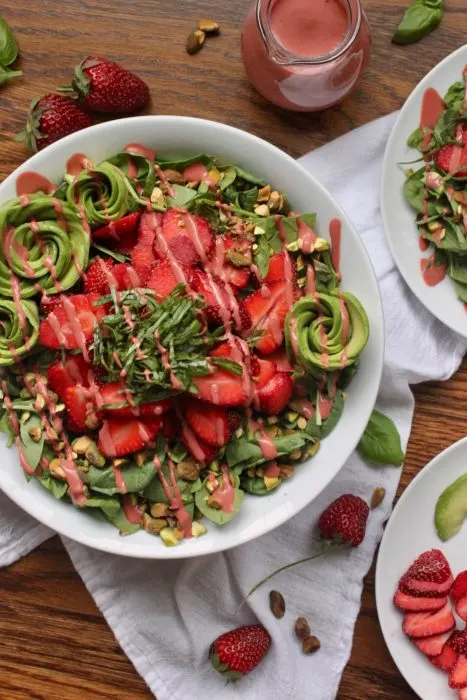 Strawberry Avocado Spinach Salad Recipe
I like salads with a combination of sweet, salty and tangy flavors with creamy and crunchy textures. And this strawberry avocado spinach salad has them all! Sweet, ripe strawberries. Salty, crunchy roasted pistachios. Creamy avocado. Fresh baby spinach and basil. All combined in a sweet and tangy strawberry balsamic vinaigrette dressing. Yum!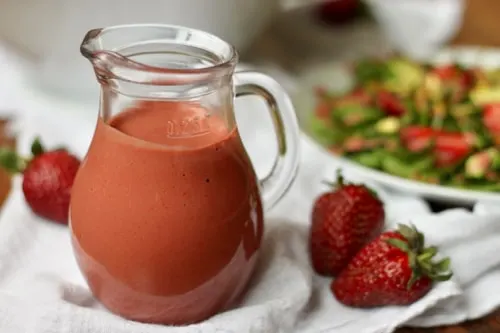 Strawberry Avocado Spinach Salad
Bursting with the sweet and tangy flavors of freshly-picked strawberries, this Whole30-compatible strawberry avocado spinach salad with strawberry balsamic vinaigrette is a delightful accompaniment to any meal.
Ingredients
4 cups baby spinach, about 6-oz*
2.5 cups strawberries, hulled and sliced*
1 avocado, sliced)
1/2 cup basil, cut into thin strips, chiffonade
1/2 cup pistachios, roasted and lightly salted
1/4 cup avocado oil, or other healthy oil like olive oil
2 tbsp balsamic vinegar
1 clove garlic
Instructions
To Make the Strawberry Salad:
Combine spinach, 2 cups strawberries, avocado, basil and pistachios together in a medium size bowl. Top with strawberry balsamic dressing, toss and enjoy
To Make Strawberry Vinaigrette:
Combine 1/2 cup strawberries, oil, vinegar, and whole garlic clove in a blender. Blend until dressing is uniform and creamy, about 1 minute
Nutrition Information:
Yield:

4
Serving Size:

1
Amount Per Serving:
Calories:

402
Total Fat:

35g
Saturated Fat:

4g
Trans Fat:

0g
Unsaturated Fat:

29g
Cholesterol:

0mg
Sodium:

106mg
Carbohydrates:

20g
Fiber:

8g
Sugar:

8g
Protein:

6g
Nutrition information provided by Nutritionix.
Kid Friendly Strawberry Spinach Salad
My two boys happily eat this strawberry avocado spinach salad, without the dressing. However, I do serve their salads deconstructed where the ingredients are separated.
According to research from the Cornell Food and Brand Lab, children have different food serving preferences than adults. And when children like how food is presented, they are more likely to eat and enjoy it. Read the full article on plating food for kids: why deconstructed meals work.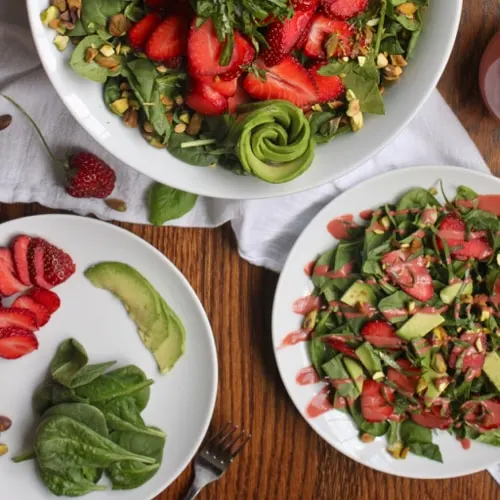 Why this Strawberry Spinach Salad is a Healthy Choice:
Strawberries are a great source of antioxidants
Fresh basil contains eugenol, an anti-inflammatory oil
Spinach and other dark leafy greens contain the antioxidant vitamins A, C, E and K
The healthy fats in the salad dressing, pistachios, and avocado help enhance absorption of fat-soluble vitamins in the salad
Pureed strawberries sweeten the dressing instead of added sugar
Other healthy and delicious salads you will enjoy:
Pin recipe for later: