This spinach salad with pears and candied pecans is my go-to, weeknight fall salad.  Made with sliced pears, toasted pecans, and Boursin cheese, this salad's delicious combination creamy, crunchy, and sweet are why there are never leftovers.  It is that good!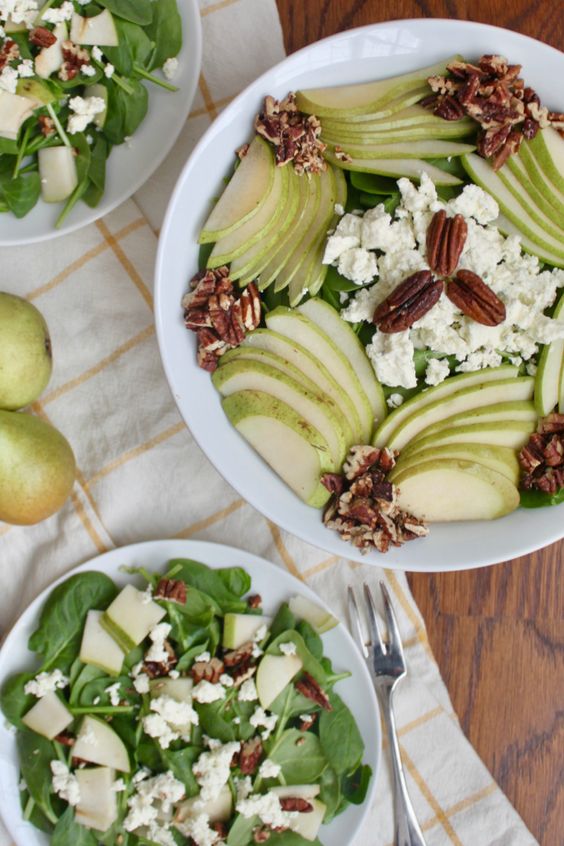 This easy spinach salad can be made in  five minutes using staples I usually have on hand:
This recipe is not an advertisement for Boursin cheese, we just really like it in this salad.
Spinach, Pear and Toasted Pecan Salad with Boursin Cheese Recipe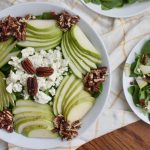 Spinach, Pear and Toasted Pecan Salad with Boursin Cheese
Creamy and crunchy, this spinach, pear and toasted pecan salad with Boursin cheese is delicious enough for a special meal and quick enough for any weeknight.
Keyword:
healthy salad recipe, spinach salad with boursin cheese
Instructions
Cut pears in half, remove core, and slice into thin strips

Roughly chop maple cinnamon toasted pecans

Combine creamy caesar salad dressing and maple syrup in the bottom of a medium size salad bowl

Top salad dressing mixture with pre-washed baby spinach

Arrange sliced pears, chopped pecans and crumbled Boursin cheese on top of baby spinace

Toss salad to evenly distribute dressing and serve
*Note: Spinach and pears consistently test positive for pesticide residues, including organophosphate pesticides.  That is why I choose to buy organic or pesticide free versions at my grocery store.  Read more about pesticides and produce.
Tested and delicious substitutions:
Goat cheese or any other mild and creamy soft cheese works well in place of Boursin cheese
Baby arugula is an excellent substitution for baby spinach leaves
Serving salad to children
This spinach and pear salad can be served deconstructed with the ingredients separated for picky eaters (like my 3 year old).  Research conducted at the Cornell Food and Brand Lab has shown that children have different preferences than adults for how food is served.  And when children like how food is presented, they are more likely to eat and enjoy it.  Read full article on plating food for kids: why deconstructed meals work.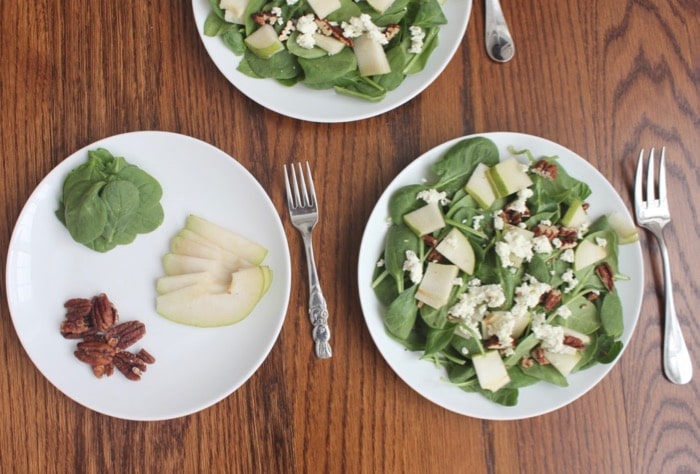 Nutrition information (per serving, 4 servings):
295 calories
2 g added sugar
4.6 g fiber
3.5 g protein
200 mg sodium
24 g fat
Pin recipe for later: