This coconut ginger chicken soup is a favorite for cold winter nights. The ginger infused chicken broth with coconut milk is both comforting and hearty, a perfect easy one-pot weeknight meal.
You can serve this delicious chicken soup with toasted sesame soba noodles made with 100% buckwheat noodles to make this soup a little more filling.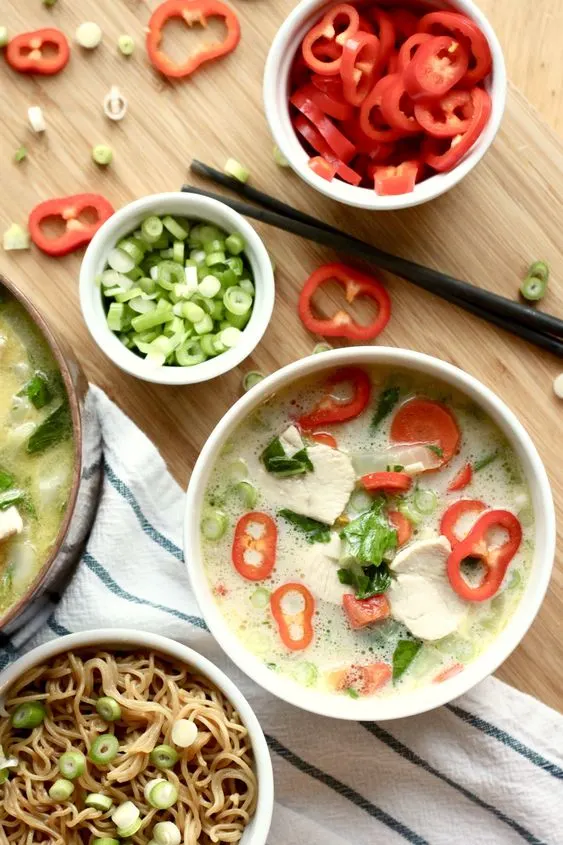 Coconut Ginger Chicken Soup is an easy weeknight meal
If you prepare the ingredients for this ginger coconut soup in advance (washed and cut), the soup can be cooked in just a few minutes.
Our favorite vegetables to add are red bell peppers, baby bok choy, and carrots. However, you can easily modify the veggies meet your family's specific tastes.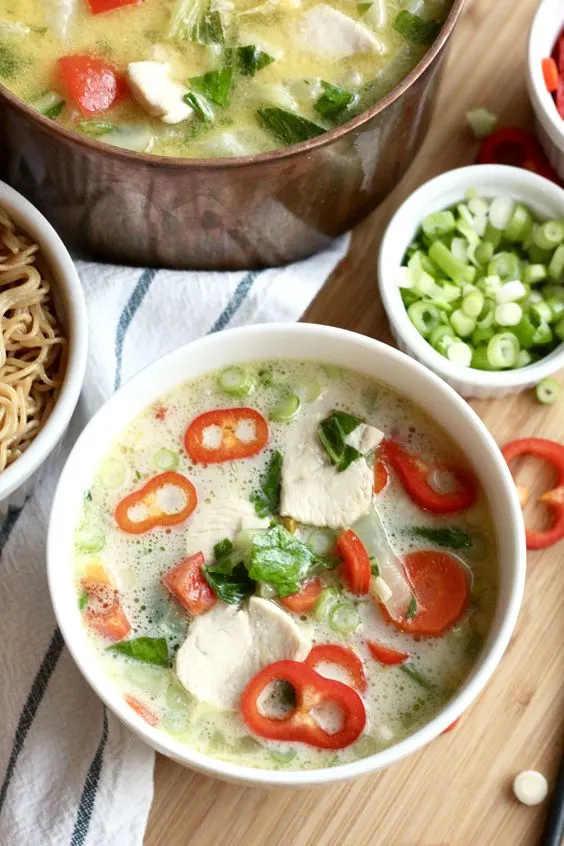 Ginger Coconut Chicken Soup Recipe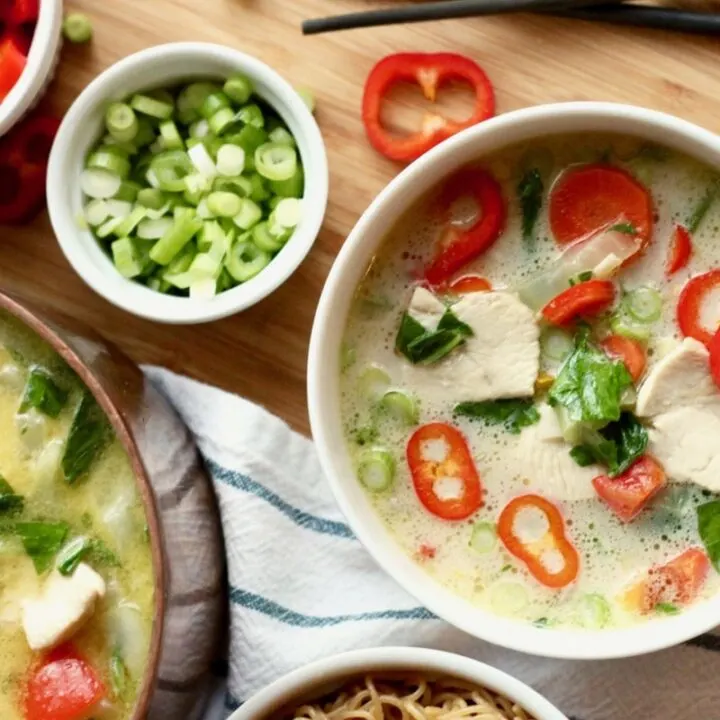 Coconut Ginger Chicken Soup
Ginger and coconut turn this not-so-traditional chicken soup into a comforting and filling weeknight meal. This delicious chicken soup is dairy-free, gluten-free, paleo and Whole30 compatible!
Ingredients
Coconut Ginger Chicken Soup
2 tablespoons Avocado Oil, or other healthy oil
2 inches Ginger Root, peeled and finely chopped
4 cloves Garlic, thinly sliced
2 Boneless Skinless Chicken Breasts, cut into thin strips*
1 quart Chicken Broth, low sodium*
2 Red Bell Peppers, diced, reserve some strips, if serving deconstructed*
3 Baby Bok Choy, washed and sliced into thin strips
2 Carrots, peeled and sliced into disks
1 13.5-oz can Coconut Milk*
Green onions and small red peppers for garnish, optional
Toasted Sesame Buckwheat Noodles (Optional, not paleo or Whole30 compatible)
1 8-oz packet Buckwheat Soba Noodles, use 100% buckwheat for gluten-free
3 tablespoons Low Sodium Tamiri, low sodium soy sauce can be used instead, but will not be Gluten-free
3 tablespoons Toasted Sesame Oil
Instructions
Coconut Ginger Chicken Soup
Heat olive oil in a large pot. Add chicken and sauté until lightly browned, about 2 minutes (does not need to be fully cooked).
Remove chicken from pot, set aside. Optional step: Continue to cook residual chicken juices until they thicken and start to brown (this step will enhance the flavor of the soup broth)
Add ginger and garlic to pot and sauté until fragrant, about 30 seconds
Add chicken stock and scrape down sides and bottom of pan. Add sliced carrots and bring broth to a simmer over medium-low heat
Add bell peppers and chopped baby bok choy stems to chicken stock mixture, simmer for two minutes. Note: Reserve some bell peppers if serving soup deconstructed
Remove soup from heat and stir in coconut milk. Serve soup immediately with green onions and small red peppers and toasted sesame soba noodles, if using
Toasted Sesame Soba Noodles
Once veggies are simmering in ginger chicken broth, fill another large pot with water and bring to a boil
Cook the soba noodles in the boiling water until just tender, 3 to 4 minutes, then drain, quickly rinse under cold running water and drain again
Toss soba noodles with light soy sauce and toasted sesame oil. To serve, place a portion of noodles in a bowl. Ladle broth with chicken, bell peppers and bok choy on top of noodles. Top with green onions and small red peppers, if using
To serve soup deconstructed for children
Place a portion of noodles (optional) on a plate along with some uncooked red bell pepper slices. Using tongs, remove some chicken and cooked bok choy from the soup broth and place alongside noodles and bell peppers. Finally, ladle broth into a separate small bowl and serve
Notes
Recipe makes approximately 4 adult servings. Nutrition information is based on 1 serving (with 100% buckwheat soba noodles) prepared with full-fat coconut milk.
Nutrition Information:
Yield:

4
Amount Per Serving:
Calories:

648
*Notes:
I try to use coconut milk that does not contain any stabilizers (ie gums or thickeners). The ingredients should simply read coconut milk and water. Trader Joe's brand of coconut milk is a good option.
I choose to purchase organic red bell peppers. Read more on pesticides and produce.
Did you know that 80% of the antibiotics sold in the United States are for livestock? That is why I choose to purchase chicken raised without antibiotics.
Why Coconut Ginger Chicken Soup is a Healthy Choice:
Each bowl of coconut ginger chicken soup contains two servings of vegetables
The fat from coconut milk enhances absorption of fat-soluble vitamins in the vegetables
Bok choy is a rich source of Vitamin A, Vitamin C and Vitamin K as well as a moderate source of calcium
Ginger and garlic are packed with anti-inflammatory compounds
Kid friendly ginger coconut chicken soup
For picky eaters or littles who may be wary of eating new foods, serve this ginger coconut soup deconstructed with the ingredients separated. My youngest would only eat this soup deconstructed when he was a toddler.
Research from the Cornell Food and Brand Lab shows that children have different preferences than adults for how food is served. Read full article on plating food for kids: why deconstructed meals work.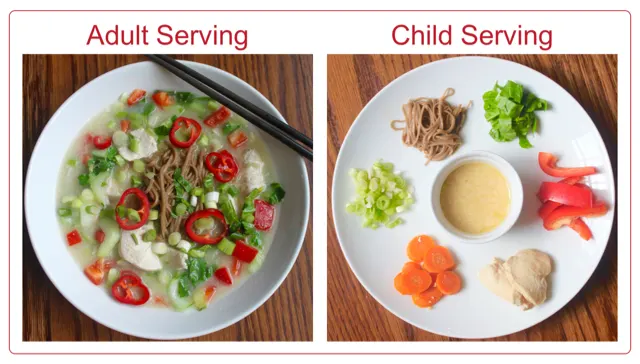 Tested and delicious substitutions for this hearty chicken soup:
Low sodium soy sauce can be used in place of tamari, though recipe will not be gluten-free
Rice noodles (or just cooked rice) can be used in place of soba noodles that are not 100% buckwheat for a gluten-free option
Pin recipe for later: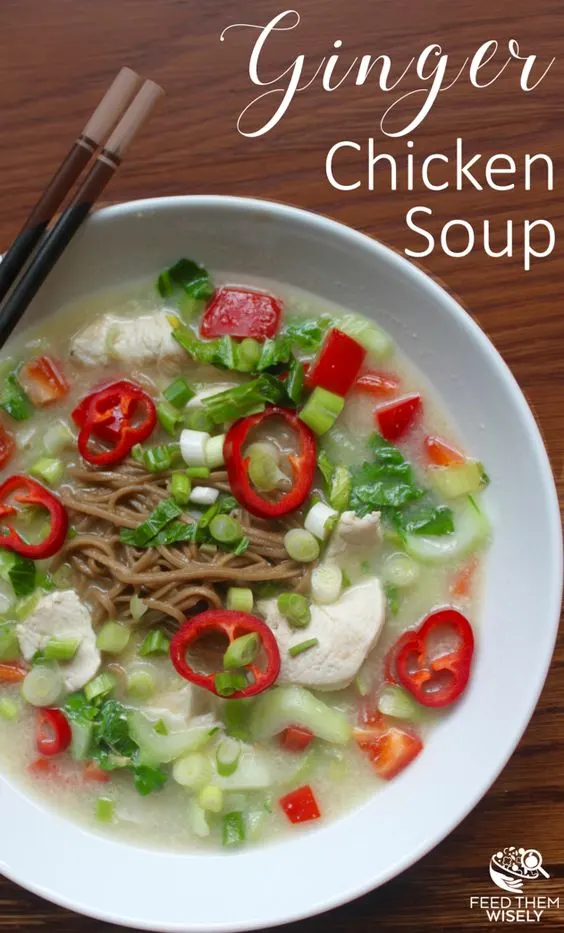 This recipe was originally published in Nov, 2016. The recipe has since been updated with enhanced instructions and refreshed photos.