I am always looking for healthy snack ideas that are filling, nutritious, and enjoyed by my littles. I usually have some healthy granola bars and healthy crackers and snacks in my pantry for quick grab-and-go options. However, these healthy snack mixes are my family's favorite.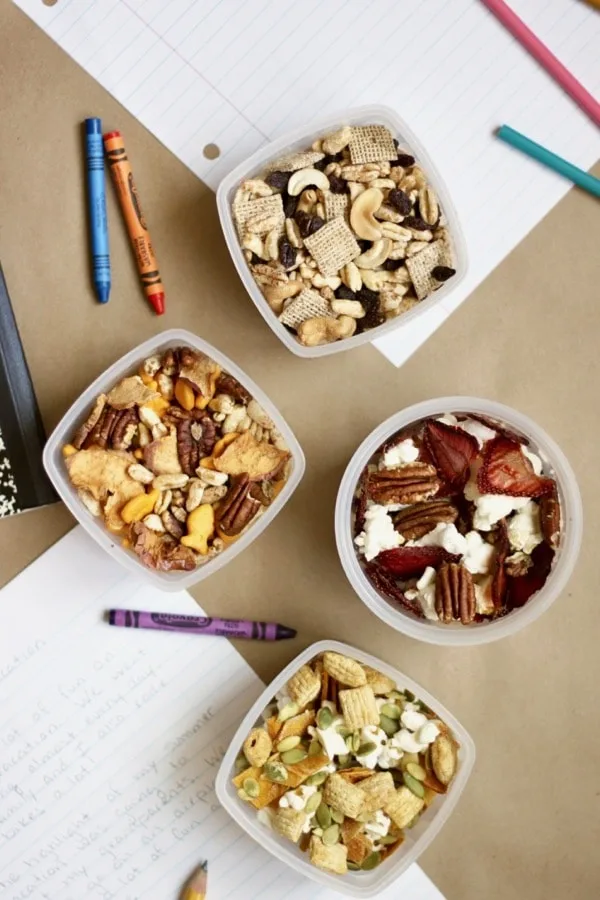 Create healthy snack combinations that are delicious and nutritious
These snack mixes are delicious because they are a combination of sweet and salty flavors. Food manufacturers optimize the amount of added sugar, salt and fat in their recipes to create foods we crave.1 This optimization typically leads to foods that are delicious, but not healthy.
The same principles can be used to create crave-able nutritions snacks. How? By simply balancing the crunchy, sweet, salty, and fatty components of a snack. Snack mixes are an easy way to create crave-able, less processed snacks. And because they are made with dried fruit, nuts, and whole grains, these healthy snack mixes are loaded with protein and fiber to keep you and your family fuller longer.
1. Start with a good source of protein: nuts, seeds or roasted beans
Nuts, seeds and beans all provide good sources of plant-based protein. They also contain a reasonable amount of fiber and fat which helps you stay fuller longer. Choose a protein depending on personal likes, allergy, and other considerations. I typically use lightly salted roasted nuts or seeds to add a slight salty flavor to the snack mix.
Protein suggestions for healthy snack mix:
Pecans
Cashews
Peanuts
Pistachios
Pumpkin Seeds (Pepitas)
Sunflower Seeds
Roasted Chickpeas
2. Add some dried fruit for sweetness
Dried fruit is a key component of these snack mixes as they provide the natural sweetness. Make sure you read the labels of store-bought dried fruit. Seemingly healthy options like dried blueberries, cherries, cranberries and banana chips can contain large amounts of added sugar.
Dried fruit suggestions for healthy snack mix:
3. Add puffed whole grains
Puffed grains like puffed wheat, rice and popcorn add a delicious crunch and texture to a snack mix. I always try to include at least one puffed grain because they are 100% whole grain and a good source of fiber (read more about why it is important to eat enough whole grains).
Whole grain suggestions for healthy snack mix:
Popcorn
Puffed Kamut Wheat (the larger size makes it easier to eat)
4. Add a favorite healthy cereal or cracker
Do you have a favorite cereal that you would happily snack on every day? Does your child have a favorite cheesy cracker that they would live on if given the option? Add the healthiest store-bought version you can find to your snack mix.
These snacks and cereals are often highly processed and contain higher amounts of added sugar, refined grains, and sodium. However, they can be added in small quantities to the snack mix to increase variety and flavor without compromising the healthfulness of the snack.
Cereal and cracker suggestions for healthy snack mix:
Wheat Waffle Cereal
Puffins
Cheerios
Whole Wheat Goldfish
Triscuit Crackers
Want to learn which crackers and snacks are healthier and why? Check out these articles on buying Healthy Crackers & Snacks, and Choosing Healthy Cereals.
Healthy Trail Mix Recipes
The three example snack combinations listed below have approximately 200 calories per 3/4 cup serving. Each snack mix provides 4 to 6 grams of protein and 3 to 5 grams of fiber while keeping the amount of added sugar below 2 grams (that is only half a teaspoon!).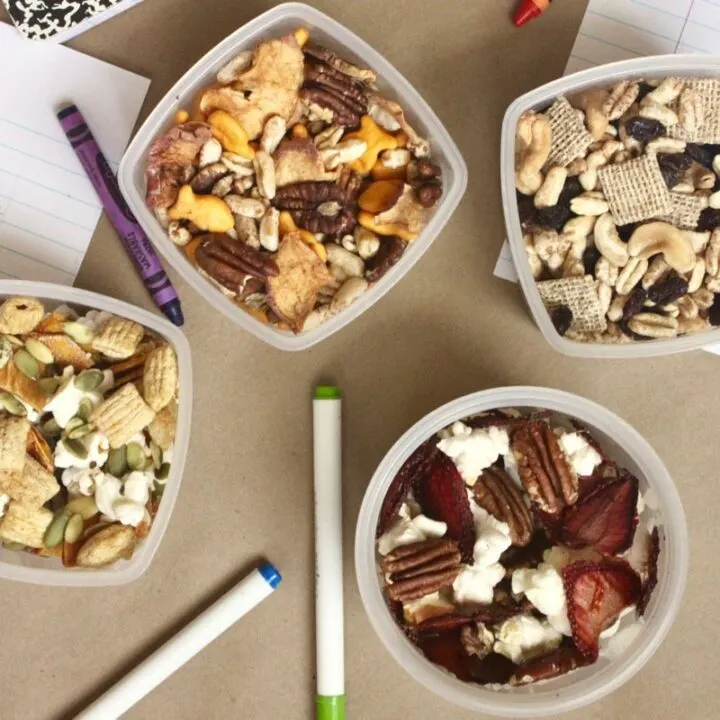 Healthy Snack Mix Recipes
Healthy trail mix recipes packed with whole grains, protein, and a touch of natural sweetness. These are healthy snack mixes your whole family will want to eat!
Ingredients
Pepitas, Dried Mango, Popcorn and Puffins Cereal
1/4 cup Pepitas, (shelled pumpkin seeds)
1/4 cup Dried Mango, cut into bite size pieces
1/2 cup Popcorn
1/2 cup Puffins Cereal
Pecans, Apple Chip, Puffed Wheat and Goldfish Crackers
1/4 cup Pecans, toasted
1/4 cup Apple chips
1/2 cup Puffed Wheat, (or other puffed whole grain)
1/2 cup Whole Wheat Goldfish Crackers
Cashews, Raisins, Puffed Wheat and Wheat Waffle Cereal
1/4 cup Cashews, toasted, lightly salted
1/4 cup Raisins,
1/2 cup Puffed Wheat, (or other puffed whole grain)
1/2 cup Wheat Waffle Cereal
Pecans, Dried Strawberries and Popcorn
1/4 cup Pecans, toasted
1/4 cup Oven Dried Strawberries
1 cup Popcorn
Instructions
Measure ingredients into bowl, mix and enjoy
If preparing ahead of time, store in an air tight container
Notes
Nutrition details are for Pepitas, Mango, Popcorn and Puffins Cereal snack mix combination
Nutrition Information:
Yield:

2
Amount Per Serving:
Calories:

200
Sodium:

58mg
Fiber:

5g
Protein:

6.7g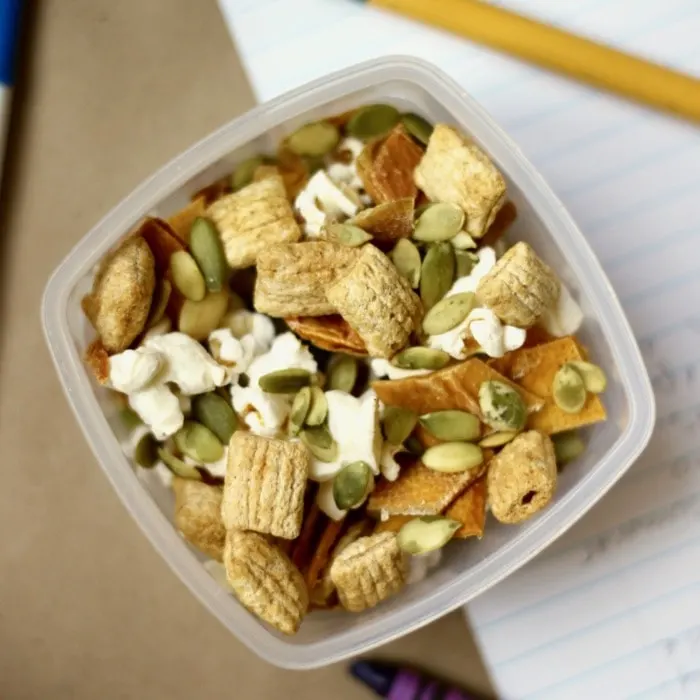 Pepita, dried mango, popcorn, and Puffins cereal (2 servings):
Pepitas (shelled pumpkin seeds, 1/4 cup)
Dried mango, cut into bite sizes (1/4 cup)
Popcorn, lightly salted (1/2 cup)
Puffins cereal (1/2 cup)
Pecan, pineapple, wheat puff, and whole wheat Goldfish (2 servings):
Toasted pecans (no added salt, 1/4 cup)
Apple chips (1/4 cup)
Wheat puffs (1/2 cup)
Whole Grain Goldfish crackers (1/2 cup)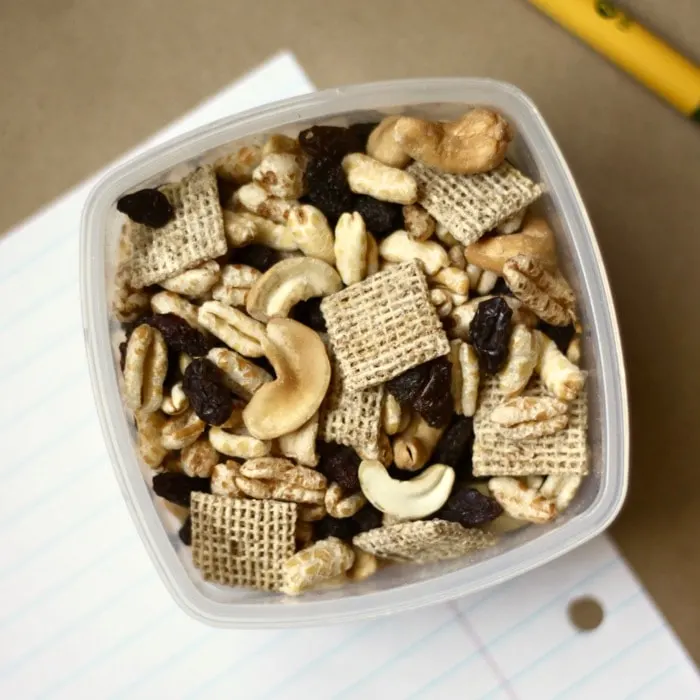 Cashew, raisin, wheat puff and wheat waffle cereal (2 servings):
Toasted cashews (1/2 cup)
Raisins (scant 1/4 cup)
Wheat puffs (1/2 cup)
Wheat waffle cereal (1/2 cup)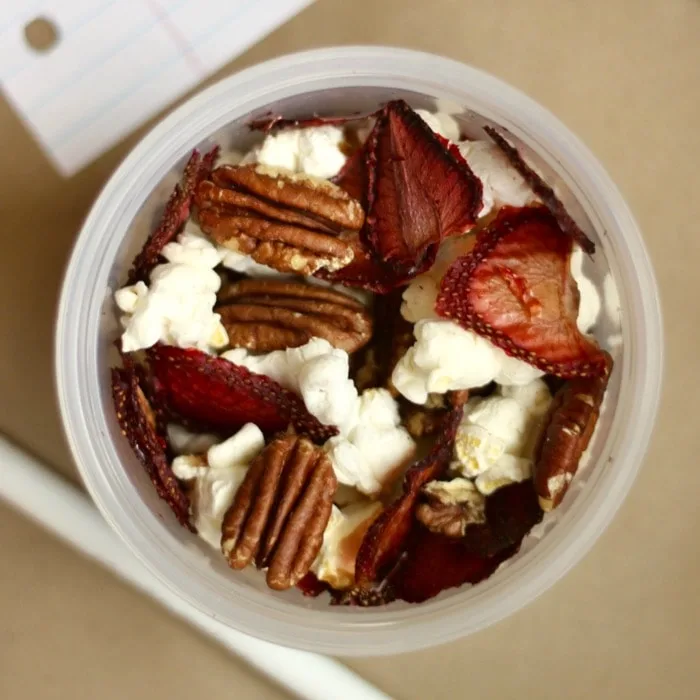 Candied pecans, dried strawberry and popcorn (2 servings):
Pin recipes for later: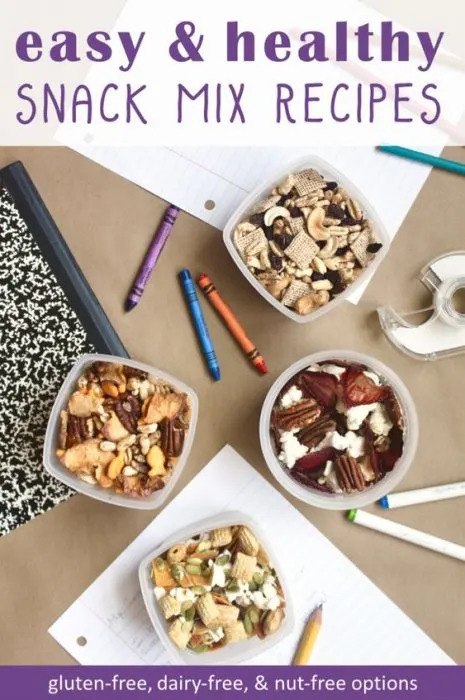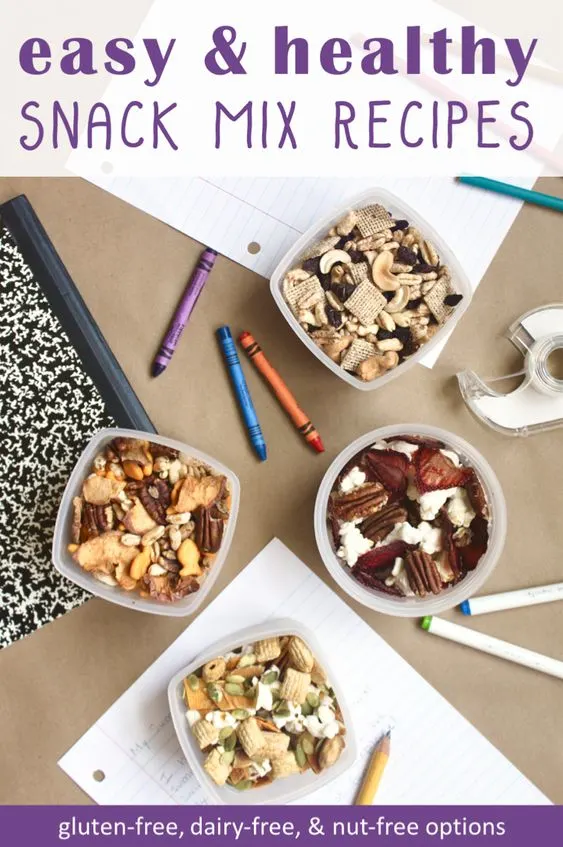 References:
Salt, Sugar, Fat. Michael Moss, 2013 (link)