Homemade Fruit and Nut Chocolate Bark is a delicious and simple to make healthy dessert.
Using just a microwave, this paleo dark chocolate bark has the snap of properly tempered chocolate without the mess of a double broiler.
Customize this healthy chocolate bark by adding your favorite toasted nuts and dried fruit.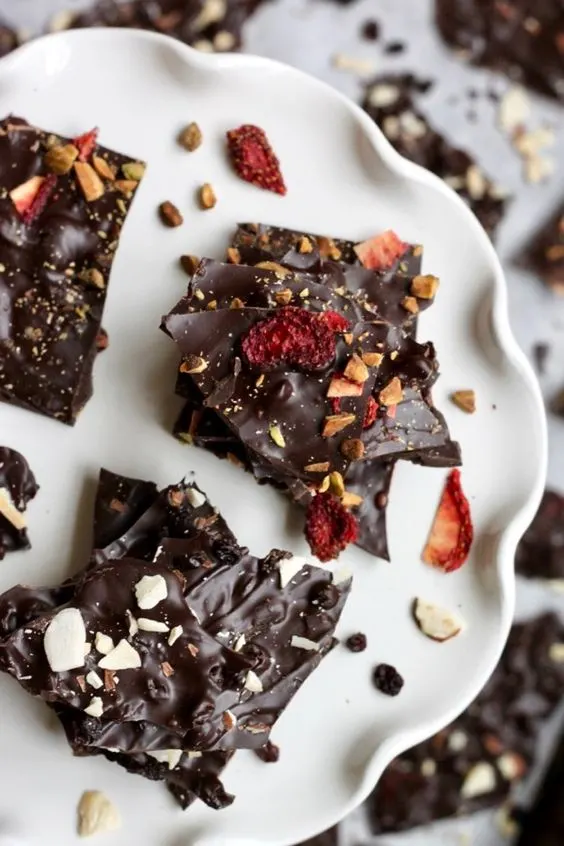 Homemade Paleo Fruit and Nut Chocolate Bark
I used to work for a British company, and the top request from oversees trips was Cadbury's Dairy-Milk Fruit and Nut Bar.
The combination of raisins and toasted almonds in milk chocolate was a crowd favorite. But oh, are those bars sweet!
Dark chocolate is definitely my favorite way to enjoy chocolate. Plus, paleo dark chocolate is easy to find and it is both dairy-free and refined sugar free!
Dark Chocolate Fruit and Nut Bark Recipe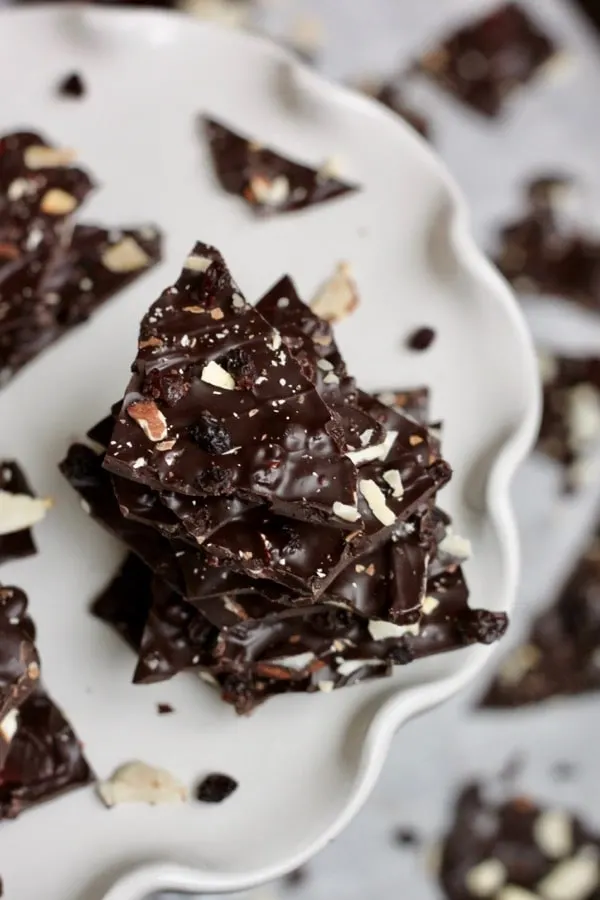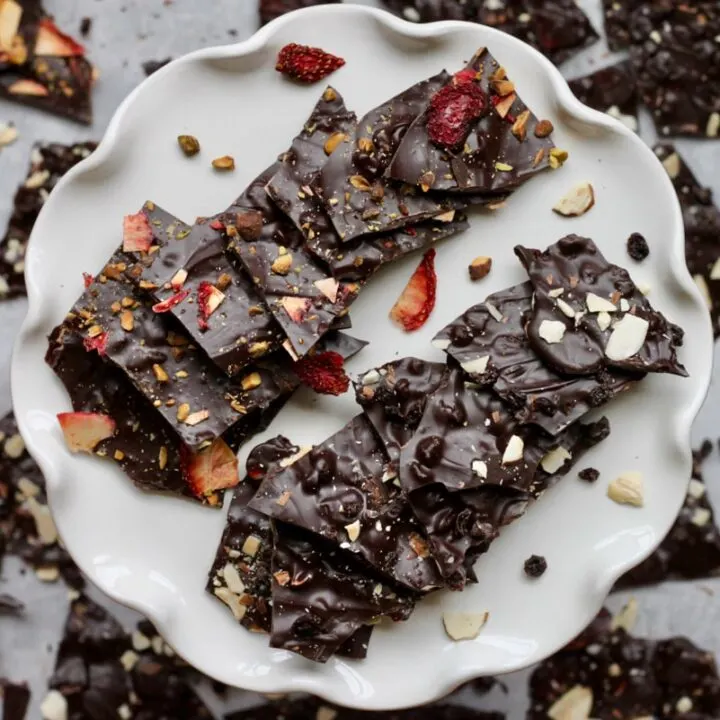 Homemade Fruit and Nut Chocolate Bark
Homemade Fruit and Nut Dark Chocolate bark is easy to make in the microwave for a quick and healthy dessert. Plus it's paleo, dairy-free, vegan and gluten-free!
Ingredients
8 oz Dark Chocolate, approximately 225 grams
1/4 cup Sliced Almonds, toasted
1/4 cup Currents
Instructions
Line baking sheet with parchment paper. Distribute all but 1 tablespoon of toasted nuts and 1 tablespoon dried fruit on parchment paper. Set aside
Roughly chop dark chocolate and place all but the smallest pieces in a medium size glass bowl. Melt chocolate in microwave following these instructions for how to quick temper chocolate
Pour melted chocolate over toasted nuts and dried fruit on parchment lined baking sheet. Try to ribbon chocolate over the nuts as pictured below.
Using a silicone spatula or metal spoon, evenly distribute melted chocolate over the fruit and nuts. Sprinkle remaining nuts and fruit on top of melted chocolate
Set aside chocolate bark until hardened. Note: you can place chocolate bark in the refrigerator to speed up this step. However, it is possible that slight water condensation will form on the chocolate which can cause the chocolate to have a swirled appearance
Nutrition Information:
Yield:

8
Amount Per Serving:
Calories:

198
Sodium:

25mg
Fiber:

4g
Protein:

3g
Easy Paleo Chocolate Bark Recipe
This healthy dark chocolate bark with fruit and nuts could not be easier to make! Simply melt your favorite chocolate in the microwave using this quick and easy chocolate tempering technique and pour melted chocolate onto toasted nuts and dried fruit.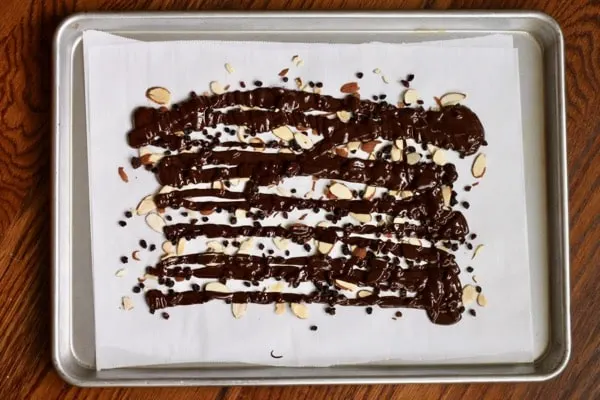 Spread the melted chocolate into a uniform layer and sprinkle with remaining fruit and nuts.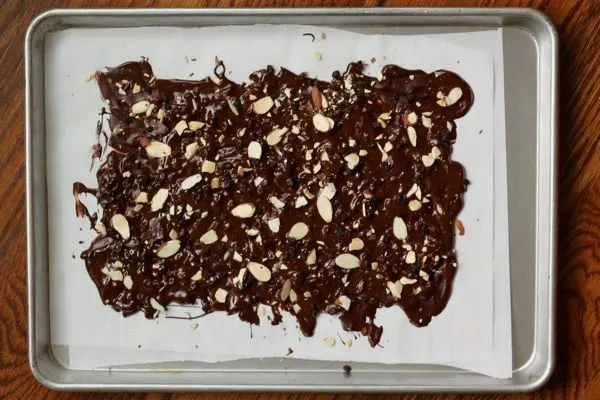 In less than 30 minutes, you can make this dark chocolate fruit and nut bark, a delicious and satisfying dessert.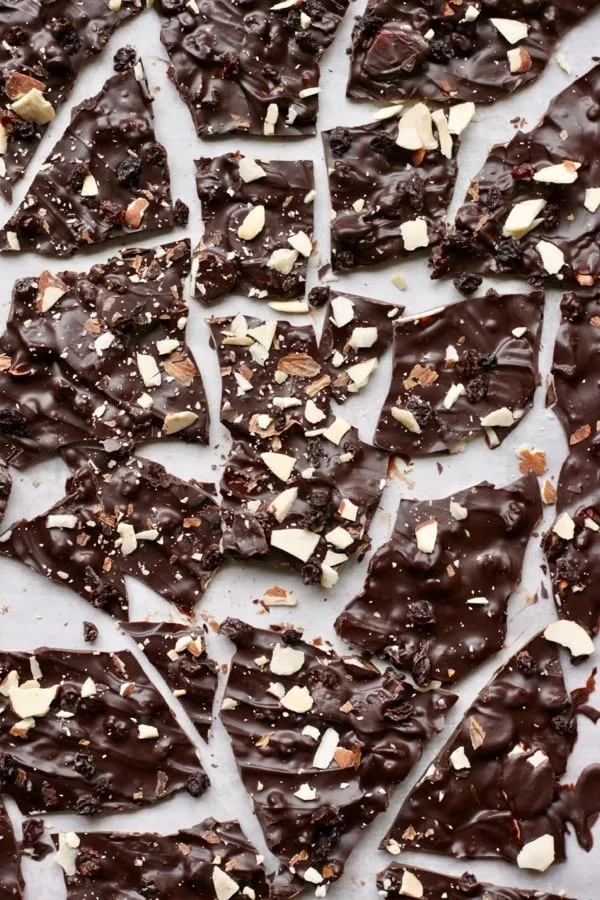 Nutrition information (per serving, 8 servings total):
198 calories
8 g added sugar
4 g fiber
3 g protein
25 mg sodium
13 g fat
Pin recipe for later: