Elevate roasted brussels sprouts from delicious to divine by tossing them in this 4-ingredient pistachio sage relish.  Company-worthy, but easy enough for weeknights, these crispy brussels sprouts are also gluten-free, dairy-free, paleo and vegan!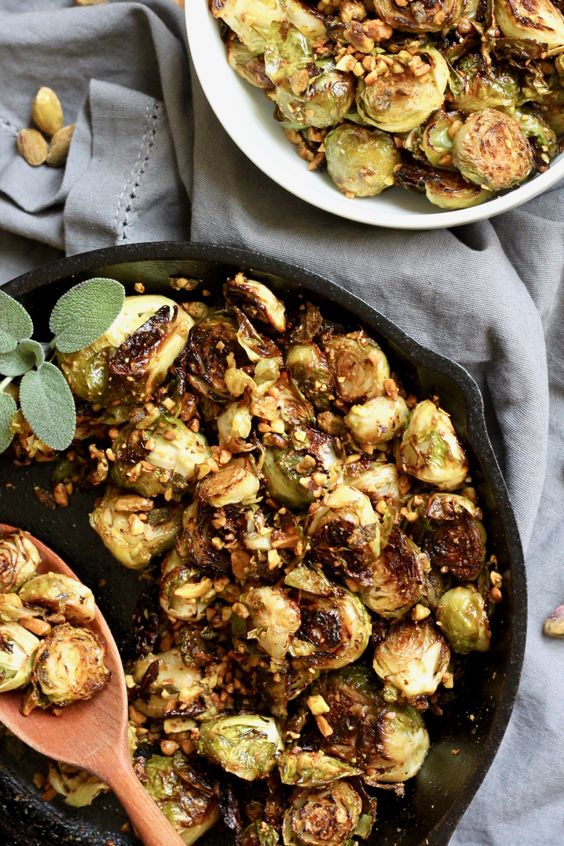 Pistachio Sage Roasted Brussels Sprouts
I am not joking when I say that I could happily eat these crispy brussels sprouts as a main dish.  Yes, they are that good.  Toasted sage and finely chopped pistachios are the perfect pair to the crispy caramelized brussels sprouts.  You will never miss the butter, bacon or cheese accompanying most crispy brussels sprouts recipes!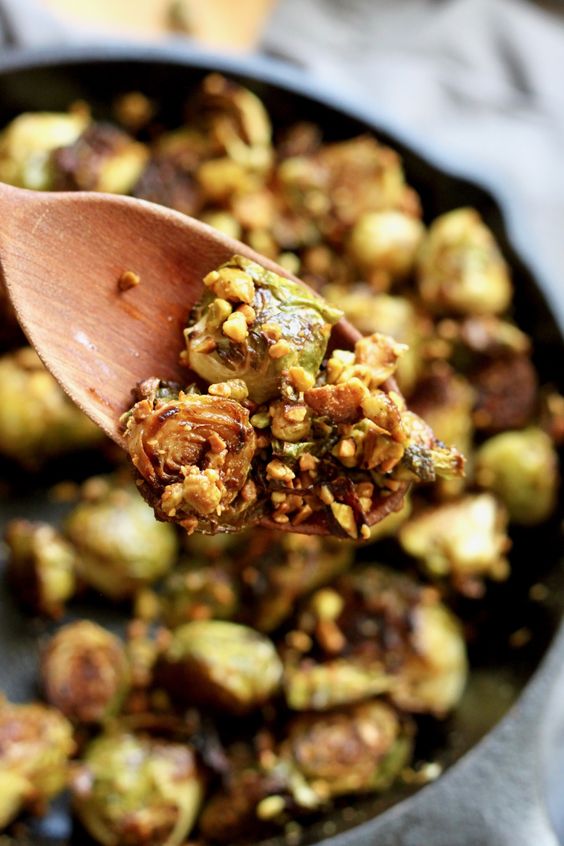 Crispy Roasted Brussels Sprouts with Pistachio Sage Relish Recipe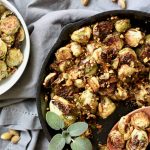 Crispy Brussels Sprouts with Pistachio Sage Relish
This roasted Brussels Sprouts with Pistachio Sage Relish recipe is a savory and delicious vegetable side you will crave! Company-worthy, but easy enough for weeknights, these crispy brussels sprouts are also gluten-free, dairy-free, paleo and vegan!
Keyword:
Crispy brussels sprouts, dairy-free, gluten free, paleo, Roasted brussels sprouts, vegan, whole30
Ingredients
1

lb

Brussels Sprouts

cleaned and cut in half, about 2 cups

.25

cup

Pistachios

shelled

1

tbsp

Fresh Sage

finely chopped, about 6 to 8 large leaves

2

tbsp

Avocado Oil

Sea Salt

to taste
Instructions
Preheat oven to 400 degrees F on the convection bake setting. On a large baking sheet, drizzle brussels sprouts with 1 tablespoon avocado oil. Toss until combined

Roast until the brussels sprouts are brown and crispy on the outside and tender on the inside, about 25 minutes, shaking the pan periodically to ensure even browning

While brussels sprouts are roasting, finely chop the pistachios using a knife or food processor and mince the fresh sage leaves

Heat the remaining avocado oil over medium heat in a heavy frying pan (I prefer cast iron). Add finely chopped sage to hot oil and sauté for one minute. Add pistachios to the sage oil mixture and toast until golden brown, about 1 to 2 minutes. Remove sauce mixture from heat

When brussels sprouts are finished roasting, place the frying pan back on medium high heat to warm the pistachio sage sauce. Add roasted brussels sprouts and toss to evenly coat in pistachio sage mixture. Serve immediately
How to Clean Brussels Sprouts
A few stores sell ready to cook brussels sprouts, which can be a time saver.  However, more often then not, I find that the freshest looking brussels sprouts are not pre-cleaned.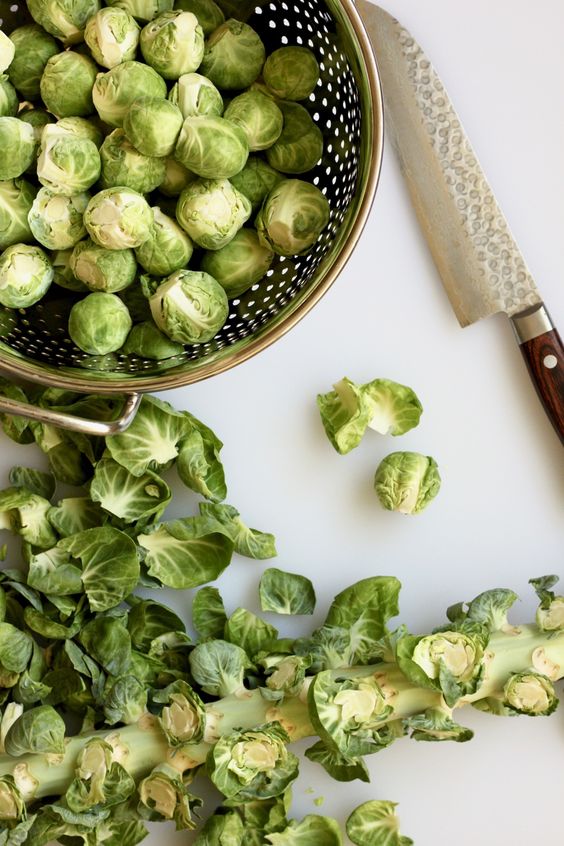 How to clean brussels sprouts:
Cut the brussels sprout off of the stem or remove a small portion of the sprout where it used to attach to the stem
Remove the outer leaves
Wash brussels sprouts in warm water
Cut brussels sprouts in half
To make weeknight meals a little easier and faster, like to prepare as many of the vegetables that we eat ahead of time.  That includes brussels sprouts.  I generally store the brussels sprouts in the fridge after removing the outer leaves.  I have found that I can store produce longer if it is not washed.
Easy to make Roasted Brussels Sprouts Recipe
It takes less than 5 minutes to make the pistachio sage relish that elevates these roasted brussels sprouts to crave-worthy.  Yes, a vegetable side can be crave-able.
First, toss your cleaned and halved brussels sprouts in avocado oil.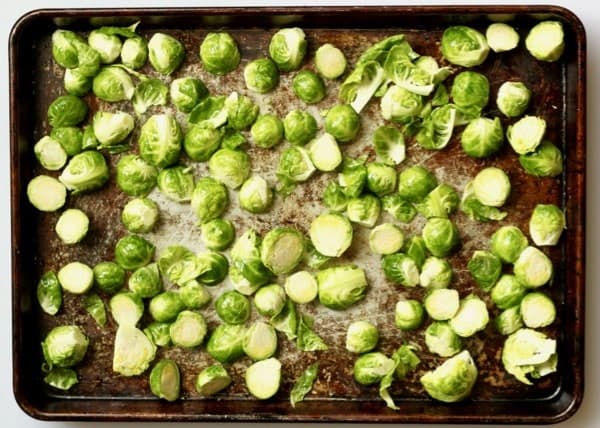 While your brussels sprouts are roasting, prepare the pistachio sage relish.  First, finely dice the fresh sage.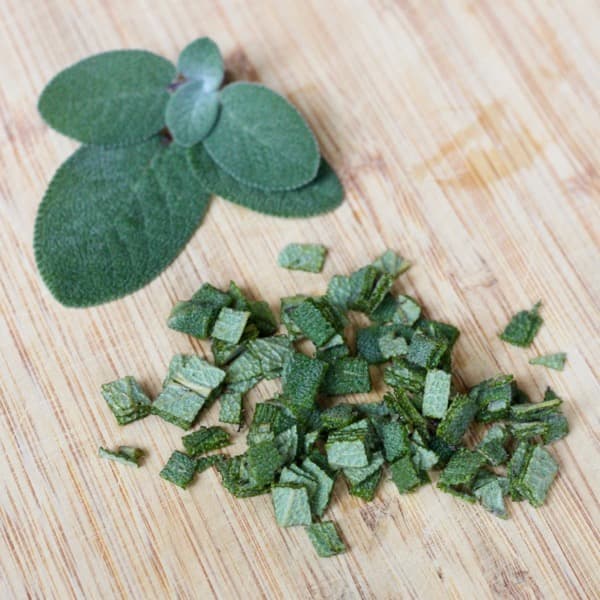 Next, finely chop shelled pistachios either by hand or in the food processor.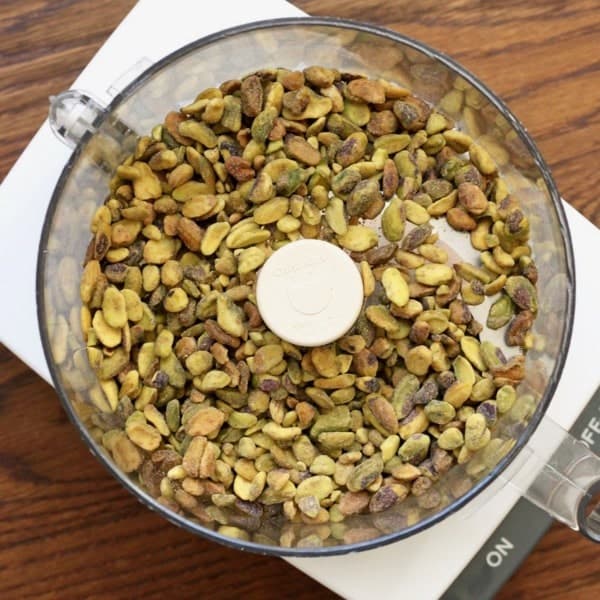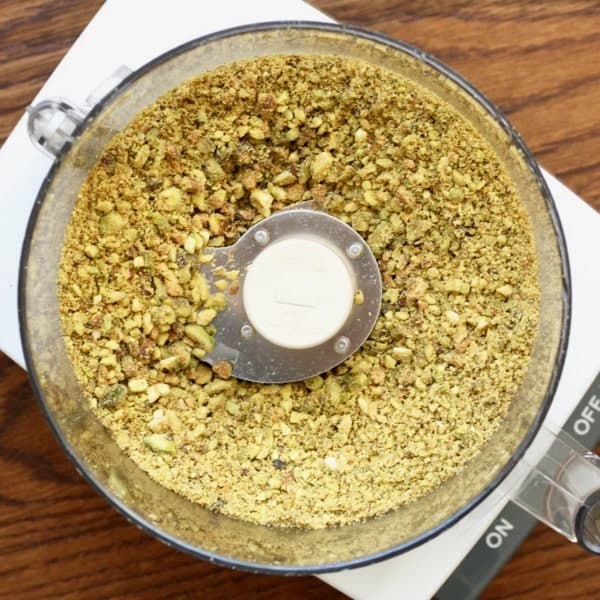 Finally, warm the remaining avocado oil in a medium size frying pan or cast iron skillet over medium heat.  Add the fresh sage and sauté for one minute.  Add the chopped pistachios and sauté them until toasted, about one to two minutes depending on if they were raw or previously roasted.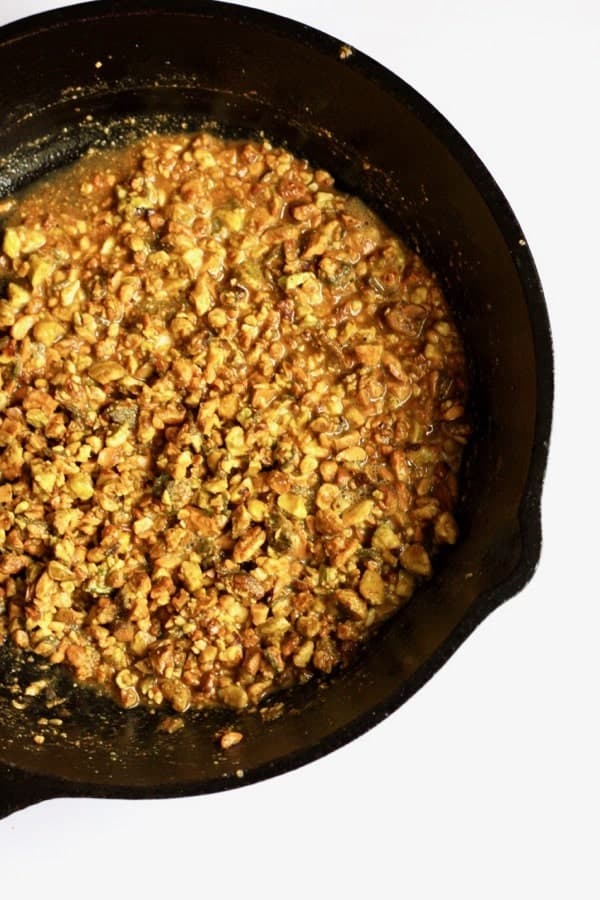 Remove the roasted brussels sprouts from the oven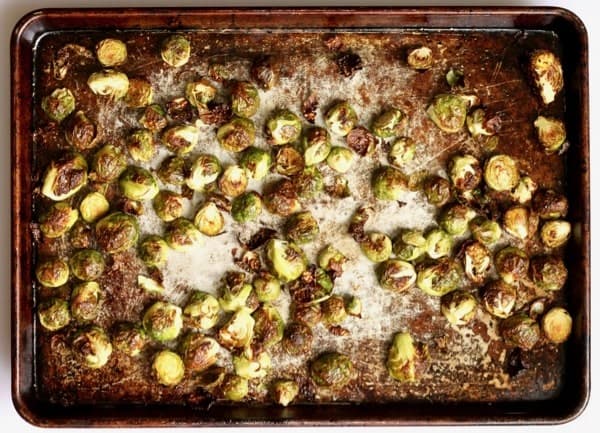 Add the roasted brussels sprouts to the pistachio sage relish, toss, season with finely ground sea salt to taste and serve immediately.  Note that the amount of sea salt you add with vary depending on taste as well as whether the pistachios were salted or unsalted.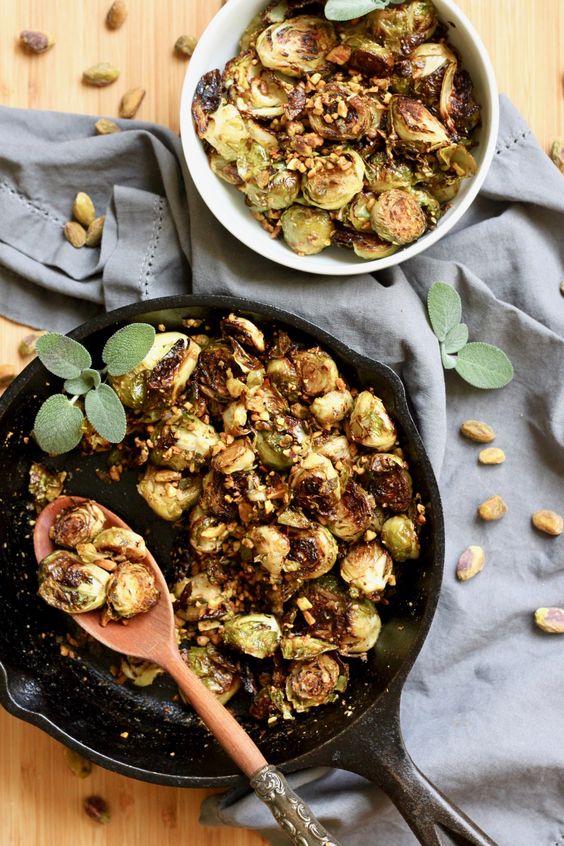 Roasted Brussel Sprout Nutrition information (per 1/2 cup serving, 4 servings total):
122 calories
0 g added sugar
2.4 g fiber
3.0 g protein
158 mg sodium
10.7 g fat
Pin recipe for later: