\Homemade granola is simple to make and can be easily customized to meet any dietary needs or preferences. Plus, this granola recipe is vegan, gluten-free, dairy-free and contains only a small amount of natural sweetener!
Why I make homemade granola
What encouraged me start making my own granola? I began to pay attention to the amount of added sugar in the foods we eat.
When I reread our "staple" granola ingredients looking specifically at sugar, I found that sugar was the second ingredient after oats!
Simply eating granola in the morning with my then-favorite yogurt supplied 18 grams (4.5 teaspoons) of added sugar to my daily diet.
Did you know that the American Heart Association recommends that women eat no more than 6 teaspoons of added sugar a day? And the AHA recommends children have less than 5 teaspoons of added sugar a day!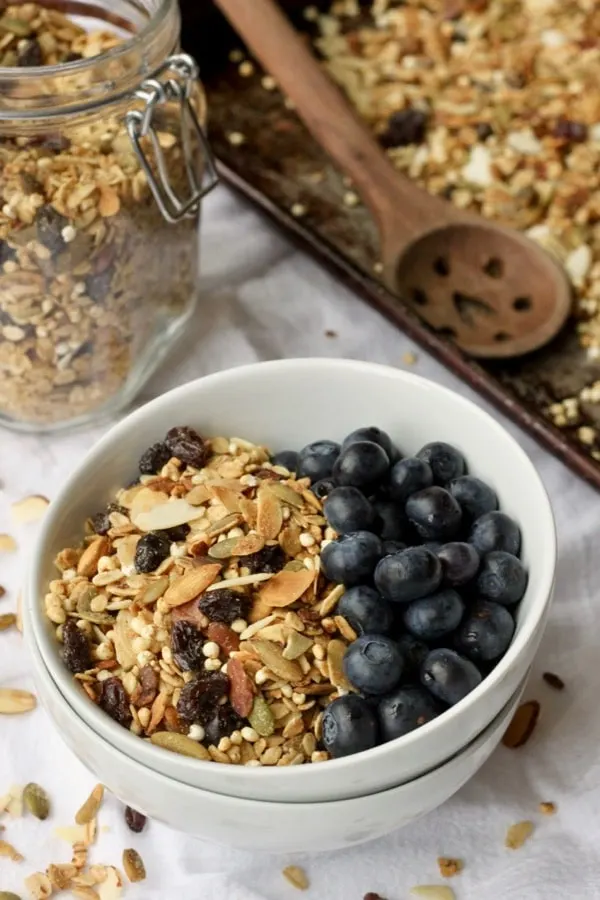 Why is this granola healthy?
The combination of protein, fat and fiber makes this granola a filling and satisfying breakfast
Nutrition experts agree that eating moderate amounts of healthy fats, like those found in nuts and seeds, is part of a healthy lifestyle
Minimal added sweetener is added to this homemade granola, so it can be enjoyed while staying under the American Heart Association's recommended daily intake of added sugar
Healthy granola variations
This healthier granola recipe is very adaptable. You can use any nuts or seeds that you like. Simply keep the ratio consistent: 6 cups grains (rolled oats, puffed grains, etc), 3 cups nuts and 3 cups seeds.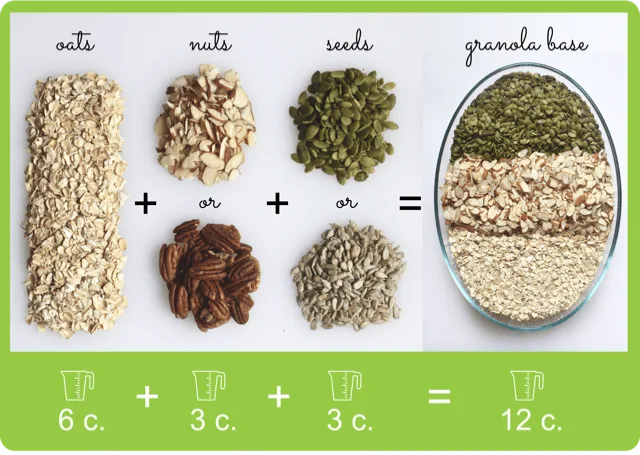 If you eat a nut-free diet, replace all of the nuts with seeds or other optional mix-ins like coconut chips or puffed grains.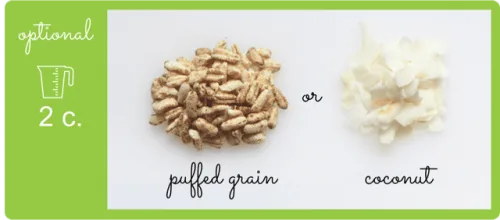 The liquid portion of this healthier granola recipe is equally adaptable. Again, keep the ratios consistent: 1/2 cup seed or nut butter, 1/2 cup oil, and 1/4 cup sweetener.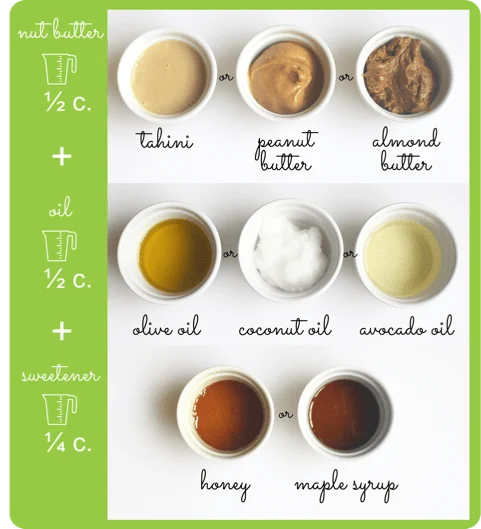 Just remember to add the fruit after cooking the granola! Trust me, baked raisins are not delicious.

Protein-Packed Granola Recipe with Almonds and Pumpkin Seeds
This protein packed homemade granola is easy to make, delicious, and low in added sugar. A 1/2 cup serving contains almost 9 grams of protein and just 2 grams added sugar. We like to eat this granola either with milk or as a toping on greek yogurt and fruit for a filling, delicious breakfast. My boys love it mixed 50:50 with "puffies" (puffed wheat, rice or millet) and topped with milk.
Healthy Homemade Granola Recipe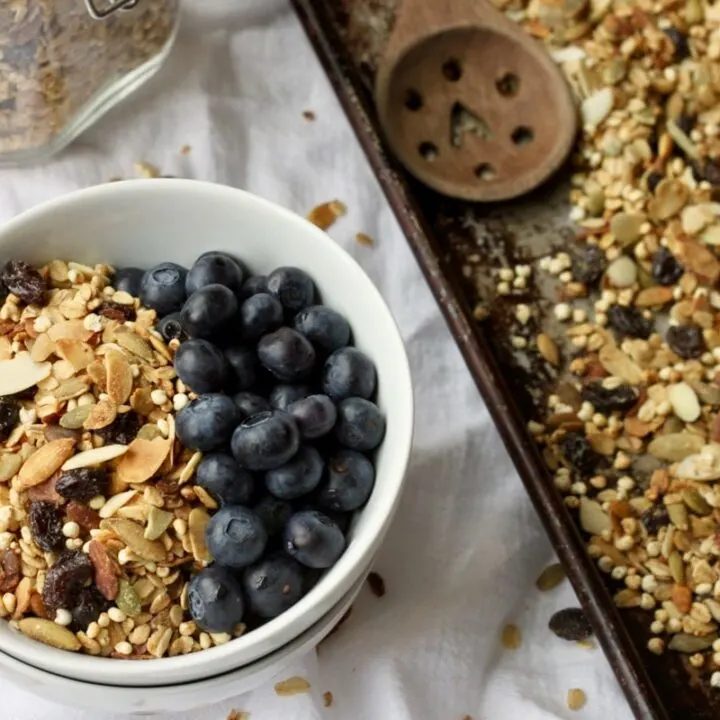 Homemade Gluten-free Granola
Yield:
28 servings (1/2 cup)
Cook Time:
1 hour
30 minutes
Total Time:
1 hour
40 minutes
Packed with seeds and nuts, this delicious and healthy granola will keep you full all morning long! Plus, this homemade granola is vegan, gluten-free, and low in added sugar!
Ingredients
4 cups old fashioned oats, organic
3 cups almonds, sliced
3 cups pepitas, shelled pumpkin seeds
2 cups puffed millet
1/2 cup avocado oil, or other healthy oil
1/2 cup tahini
1/4 cup maple syrup
2 cups raisins, organic
Instructions
Preheat oven to 325 degrees F
Combine all dry ingredients except raisins in a large bowl
Combine oil, nut butter, and sweetener in a glass measuring cup and mix until combined
Add liquid to dry ingredients and mix until evenly coated
Transfer to a large roasting pan
Bake, stirring every 20 minutes until lightly toasted, about 1 to 1.5 hours
Add raisins and cool to room temperature
Store in air-tight container
Nutrition Information:
Yield:

28
Serving Size:

1
Amount Per Serving:
Calories:

321
Total Fat:

22g
Saturated Fat:

3g
Trans Fat:

0g
Unsaturated Fat:

18g
Cholesterol:

0mg
Sodium:

80mg
Carbohydrates:

26g
Fiber:

4g
Sugar:

9g
Protein:

10g
*Note: I choose to purchase organic oats and raisins.
Last year, the Environmental Working Group (EWG) tested many popular oat-based cereal and granola bars for glyphosate (Roundup) residue. 43 of the 45 products tested contained glyphosate residue. While some of the organic oat-based products also contained glyphosate residue, the levels were found to be much lower. Read the full EWG report here.
Grapes consistently test positive for pesticide residues, including organophosphate pesticides. That is why I choose to buy organic raisins. Read more about pesticides and produce.
Are oats gluten free?
Oats are naturally gluten free. However, some oats are processed on the same equipment as wheat and other gluten-containing foods, so it is possible that they can be contaminated with gluten. Some manufacturers dedicate a specific line to producing oats that are free from any possible gluten contaminants and label their oats as gluten free.
Have you tried making homemade granola? What is your favorite combination? Another granola combination my family enjoys is this apricot maple pecan granola with toasted coconut.
Pin recipe for later: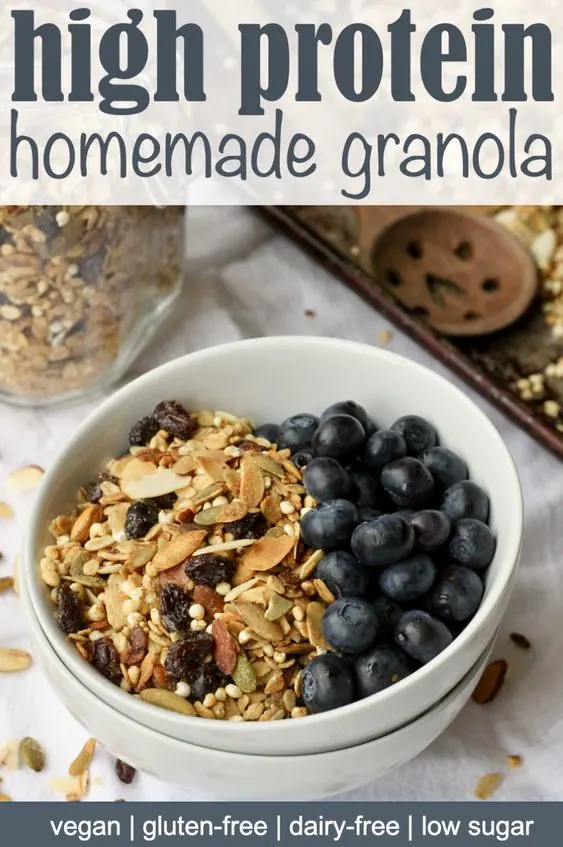 Originally published in Oct, 2017, this recipe has been updated with enhanced instructions and refreshed photos.