I love the tangy, slightly smoky flavor of harissa. However, many store-bought harissa pastes can be extremely spicy. With this homemade mild harissa recipe, can customize how spicy (or not) you want your harissa sauce. This harissa paste is gluten-free, dairy-free, vegan, paleo, whole30 compatible, and keto friendly!
Harissa is a chili paste commonly used in North African recipes. The smoky and spicy flavors of harissa paste come from rehydrated chili peppers and roasted red bell peppers blended olive oil and spices.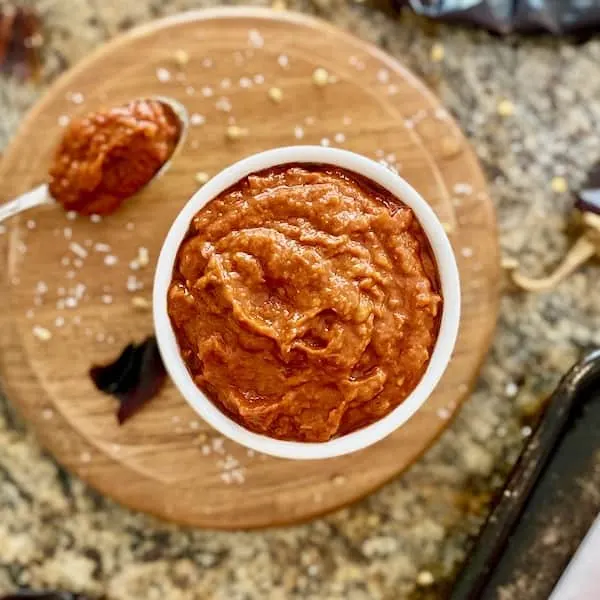 Mild Harissa Ingredients
Dried chiles are the base of traditional harissa. If you use spicy chiles, your harissa will be spicy. I use mild chiles like California chiles or New Mexico chiles to make a more mild harissa paste. I also like to include sweet bell peppers and roasted red onion to round out the flavor of this harissa sauce.
Dried chiles (California or New Mexico)
Sweet bell peppers
Red onion
Lemon
Olive Oil
Cumin Seed
Coriander Seed
Caraway Seed
Paprika
Sea Salt
How to make harissa paste
While this mild harissa sauce is easy to make, there are several steps.
Rehydrate dried chiles
Roast peppers, onion, and garlic
Toast and grind whole spices
Blend dried chiles with olive oil
Combine all ingredients together into a paste with a food processor
How to rehydrate dried chiles
Dried chiles are the most important ingredient in harissa paste. For mild harissa paste, I like to use California chiles or New Mexico chiles. They have a nice, smoky flavor without being too spicy.
I like to remove the seeds and stems from dried chiles before rehydrating them. I find that it is easier to remove the seeds before the chiles become slippery from soaking them in water.
After removing the seeds and stems from the chiles, cover the chiles with boiling water and soak for 10 to 15 minutes until rehydrated.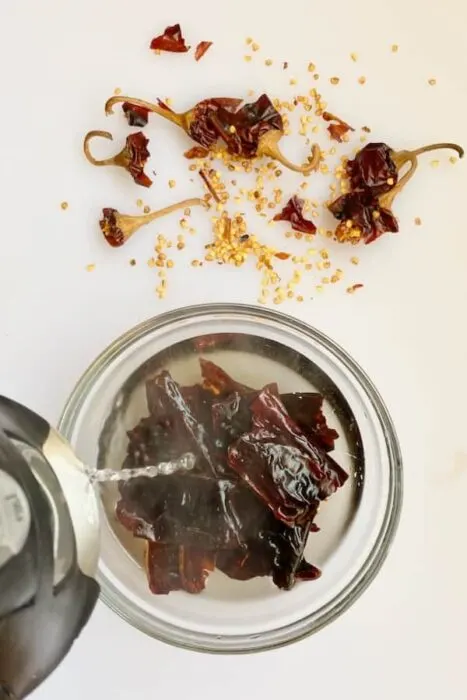 Drain the soaking water. The rehydrated chiles are now ready to use.
Roast peppers, onion, and garlic
While the chiles are soaking, roast sweet bell peppers, onions and garlic in the oven.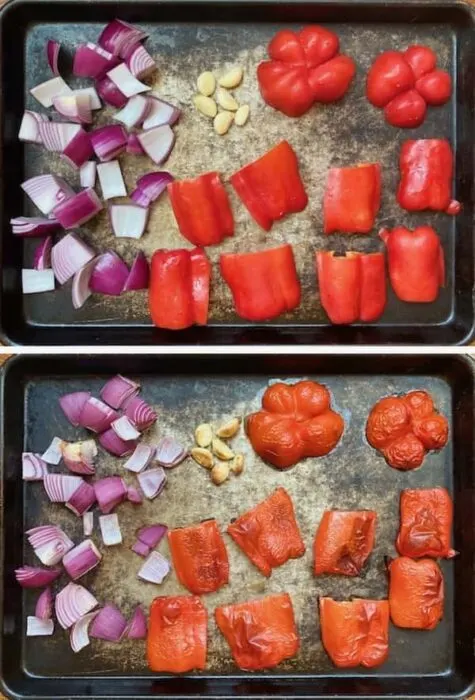 Once roasted, transfer the sweet red peppers to an airtight container to cool. This will make it very easy to remove the pepper skins.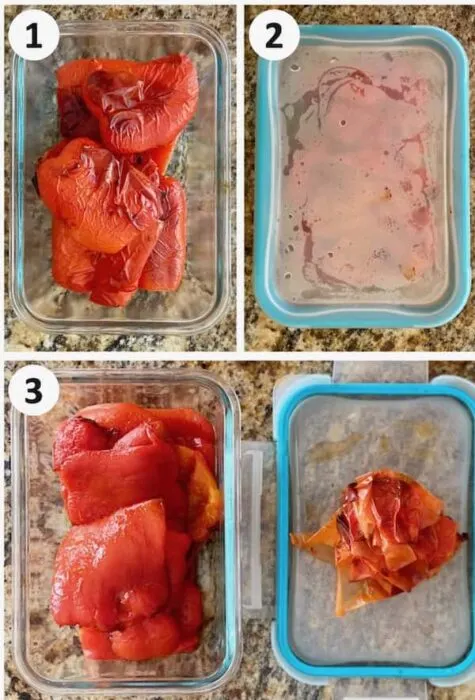 Toast spices to intensify flavor
Gently toasting whole spices helps enhance their flavor. Also, toasting adds complexity to the flavor of the spices.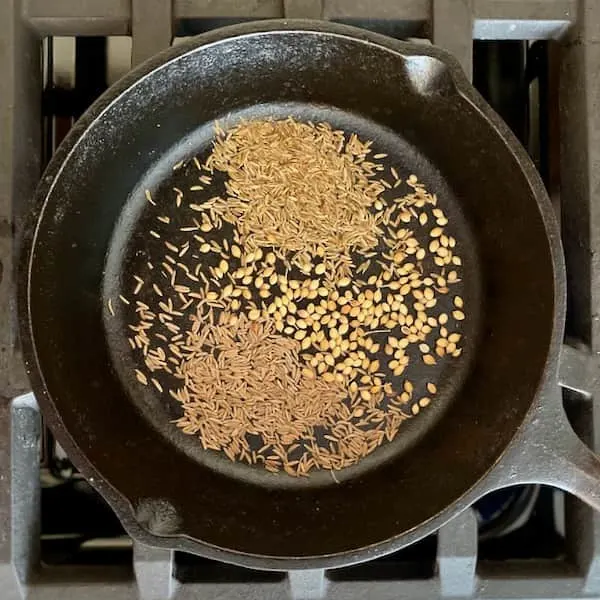 To toast spices, gently heat whole spices over medium heat in a small frying pan. Toast for 30 seconds to 1 minute until fragrant. Be careful not to burn the spices!
After gently toasting the spices, grind them in a mortar and pestle. You can also use a coffee grinder.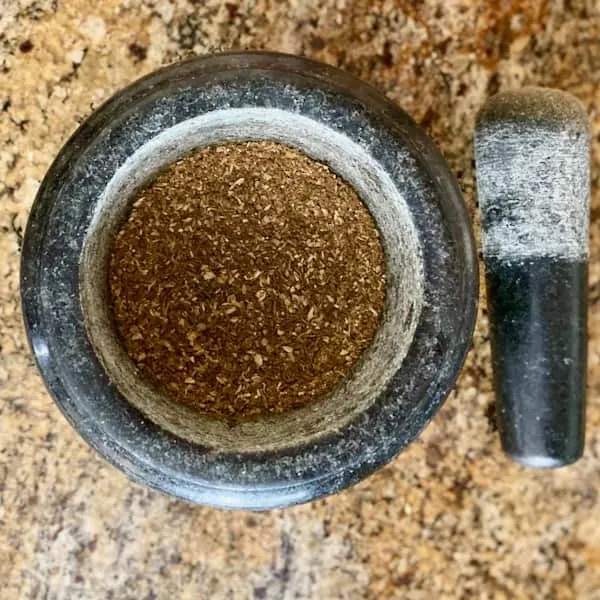 Once ground, place the toasted spices in the food processor. Don't worry, if you don't have a mortar and pestle, you can use ground spices.
Blend rehydrated chiles for a smooth paste
Place soft, rehydrated chiles (without seeds and stems) in a blender. Add oil before blending the chiles to make a smooth paste.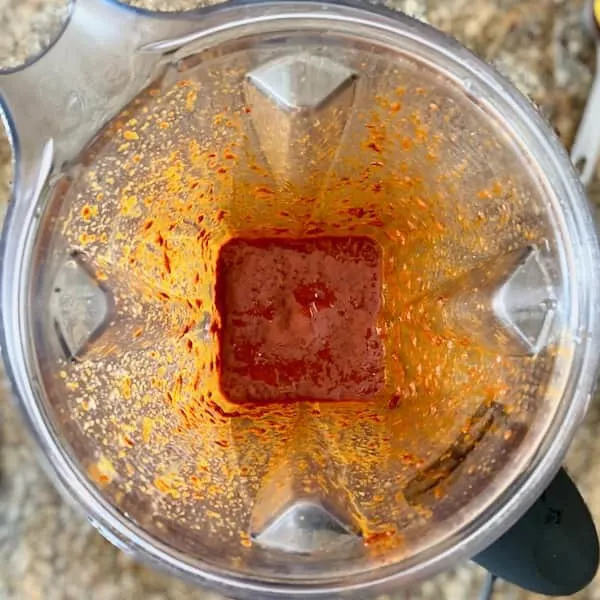 Once fully blended and smooth, transfer paste of rehydrated chiles and oil to food processor bowl.
Use a food processor to make harissa
I find that a food processor creates the best harissa texture, a course paste. When you use a blender, the harissa is almost too smooth.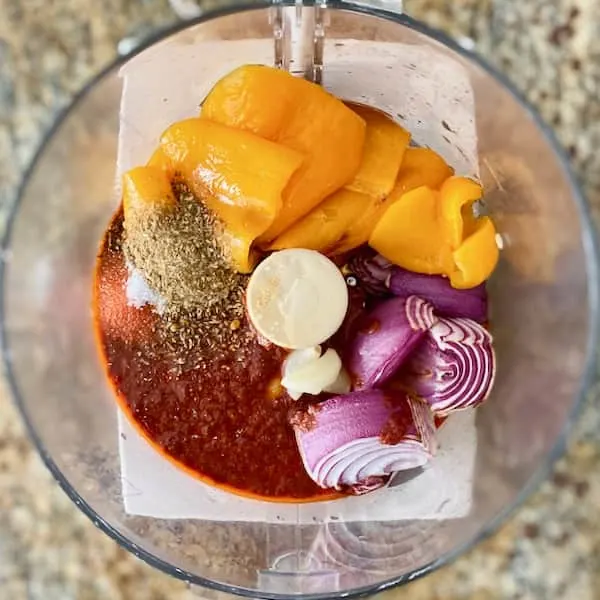 Place harissa ingredients in the food processor bowl as they are prepared.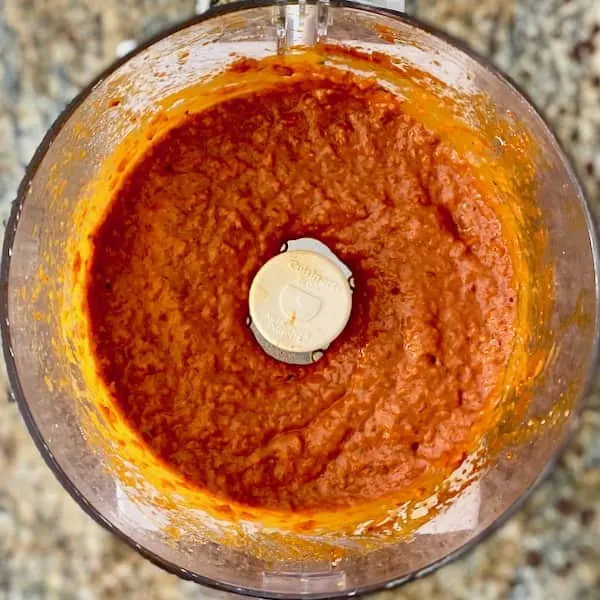 Blend ingredients together until the harissa past forms, usually 30 seconds. Adjust seasoning to taste.
Homemade Mild Harissa Recipe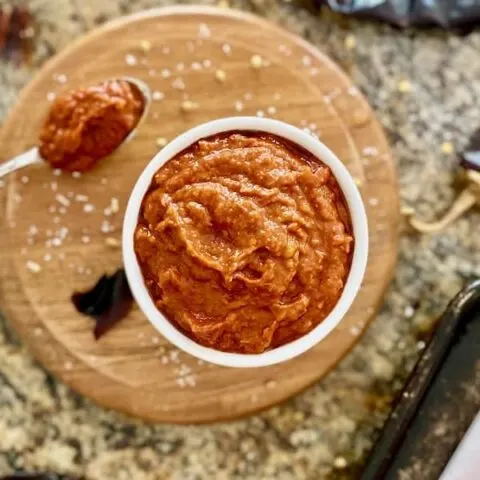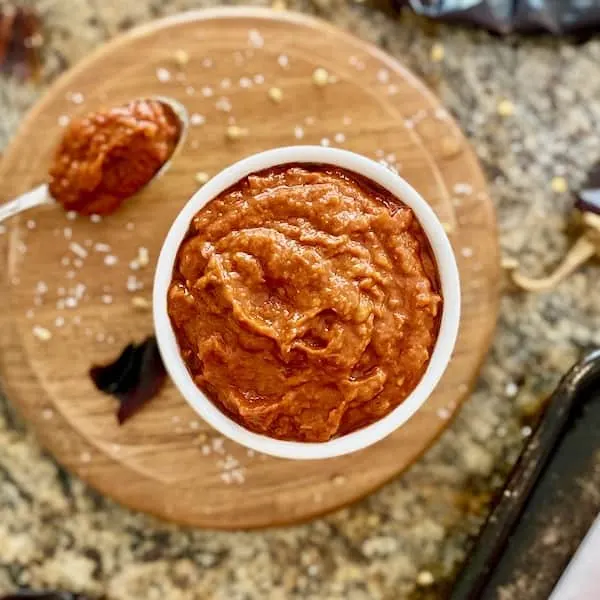 Mild Homemade Harissa
Mild harissa paste with a rich, earthy flavor. Perfect addition to roasted veggies, salad bowls, or as a quick marinade for roasted chicken or tofu. Plus, this recipe is Paleo, Whole30 compliant, Vegan, gluten-free, dairy-free, and keto friendly!
Ingredients
6 dried chile peppers (1.25 oz or 35 grams)
2 sweet bell peppers (red or orange)
1 red onion
3 cloves garlic
1/4 cup olive oil (or avocado oil)
2 teaspoons coriander seeds
2 teaspoons cumin seeds
2 teaspoons caraway seeds
1/2 teaspoon sea salt
Juice of one lemon
Instructions
Prepare the Dried Chiles
Remove seeds and stems from dried chiles, place in a medium size bowl
Cover dried chiles in boiling water and soak for 15 minutes
Drain chiles and transfer to blender. Add olive oil and blend until smooth and set aside
Roast peppers, onions and garlic
Preheat oven to 400 degrees F
Roughly chop bell pepper and red onion. Place peppers, onions and garlic on baking sheet and roast in oven for 20 minutes
Transfer roasted sweet bell peppers to a covered container and let cool for 10 minutes. Remove skins of peppers and set roasted vegetables aside
Toast spices
Add the cumin, coriander and caraway seeds to a small frying pan. Toast over medium-high heat until fragrant, 1 to 2 minutes
Transfer the seeds to a mortar and pestle and gently crush spices
Prepare Harissa
Add blended chiles, roasted veggies, toasted spices, salt and lemon juice to food processor. Blitz until a course paste consistency is achieved
Adjust sea salt to taste. Store harissa in an airtight container in the refrigerator for up to one week or freeze for up to two months
Notes
I like to use New Mexico or California dried chile peppers. They are relatively mild and have a rich, earthy flavor.
This mild harissa sauce will keep in the refrigerator for a week or you can freeze it for up to two months. I like to double the recipe and freeze half.
Nutrition Information:
Yield:

16
Serving Size:

1
Amount Per Serving:
Calories:

46
Total Fat:

4g
Saturated Fat:

0g
Trans Fat:

0g
Unsaturated Fat:

3g
Cholesterol:

0mg
Sodium:

142mg
Carbohydrates:

4g
Fiber:

0g
Sugar:

2g
Protein:

0g
Nutrition data provided and calculated by Nutritionix
Tips and tricks for DIY harissa paste
Can I use frozen peppers? Frozen bell peppers are a good substitute for fresh bell peppers
Can I use ground spices? Ground spices are an okay substitute for whole seed spices, though you will loose a little flavor
Use a food processor for the best texture. A food processor provides the best texture of the finished paste. If you blend up all ingredients in a high powered blender, I find the paste is too sauce-like
Do I have to blend the rehydrated chiles? You can skip the step of blending the rehydrated chiles and just place the whole rehydrated chilies in the food processor. However, there will be larger "chunks" of chiles in the finished sauce
Can I freeze the harrissa? Yes! I like to freeze it in smaller quantities and pull the sauce out when needed
How long does the harissa paste last? You can store this mild harissa in the fridge for up to a week or in the freezer for two months
Can I double the recipe? Yes! This recipe easily doubles
Uses for mild harissa
Harissa paste is a delicious flavor boost for roasted vegetables, salads, and Buddha bowls.
You can also roast many different types of protein in this mild harissa sauce, including chickpeas, pressed tofu, and chicken.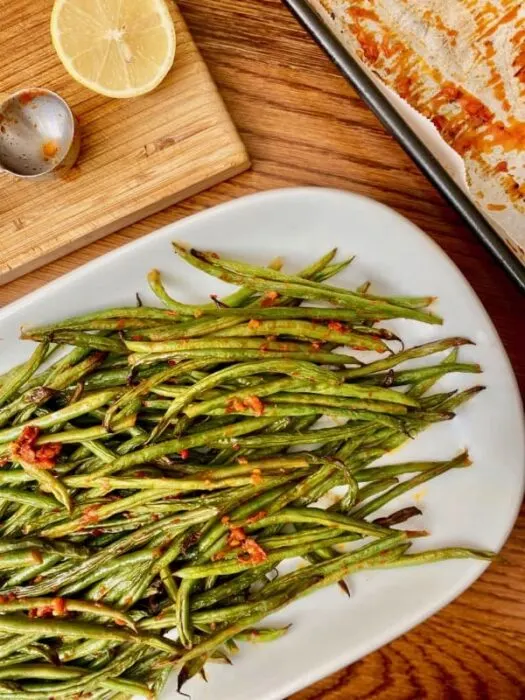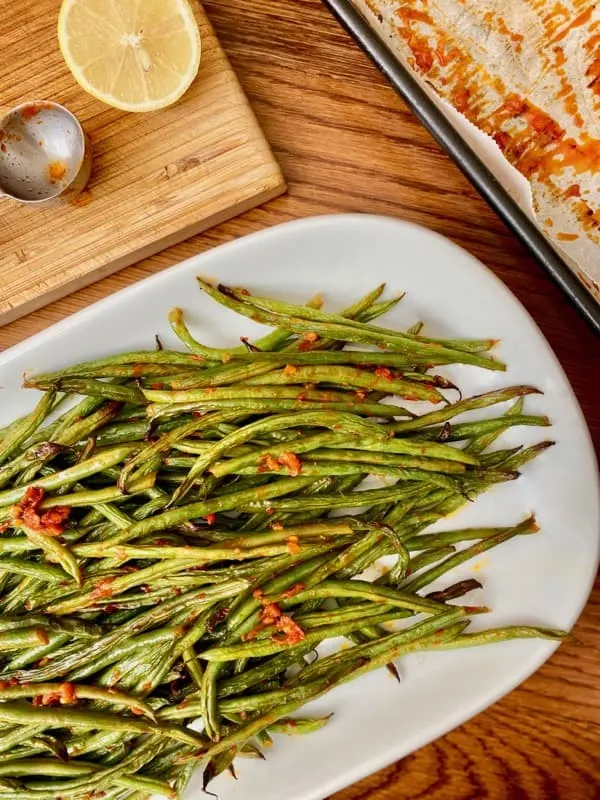 Pin recipe for later: