Pretty enough for a holiday dessert but yet healthy enough for every day… this paleo Apple Honey Cake is soon to be your family's favorite treat! Plus, this apple rose cake is gluten-free, dairy-free, and paleo!
The cake portion of this upside down apple cake is essentially a giant, delicious, lightly spiced muffin. It is not overly sweet and goes perfectly with the baked apple slices. This is definitely one cake you can feel good about enjoying… even for breakfast!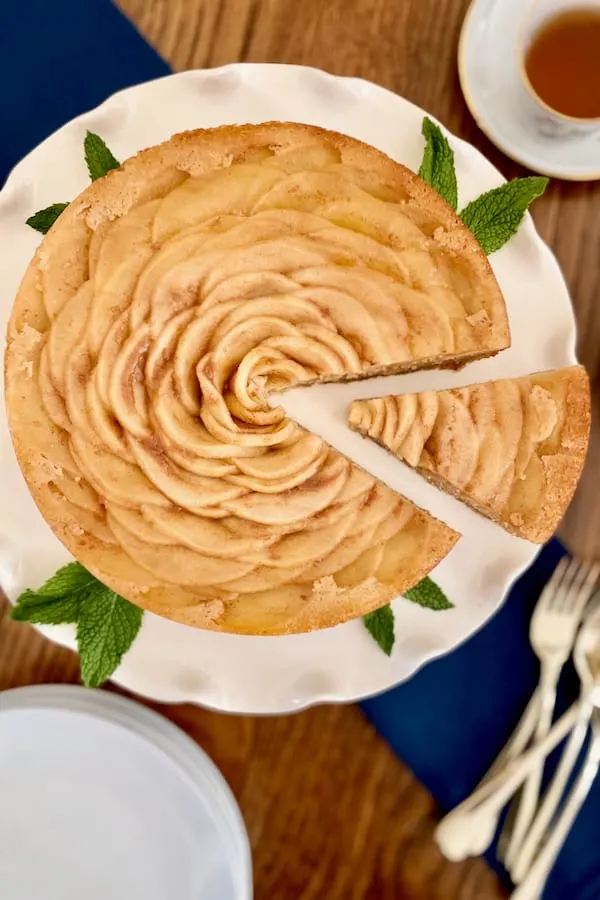 Paleo Apple Rose Upside Down Cake
Have you ever made an upside down cake? The fruit topping is placed on the bottom of the pan and then topped with cake batter.
Unlike some upside down cakes, these apples are pre-baked. This makes the apples flexible enough to create the beautiful rose pattern and also ensuring the cake cooks through completely. By placing the apples on the bottom of the pan, you ensure a beautiful flower pattern remains in the finished cake.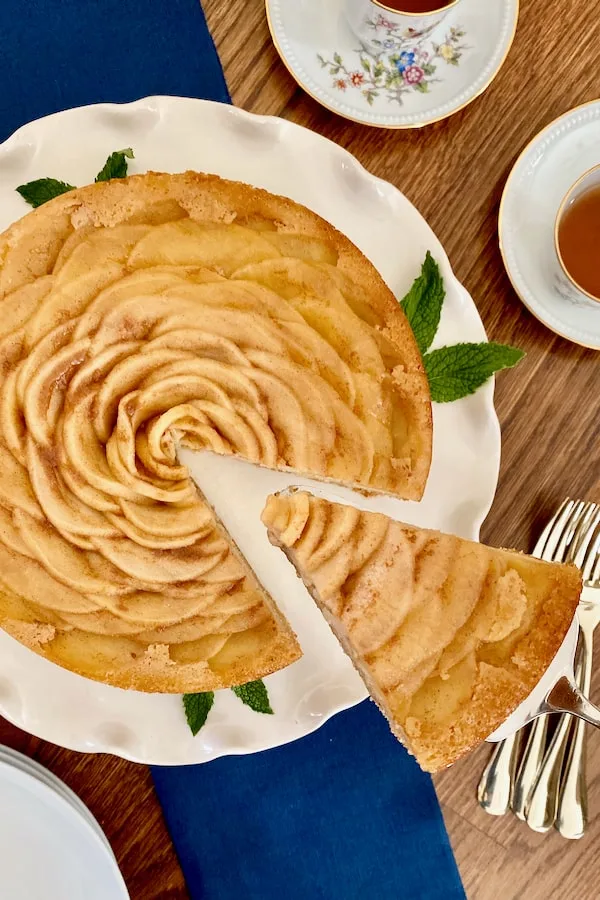 Simple steps to make a large Apple Rose
Baked apple roses are the base for this unforgettable apple rose upside down cake. Baked apple slices are shaped into a flower and topped with a simple almond flour based cake batter.
In less than an hour, you can have a beautiful dessert your whole family will love.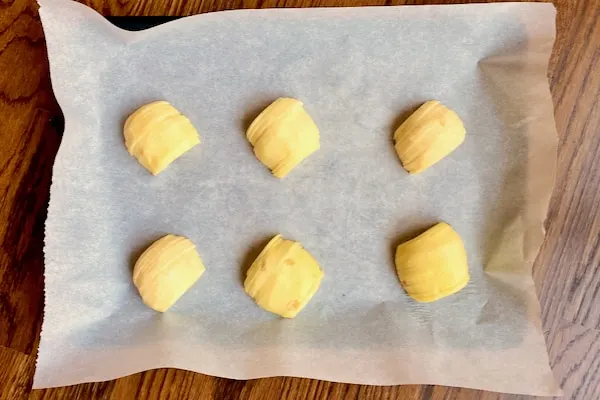 When making apple roses, it is important to slice your apples as uniformly as possible. This ensures the apple flower petals are roughly all the same shape. I have found that 1/8 inch thick apple slices are ideal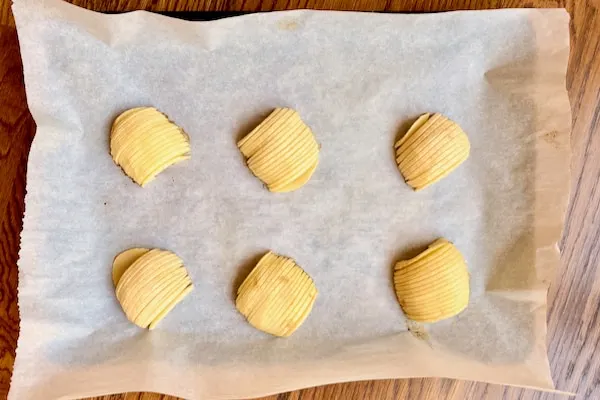 After about 20 minutes in the oven, the apple slices are flexible enough to shape into a flower. Let the apples cool for slightly until you can easily shape them.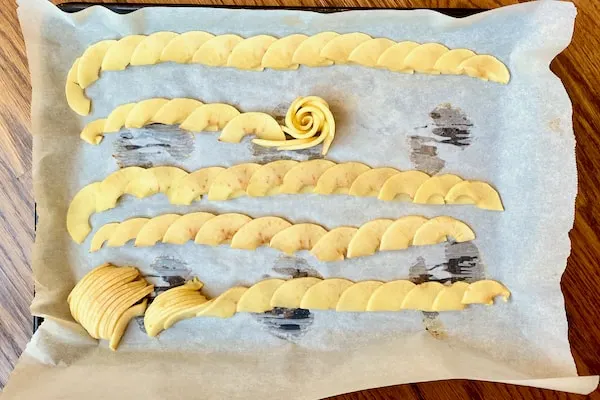 As the apple flower gets larger, you may find that it is challenging to coil into a flower shape. I often start moving the rows of apple slices over to the flower once it becomes cumbersome.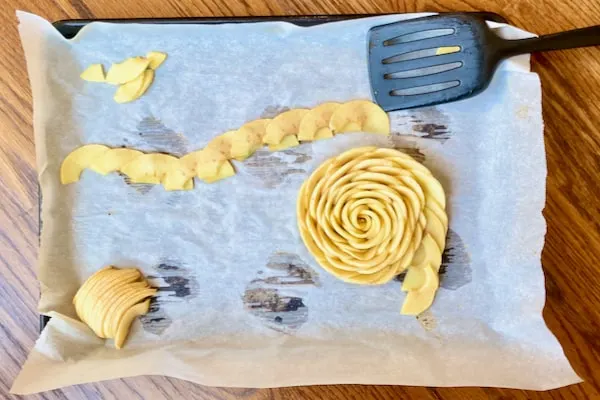 Once the apple rose is finished, you can fan out the apple slice petals to open up the flower and coat the apple slices in cinnamon syrup.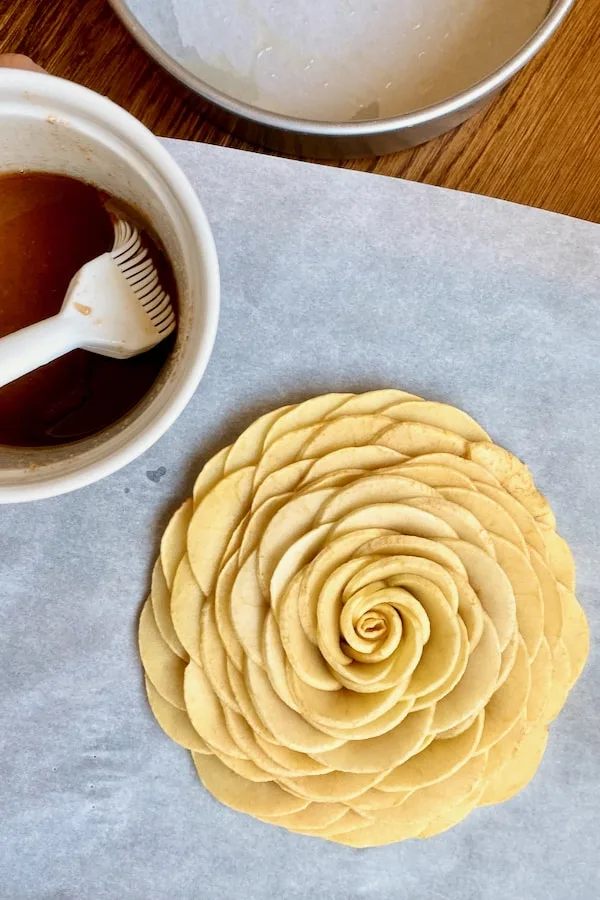 Finally, invert the apple flower so that it is face down on the bottom of the cake pan and pour the paleo cake batter on top.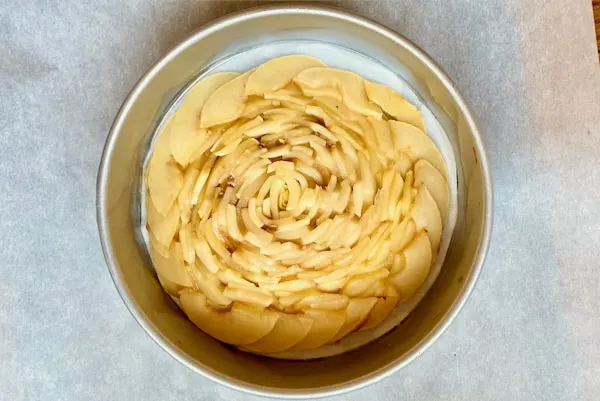 Simple Paleo Cake Batter
This almond flour based cake batter is so easy to make. Simply combine all ingredients in a bowl and whisk until combined.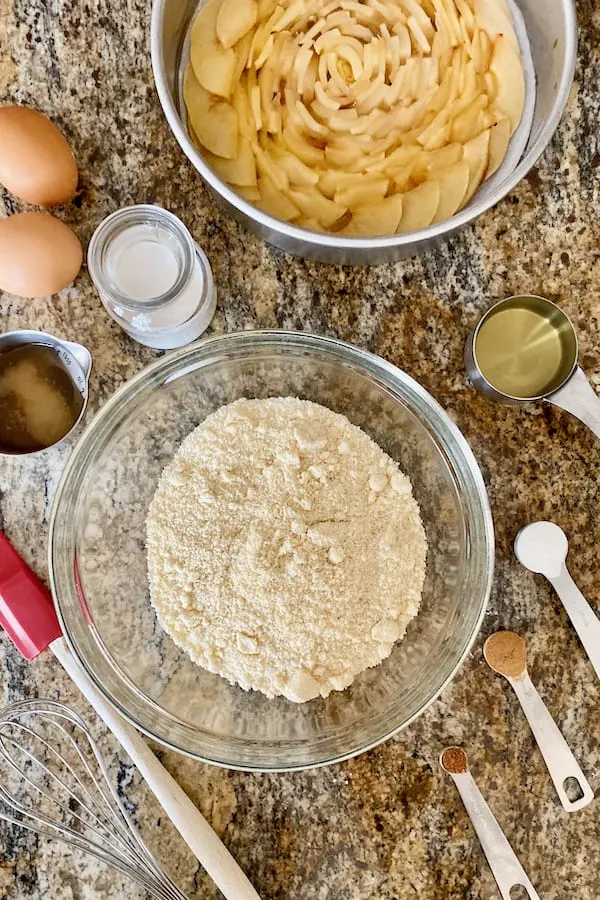 No need to worry about over mixing the batter! Almond flour is gluten-free, so it will remain soft and delicious no matter how much you mix it!
Once the batter is ready, simple pour over the prepared apple flour and bake!
Paleo Apple Rose Upside Down Cake Recipe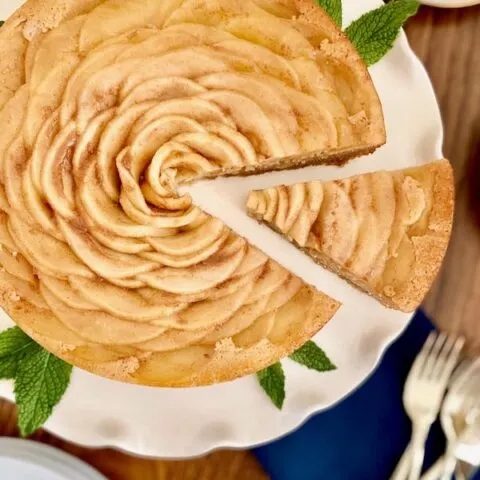 Paleo Apple Honey Cake
This Paleo Apple Honey Upside Down Cake is the perfect fall treat! Sweet, sticky apples shaped into a rose and topped with a fluffy, moist muffin. Gluten free, dairy free, and so delicious!
Ingredients
Apple Flower:
3 apples (any apple will work, though I typically use Fuji or Gala)
2 tablespoons honey (or maple syrup)
2 tablespoons avocado oil
1/8 teaspoon cinnamon
Paleo Cake:
1.5 cup almond flour
1/4 cup honey (or maple syrup)
1/4 cup avocado oil
2 eggs
1/4 cup almond milk
1 teaspoon baking powder
1/4 teaspoon cinnamon
1/8 teaspoon nutmeg
8 mint leaves, for garnish (optional, basil and sage also work well)
Instructions
Apple Flower:
Preheat oven to 400 degrees F
Peel and core washed apples
Cut peeled apples in half and uniformly slice into thin strips
Transfer sliced apples to baking sheet lined with parchment paper or silicon baking liner
Bake in oven for 20 minutes at 400°F and then cool for 5 to 10 minutes on baking sheet
Once cool, use your fingers and gently arrange sliced apples to create a long strip. Ensure that apple slices are evenly distributed. Check out this my Baked Apple Rose video showing how to make an apple rose
Gently roll apple slice strip into a tight spiral until all apple slices have been used to create one large flower.
To create an open rose, you can gently press the apple petals starting from the middle and working out
Microwave honey (or maple syrup) in a medium size dish for 1 minute . Add avocado oil and a pinch of cinnamon (if desired) and mix until combined
Using a pastry brush (or back of spoon), coat flattened apple flower in honey cinnamon mixture
Paleo Cake:
While apple slices are baking, line an 8-inch round cake pan in parchment paper and lightly oil with avocado oil
Combine almond flour, honey (or maple syrup), avocado oil, eggs, almond milk, baking powder, cinnamon and nutmeg in a medium size bowl. Whisk until fully combined
Once apple rose is assembled and topped with honey cinnamon sauce, carefully invert the rose so that it is face down on the bottom of the prepared cake pan
Reduce oven temperature to 350 degrees F
Top apple flower with prepared cake batter and place pan in the middle of the oven
Bake for 30 to 35 minutes or until a toothpick inserted in the middle of the cake comes out clean
Remove cake from the oven and place on wire rack to cool for 10 minutes
Invert cake onto serving dish and garnish with mint leaves, if using.
Notes
While the Paleo Apple Honey Cake is best when served at room temperature, it be served while still warm or after straight from the refrigerator.
This apple upside down cake can be stored in the refrigerator for up to 48 hours.
Nutrition Information:
Yield:

8
Serving Size:

1
Amount Per Serving:
Calories:

321
Total Fat:

22g
Saturated Fat:

2g
Trans Fat:

0g
Unsaturated Fat:

19g
Cholesterol:

47mg
Sodium:

84mg
Carbohydrates:

29g
Fiber:

5g
Sugar:

21g
Protein:

7g
Nutrition information calculated by Nutritionix and may not always be accurate.
Tips and tricks for making this paleo apple cake
Maple syrup and honey can be easily swapped in this recipe
If you aren't dairy free, you can use regular milk in place of a healthy nut-based milk
Apples can be baked ahead of time. Just make sure that you create the flower shape prior to refrigerating. Also, the cake may need a few extra minutes in the oven if you bake with cold apples
Create the apple flower on a piece of parchment paper. Parchment makes it MUCH easier to invert and transfer to the cake pan
If you are baking this apple rose upside down cake the day before serving, place a toothpick or two between the petals before covering with plastic wrap. The toothpicks will prevent the plastic from touching the top of the apple slices
How far ahead can you bake this paleo apple upside down cake?
This paleo apple rose cake is best within 24 hours of baking. Ideally, I like to make it a few hours before enjoying.
However, this apple upside down cake can be stored in the fridge for up to three days and still be delicious! It is worth noting that the cake becomes increasingly moist the longer it is stored in the fridge.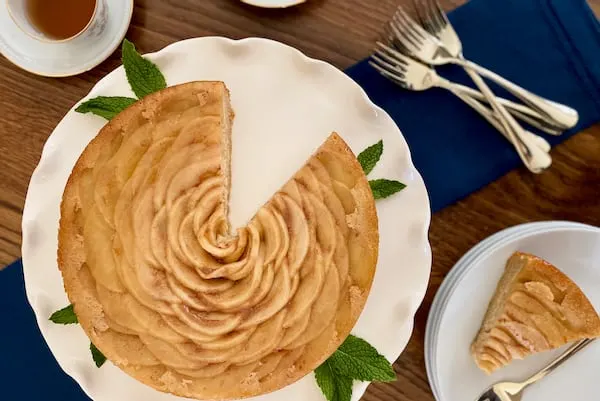 Other delicious paleo dessert recipes
Looking for other healthy dessert recipes? The baked apple roses that are the base of this upside down cake are a delicious dessert on their own or with ice cream.
And if you are looking for chocolate desserts, make sure you check out our paleo chocolate truffle cake and chocolate dipped coconut macaroons.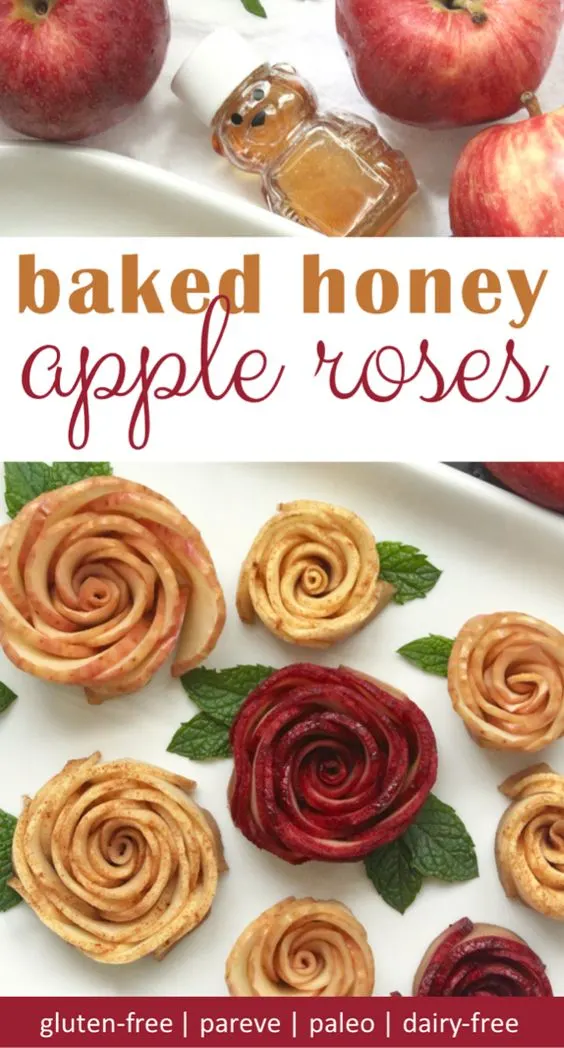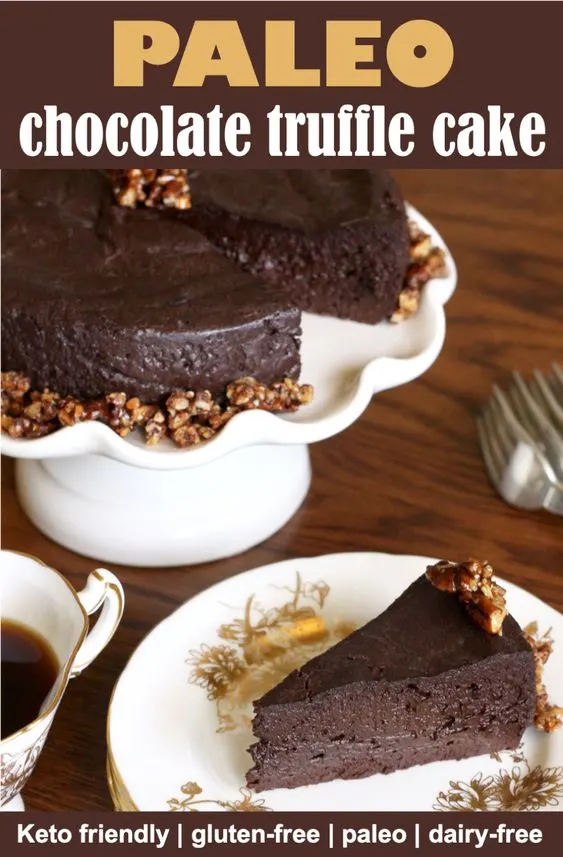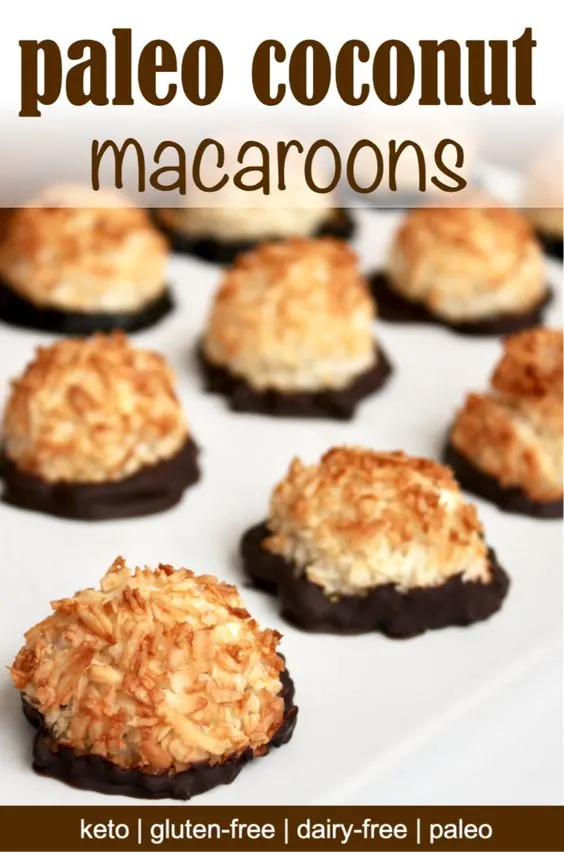 Pin recipe for later: