Frittatas are a healthy and delicious breakfast, lunch, and even dinner. Quick and easy to assemble, frittatas are a great source of protein and veggies for a filling, savory meal. And did you know that eating meals like frittatas for breakfast can help you stay fuller longer and eat less later in the day? (Read full post on choosing a healthier breakfast.)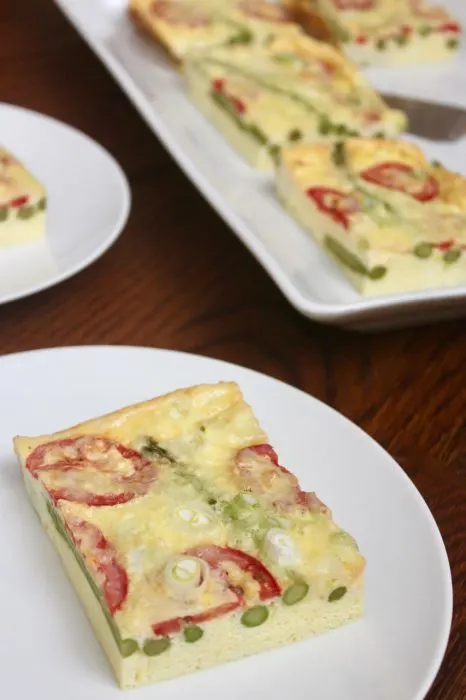 This basic frittata recipe can be customized with any vegetables you happen to have on hand, though it is especially delicious with asparagus, tomatoes, and a sprinkling of green onions.
Frittatas are an easy make-ahead meal!
I try to make at least one frittata each weekend.
It is a delicious brunch and the leftovers make for quick and filling breakfasts later in the week.
Frittatas are also a perfect veggie and protein packed dish for part of your weekly meal prep.
Leftover frittata can be quickly reheated and is delicious served with a side salad.
Asparagus and Tomato Frittata Recipe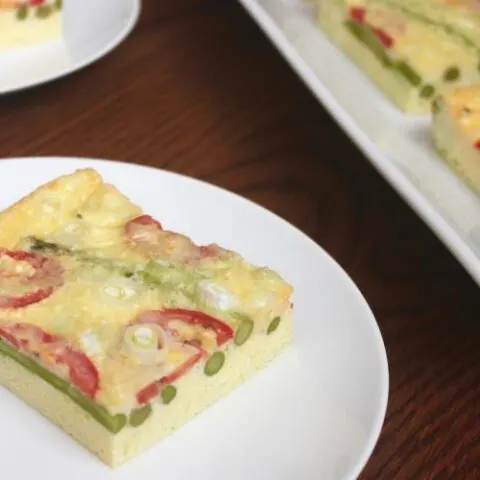 Asparagus and Tomato Frittata
A delicious and simple spring vegetable frittata recipe that is perfect for brunch or a quick dinner.
Ingredients
1 tablespoon Avocado Oil
14 eggs
1 cup Sharp White Cheddar Cheese, grated
½ pound Asparagus, washed with ends broken off
2 small Tomatoes, sliced*
¼ cup Green Onion, diced
½ cup Parmesan Cheese, grated
Instructions
Preheat oven to 350 degrees F
Place medium size (9x11) casserole dish in oven to heat
Whisk eggs until yolks and whites are just blended. Over mixing the eggs will incorporate excess air and will cause your eggs to puff while baking
Stir in 1 cup of sharp white cheddar cheese
Remove casserole dish from oven, coat evenly with butter
Pour egg and cheese mixture into hot casserole dish
Top egg mixture with asparagus
Arrange tomato slices on top of asparagus
Sprinkle green onions and parmesan cheese on top of frittata
Bake for 25 - 30 minutes until center is firm when jiggled
Cool 10 minute before serving
Nutrition Information:
Yield:

6
Amount Per Serving:
Calories:

286
*Note: I choose to purchase organic tomatoes. Read more on pesticides and produce.
Nutrition information (per serving):
286 calories
0 g added sugar
1 g fiber
21 g protein
380 mg sodium
Pin recipe for later…