Roasted sesame ginger chicken meal has quickly become one of my family's favorite weeknight dinners. The whole meal becomes a crispy and full of savory ginger flavors when roasted.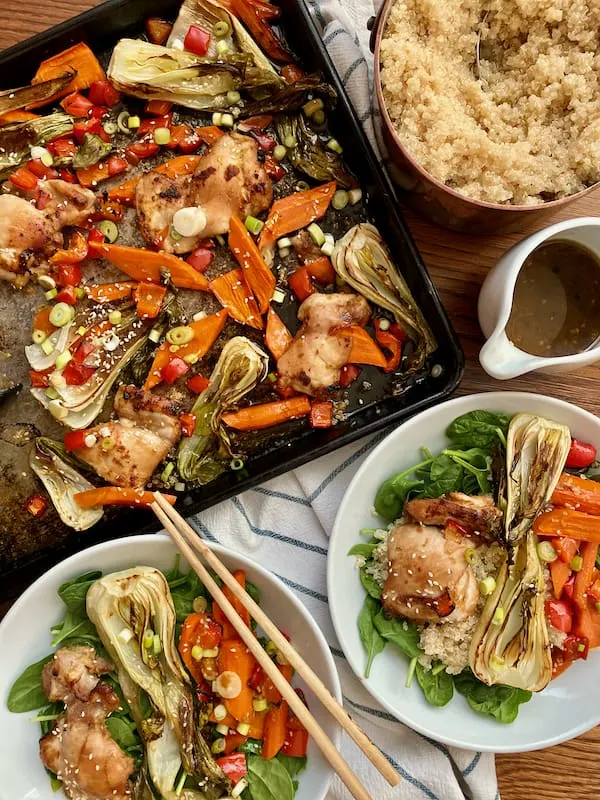 Roasted sheet pan meals are an easy weeknight dinner
Weeknights are busy. So I am always looking for nutritious and delicious dinners that cook quickly and are easy to assemble. Fast clean up is also a must! Roasted sheet pan meals meet all these requirements and are my go-to for busy weeknight dinners.
This ginger sesame chicken uses one of my favorite marinades. It comes together in minutes and has many substitutions to make it compatible with most allergies and eating plans.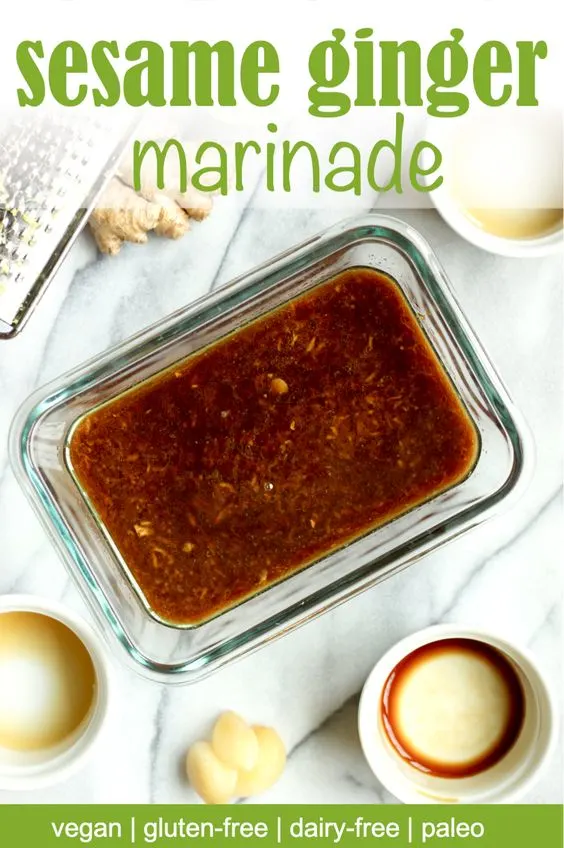 One Pan Roasted Sesame Ginger Chicken with Vegetables
It is easy to assemble this delicious one pan meal. After tossing with sesame oil, place cut carrots on a roasting pan and top with the halved baby bok choy.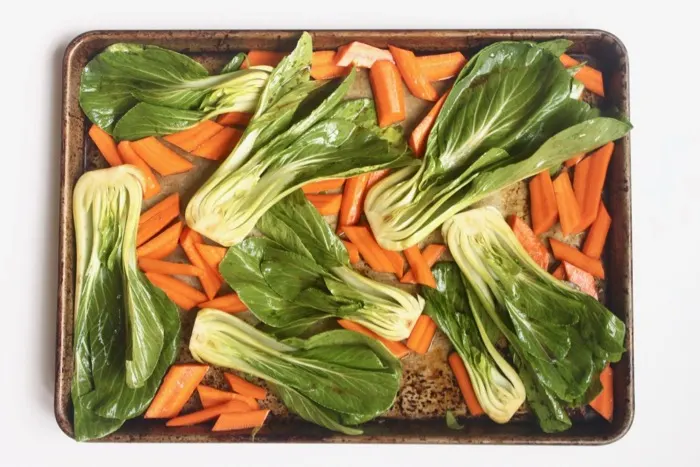 Next, top the carrots with ginger soy lime marinated chicken. Sprinkle diced red bell peppers over everything and roast.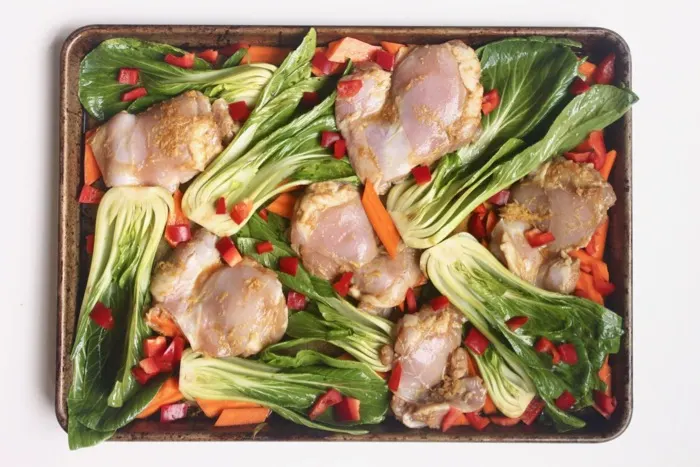 Now, roast in the oven for 25 to 30 minutes until chicken is cooked through and veggies are tender.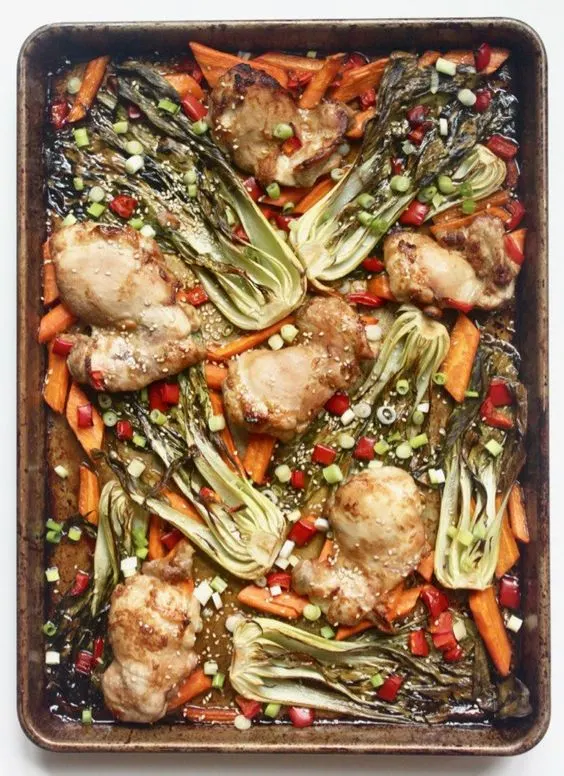 I typically serve this roasted sesame ginger chicken and veggies with quinoa or brown rice. The recipe serves our small family of 4 for dinner. I have been known to double the recipe (two roasting pans worth) for nights when the boys are particularly hungry or when we want leftovers for lunch later in the week.
Roasted Sesame Ginger Chicken Recipe
Roasted Sesame Ginger Chicken Sheet Pan and Veggies
Everything you need for this Sesame Ginger Chicken and Vegetables meal cooks together on one sheet pan for easy clean up. This easy weeknight meal is a family favorite for good reason! Plus it's Whole30 compatible, paleo, gluten free, and dairy free.
Ingredients
6 Sesame Ginger Marinaded Chicken Thighs, approximately 1.5 lbs*
4 Baby Bok Choy
4 Carrots, washed and peeled
3 T Toasted Sesame Oil
1 T Low Sodium Soy Sauce, (Paleo & Whole30: use coconut aminos, Gluten-free: use low sodium tamari)
1/2 inch Fresh Ginger, peeled and grated
1 Red Bell Pepper, washed and diced*
1/2 bunch Green Onions, washed and diced
1 T Toasted Sesame Seeds
Instructions
Marinade chicken thighs in Sesame Ginger Lime Marinade while prepping vegetables
Preheat oven to 425 degrees F
Trim bok choy bottoms, cut in half, and wash thoroughly under running water to remove any dirt between the leaves. Use a salad spinner to dry bok choy completely
Cut peeled carrots in half lengthwise. Next, cut the carrots into 2 inch pieces on the diagonal
In a small bowl, combine toasted sesame oil, grated ginger, and low sodium soy sauce (or tamari or coconut aminos)
Place carrots and bok choy halves on roasting pan. Coat veggies evenly with sesame oil mixture
Remove chicken from marinade and place on top of carrots or sheet pan, not on bok choy. Sprinkle with diced red bell peppers
Roast in 425 degrees F oven for 25 to 30 minutes, until chicken is fully cooked, leaves of bok choy are crispy, and carrots are tender
Remove from oven and sprinkle with green onions and sesame seeds
Transfer chicken and veggies to a serving dish and liquid from roasting pan into a gravy boat
Serve veggies and chicken on a bed of quinoa, brown rice, or cauliflower rice with roasting liquid as a sauce
Notes
Prep time does not include marinading chicken
Nutrition Information:
Yield:

4
Amount Per Serving:
Calories:

460
*Notes:
Did you know that 80% of the antibiotics sold in the United States are for livestock? That is why I choose to purchase chicken raised without antibiotics.
Red and green bell peppers consistently test positive for pesticide residues, including organophosphate pesticides. That is why I choose to buy organic or pesticide free bell peppers. Read more about pesticides and produce.
Tested and delicious substitutions:
Low sodium soy sauce can replace tamari (recipe will not be gluten-free)
Use coconut aminos in place of tamari for a soy-free and gluten-free option
Broccoli or cauliflower florets are a delicious and kid-friendly substitute for baby bok choy
Paleo meal: use coconut aminos instead of tamari or soy sauce
Whole30 Compatible meal: use coconut aminos in place of tamari and omit maple syrup from marinade
Pin recipe for later: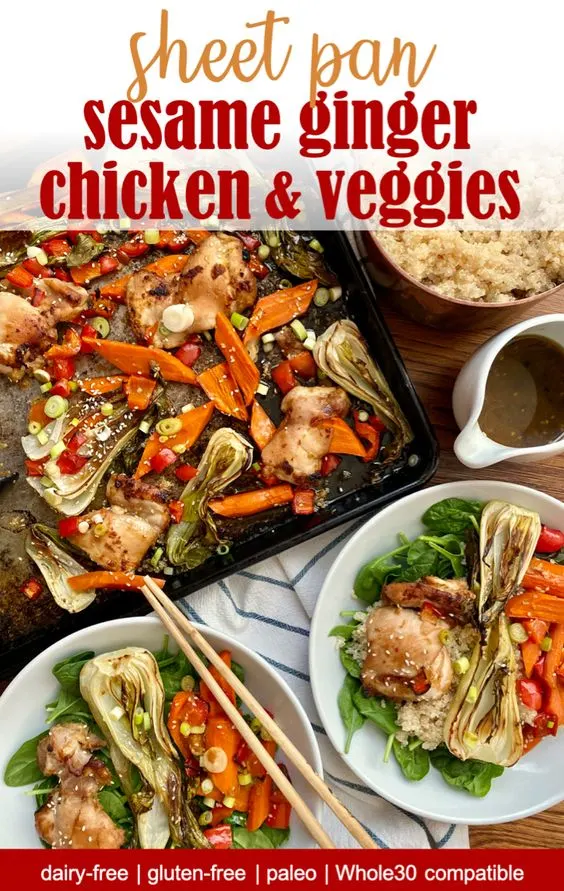 Try these other delicious roasted sheet pan meals: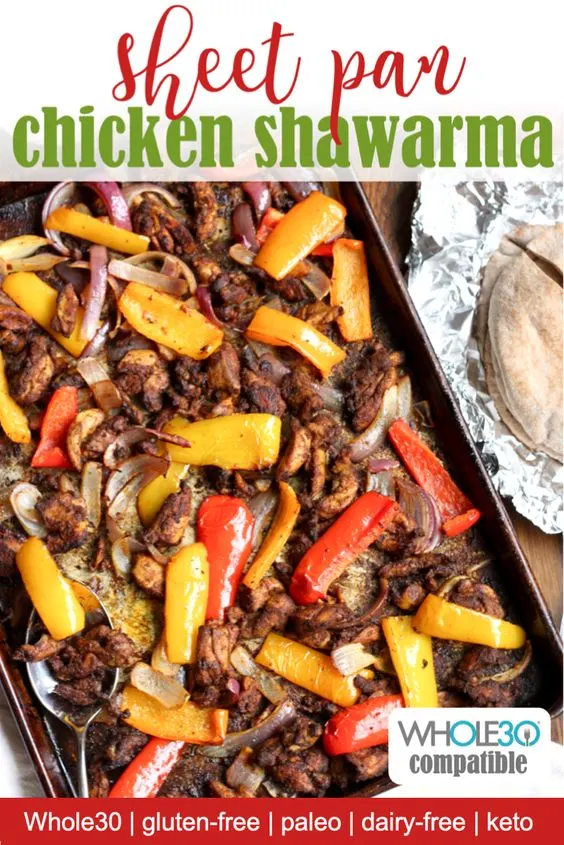 This recipe was originally published in September, 2017. This current version has been updated to improve readability and recipe photos.