Salmon is one of my favorite quick and healthy summer dinners. In the summer, I grill salmon with either a light coating of olive oil and minced fresh rosemary or an herbed butter. Salmon cooks incredibly fast on the grill, depending on the thickness of the salmon fillet. So there is just enough time to throw together a salad before dinner is ready!
The number of servings depends on size of salmon fillet. A 4-oz piece of salmon is the recommended serving for adults, which is approximately the size of an adult palm.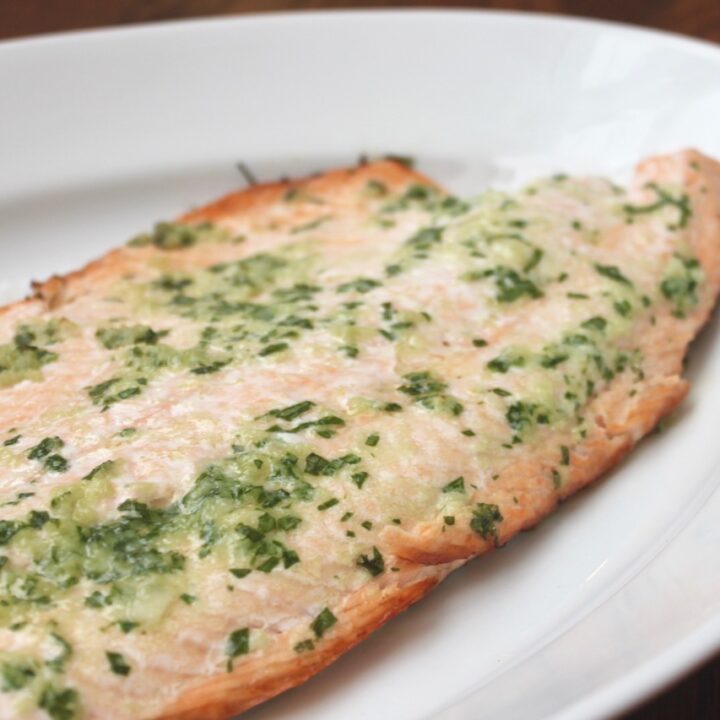 Grilled Salmon with Herbed Butter
Yield: 6 servings

Prep Time: 5 minutes

Cook Time: 10 minutes

Total Time: 15 minutes

A simple and delicious grilled salmon recipe your whole family will love!
Ingredients
2 cloves Garlic, minced
2 tablespoons Fresh basil, minced
2 tablespoons Salted Butter
1 Salmon Fillet, approximately 1.5 lbs
Instructions
Heat gas grill to medium-high heat
Combine butter, garlic and basil in a small dish
Generously coat salmon fillet
Grill salmon on medium-high heat for 8 to 10 minutes or until the salmon flesh flakes when lifted gently with a fork. Be careful to not over cook the salmon
Nutrition Information:
Yield: 6 Serving Size: oz
Amount Per Serving: Calories: 174

Note: I choose wild-caught or Norwegian farmed salmon, read more about the differences between wild-caught and farmed salmon
Are you interested in other quick and healthy dinners? Check out these recipes:
Pin recipe for later.