These healthy morning glory muffins are my youngest son's favorite snack. We bake a batch at least weekly for his school lunch or a quick on-the-go snack.
Thankfully, these morning glory muffins are healthy. They are 100% whole grain, low in added sugar, and a delicious way to add extra fruits and vegetables to your day. There is also an easy modification if you need to keep these morning glory muffins gluten-free.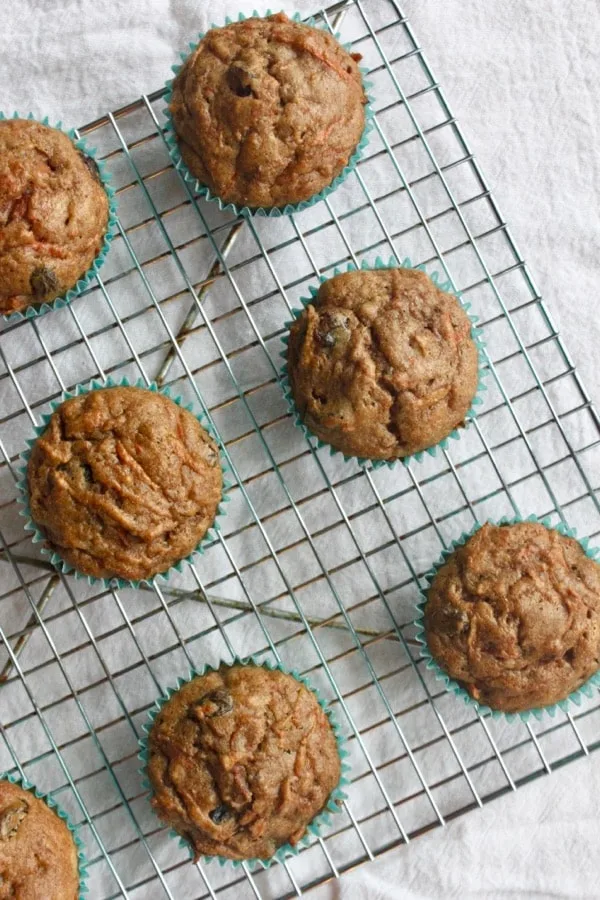 Why these Morning Glory Muffins are a healthy snack:
Each muffin contains almost a full serving of fruits and veggies. Adding veggies to favorite foods is an easy way to increase vegetable intake
These muffins are 100% whole grain with a healthy gluten-free option
They are low in added sugar (just 4 grams or 1 teaspoon per muffin). Adding grated apples and raisins to the recipe allows for a reduction in total added sugar while still creating a sweet and tasty muffin. This is important because the American Heart Association recommends that children eat less than 25 grams of added sugar a day and young children avoid added sugar all together. (Read more on the recommended daily intake of added sugar)
Healthier Morning Glory Muffins
These morning glory muffins are not simply a frosting-free cupcake loaded with added sugar and refined flour. Each little muffin contains almost a full serving of fruits and veggies.
The increased amount of carrots and apples in the recipe allows for a reduction in total added sugar while still creating a sweet and tasty muffin. The result is an overloaded morning glory muffin that is super moist, dairy-free, and low in added sugar (just 4 grams or 1 teaspoon per muffin).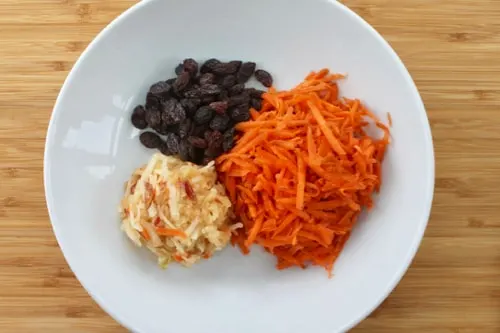 Easy, healthy muffins to make with kids
My son loves to cook with me. His two favorite foods to make are these healthy morning glory muffins and protein-packed pancakes. Though cooking with kids is often messy and time consuming, there are many benefits of cooking with children.
Involving kids in meal preparation not only increase the likelihood that they will eat (or at least try) the meal, it also provides an opportunity to talk with children about healthy ingredients. For more information, check out this NY Times article on 5 reasons you should cook with kids.
Easy ways kids can help cook these muffins:
Gather ingredients from the pantry
Wash produce
Place muffin liners in muffin pan
Measure dry ingredients into mixing bowl
Pour pre-measured wet ingredients into mixing bowl
Crack the eggs (be on stand-by to remove shells)
Stir ingredients together
Scoop batter into prepared muffin liners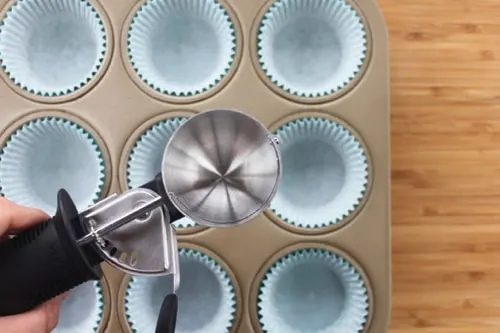 I use an ice cream scoop when filling the muffin pans with batter. I find that this is an easy, mess-free way of creating uniform size muffins.
Healthy Morning Glory Muffin Recipe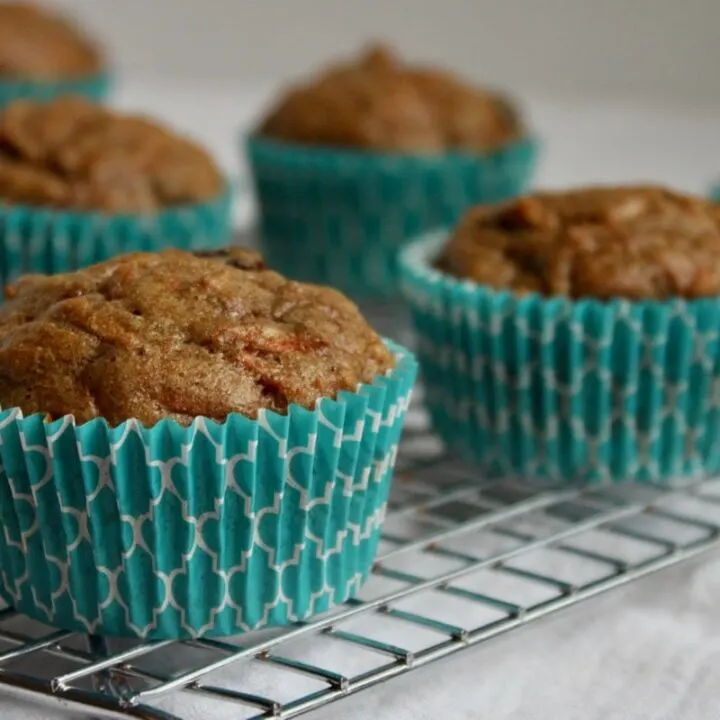 Healthy Morning Glory Muffins
Additional Time:
10 minutes
These healthy Morning Glory Muffins are a delicious way to sneak extra veggies and fruit into your day. These muffins are a delicious 100% whole grain treat. Plus, there is a gluten-free option!
Ingredients
4 large carrots, grated about 2 cups*
½ cup raisins, *
1 large apple, cored and grated about 1 cup*
1 tablespoon ground cinnamon
¼ teaspoon ground cloves
3 large eggs, **(Vegan Option: use a combination of flax eggs and applesauce, see notes below)
½ cup avocado oil
¼ cup maple syrup
½ tablespoon pure vanilla extract
1 teaspoons baking powder
½ teaspoon baking soda
¼ teaspoon salt
1 cup whole wheat flour, (Gluten Free Option: use 1/3 cup coconut flour or 1 cup oat flour instead of whole wheat flour)
Instructions
Preheat oven to 350 degrees F
Line muffin pans with 16 paper muffin cups
Measure grated carrots, grated apple, raisins, ground cinnamon, ground cloves, eggs (or vegan option), oil, maple syrup and vanilla extract into a medium size mixing bowl. Stir until well combined
Add whole wheat flour (or coconut flour or oat flour), baking powder, baking soda, and salt to the carrot mixture and stir until thoroughly combined
Scoop 1/4 cup of muffin batter into prepared muffin cups. An ice cream scoop makes it easy to create uniform size muffins
Bake muffins in preheated oven for 22 to 25 minutes, until a toothpick inserted into the middle of the muffin comes out clean
Let muffins cool before serving
Notes
Note: Each muffin contains 3 grams of added sugar (from maple syrup).
Nutrition Information:
Yield:

16
Serving Size:

1
Amount Per Serving:
Calories:

140
Total Fat:

8g
Saturated Fat:

1g
Trans Fat:

0g
Unsaturated Fat:

6g
Cholesterol:

35mg
Sodium:

129mg
Carbohydrates:

16g
Fiber:

2g
Sugar:

7g
Protein:

3g
Nutrition information from Nutritionix
Notes:
* Peel carrots and apple if not using organic as they consistently test positive for high amounts of pesticide residues.
** Vegan egg option: Replace eggs with a combination of flax eggs and applesauce. Specifically, combine 2 tablespoons ground flax with 6 tablespoons water. Let mixture sit for 5 minutes. Add flax eggs and 1/2 cup applesauce in place of eggs in recipe.
Overloaded Morning Glory Muffin Gluten-Free Recipe
These Overloaded Morning Glory Muffins can also be made with coconut flour instead of whole wheat flour. Coconut flour is naturally gluten-free and higher in fiber than regular whole wheat flour.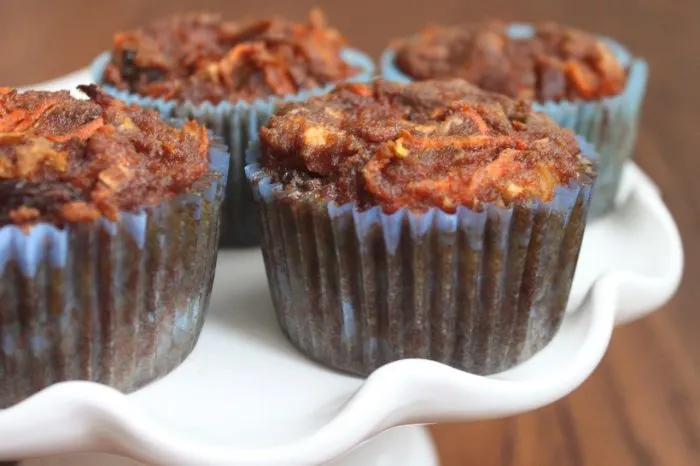 Other delicious kid-friendly snack recipes: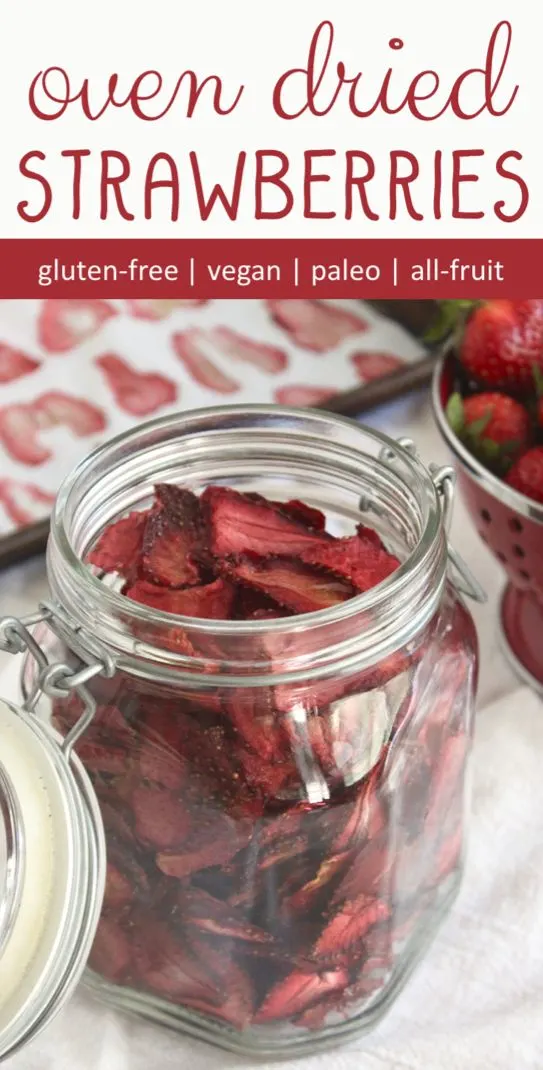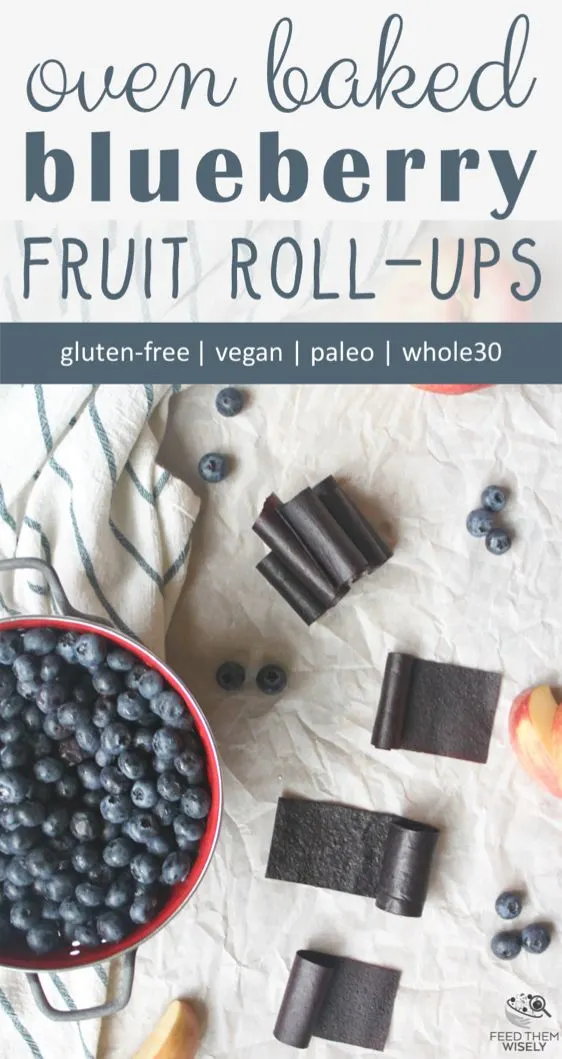 Pin recipe for later: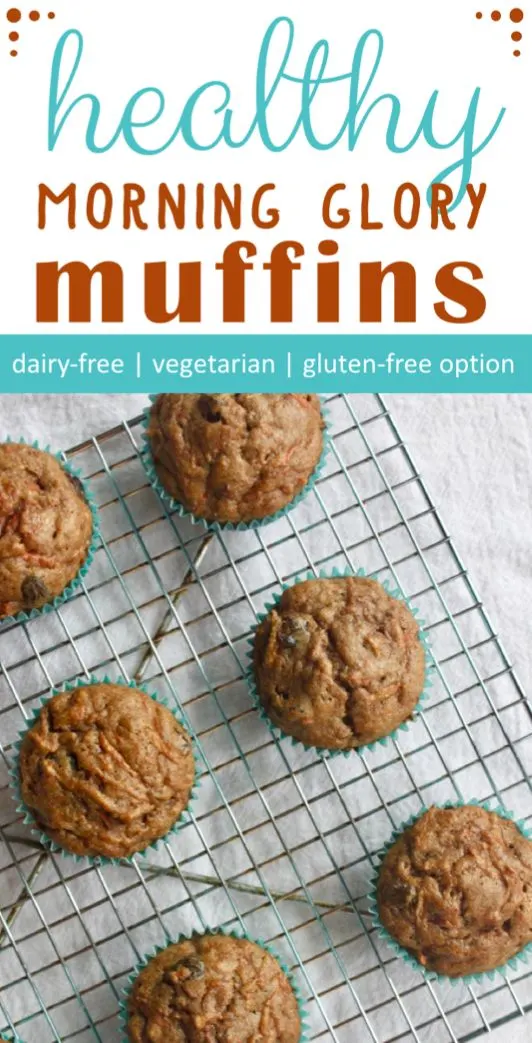 This recipe was originally published on February 23, 2017. The recipe has been updated with enhanced instructions including a simpler one-bowl preparation. Refreshed photos were also added.